The 2018 Montecito post-fire mudflows: an (im)foreseeable event?
Quels enseignements tirer des coulées de débris post-incendie survenues le 9 janvier 2018 à Montecito (Californie, USA) ?☆
Early on the morning of 9 January 2018, a rain characterized by a sudden intensity (13 mm in 5 min, e.g. 157 mm/h) at 3.45 a.m. (recorded by the Montecito rain gauge) cause flows consisting of mud, boulders and tree branches up to 15 feet (5 m) in height, and moving at estimated speeds of up to 20 miles per hour (30 km/h). Damage was remarkable: 21 dead and 2 missing; 167 injured; 408 houses damaged; estimated cost over $167 million. This event occurred mostly less than 20 days after the worst fire in California in the last century (Thomas Fire). Such phenomena (post-fire debris flows) result of complex interactions between predisposition variables (soil type, burnt areas, humidity, hydrophobicity, slopes…) and climatic forcing (rainfall intensity), and the sensitivity of the Montecito upstream basins had been well identified (with a probable flood risk estimated at 68%). Mass evacuations had also been ordered the day before. So, what can we learn about this phenomenon, could it possible to do "better", and is it possible to reduce the number of victims in short term?
De violentes coulées de débris sont apparues vers 4 h du matin, suite à une intensité pluviométrique remarquable (13 mm en 5 minutes, soit une intensité horaire de 157 mm/h). Ces coulées, constituées de blocs, de boue et de branches d'arbres, ont pu déposer, par endroits, une accumulation solide de plus de 5 m. et les vitesses d'écoulements auraient dépassé 30 km/h (soit plus de 8 m/s). Le bilan humain et matériel est lourd : 21 morts ; 2 personnes disparues ; 167 blessés ; 408 maisons endommagées ; un coût estimé à plus de 167 millions de dollars. Cet événement est en réalité apparu 3 semaines après le passage du pire incendie qu'ait connu la Californie au cours du dernier siècle (Thomas Fire). De tels aléas (i.e. « post-fire debris flows ») résultent d'interactions entre les variables de prédisposition (la nature des sols, les zones brûlées, l'humidité, l'hydrophobie, les pentes) et les forçages climatiques (l'intensité des pluies), et ils ne sont pas nouveaux : la sensibilité des bassins amont de Montecito avait bien été identifiée la veille (avec un risque de crue estimé à 68 %). Des évacuations avaient aussi été ordonnées dès la veille (plus de 10 000 personnes). Ainsi, quelles leçons tirer de cet événement, et quelles sont les pistes d'amélioration envisager pour réduire leurs impacts à l'avenir ?
Fichier principal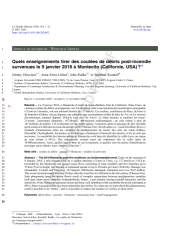 lhb200090_proof.pdf (3.69 Mo)
Télécharger le fichier
Origin : Files produced by the author(s)