French document base and text information: structuring, rephrasing, questioning
Construction et interrogation de la structure informationnelle d'une base documentaire en français
This thesis presents an original methodology to identify and structure information of a French textual base in order to question it. Linguistic techniques in current methods make it possible to improve the results. So we propose a methodology using high-level linguistic analysis (morphology, syntax and word sense disambiguation) to identify each piece of information and to connect them. Because of the lack of context in queries, the texts are analyzed. Then, the information from lexico-semantic resources is used to transform each piece of information in many
realizations: simple and complex synonymy, derivation with adaptation to the syntactic context, addition of semantic features and categories... We finally tested the questioning method using a morpho-syntactic analysis to identify each piece of information in the question and to determine the semantic type of the required answer; the passage of the texts containing these data is the answer to the question.
Cette thèse présente une méthode originale pour identifier et structurer l'information de documents et pour l'interroger. Comme les méthodes linguistiques améliorent les résultats des systèmes actuels, cette approche se base sur des analyses linguistiques et des ressources lexicales. Une analyse grammaticale de haut niveau (morphologique, syntaxique et sémantique) identifie d'abord les éléments d'information et les lie entre eux. Puisque le contexte des requêtes est faible, les textes sont analysés. Puis le contenu des ressources confère aux informations de nombreuses actualisations grâce à des transformations contextuelles : synonymie simple et complexe, dérivations avec adaptation du contexte syntaxique, adjonction de traits sémantiques... Enfin, l'interrogation des textes est testée. Une analyse morpho-syntaxique de la question en identifie les éléments d'information et choisit le type de la réponse attendue. Le fragment de texte contenant ces données constitue la réponse à la question.
Fichier principal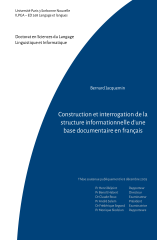 JacqueminB-These.pdf (1.59 Mo)
Télécharger le fichier
Jacquemin-Soutenance-2003.pdf (591.13 Ko)
Télécharger le fichier