Contribution à la mécanique statistique quantique des gaz froids
This thesis presents several results in statistical mechanics of cold gases. The first part mainly concerns non degenerate gases of fermions or bosons with spin (or pseudo-spin) 1/2. We derive a kinetic equation for such gases and use it to study spin transport properties, especially spin waves and Castaing's instability in a trap. Utilizing a hydrodynamic approach, we also calculate collective modes of oscillation of a one-dimensional trapped Bose gas at zero temperature. In a second part, we study equilibrium properties of dense cold gases. In the formalism of Ursell operators, we extend the quantum theory of cluster expansion from dilute to dense systems. This method is then used to study the statistics of exchange cycles in a Bose-Einstein condensate and the superfluid transition of an attractive Fermi gas.
Cette thèse présente un certain nombre de résultats sur la mécanique statistique des gaz froids. La première partie concerne essentiellement les gaz peu dégénérés de fermions ou de bosons avec un spin (ou un pseudo-spin) 1/2. Nous écrivons une équation cinétique pour un tel gaz et nous en servons pour étudier les propriétés de transport de spin, notamment les ondes de spin et l'instabilité de Castaing dans un piège. En utilisant une approche hydrodynamique, nous calculons également les modes collectifs d'oscillation d'un gaz de Bose unidimensionnel dans un piège à température nulle. Dans une deuxième partie, nous nous intéresseons aux propriétés d'équilibre des gaz froids denses. En
utilisant le formalisme des opérateurs d'Ursell, nous étendons la
théorie quantique du développement en agrégats des systèmes dilués
aux systèmes denses. Nous appliquons ensuite cette méthode à l'étude de la statistique des cycles d'un condensat de Bose-Einstein et à la transition superfluide d'un gaz de Fermi attractif.
Fichier principal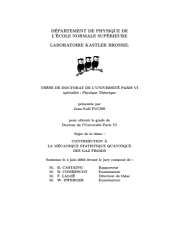 tel-000029601.pdf (4.45 Mo)
Télécharger le fichier
tel-00002960.pdf (1.13 Mo)
Télécharger le fichier