Une infrastructure de simulation modulaire pour l'évaluation de performances de systèmes temps-réel
A real-time computing system is one whose correctness depends on both the logical and the temporal properties of its computations. In this thesis, we propose a simulation tool to evaluate such systems. It may be used as a complement to safe static analysis methods, especially when the temporal behavior of the system or that of its environment is not fully characterized. We made this tool as customizable as possible, provided it with the capacity to reuse existing application code, tried to make it efficient, and allowed the simulated temporal behavior to be as close to the effective one as possible, thanks to the ability to adjust the timing resolution of the simulation. We also introduce a generic objet model for dynamic real-time scheduling, that can adapt to a wide variety of existing schedulers, and that has been assessed by the tool. We finally describe the way the system clock granularity can be taken into account in these algorithms, and evaluate its impact.
Un système informatique est temps-réel lorsque ses traitements doivent vérifier des propriétés d'ordre à la fois logique et temporel. Dans ce travail, nous proposons un outil de simulation pour l'évaluation de tels systèmes. Il peut venir compléter les méthodes sûres d'analyse statique, en particulier lorsque le comportement temporel du système ou de son environnement est insuffisamment caractérisé. L'outil met l'accent sur la faculté de personnalisation du système simulé, la grande fidélité des comportements temporels reproduits grâce à une granularité de simulation ajustable, la possibilité de réutiliser du code d'application existant, et l'efficacité de simulation. Nous présentons aussi un modèle objet générique pour l'ordonnancement dynamique couvrant un grand nombre d'ordonnanceurs existants, et qui a été évalué grâce à l'outil. Nous détaillons enfin les moyens de prise en compte de la granularité de l'horloge système dans ces algorithmes, ainsi qu'une évaluation de leur impact.
Fichier principal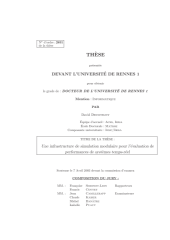 tel-00003582.pdf (2.2 Mo)
Télécharger le fichier
tel-00003582.ppt (619.5 Ko)
Télécharger le fichier