PLURALITY AND DYNAMICS OF THE REGULATION LOGICS: AN ECONOMIC ANALYSIS OF THE FRENCH COMPETITION COUNCIL'S CASE-LAW ON ELECTRICAL MATTERS.
PLURALITE ET DYNAMIQUE DES CONVENTIONS DE REGLEMENTATION

UNE ANALYSE ECONOMIQUE DE LA JURISPRUDENCE DU CONSEIL DE LA CONCURRENCE RELATIVE AU SECTEUR ELECTRIQUE
Initiated by the European Directive of 1996 and the Electricity Act of 2000, the French Electric Sector deregulation raises the issue of the future of the French Public Service and of the National Firm. This PhD dissertation aims at demonstrating the existence of a Regulation frameworks plurality. Theoretical debates highlighted by historical dynamics of French electricity and international comparisons enable us to structure some "conventions of regulation" (in the sense of patterns of expectations relative to the regulation). The current mutations of the French Electrical System are analysed through the Competition Council jurisprudence.
Initiée par la directive européenne de 1996 et la loi de développement et de modernisation du service public de l'électricité, la libéralisation du secteur électrique français pose les questions du devenir du service public à la française et de l'opérateur historique, Electricité de France. Cette thèse vise à mettre en évidence la pluralité des logiques de réglementation susceptibles d'encadrer le secteur électrique. Les débats théoriques éclairés par l'étude de la dynamique historique de l'électricité française et par les expériences étrangères permettent de caractériser chacune de ces logiques, que nous nommons "conventions de réglementation". Les mutations actuelles du système électrique français sont étudiées au travers de l'analyse économique de la jurisprudence du Conseil de la Concurrence.
Fichier principal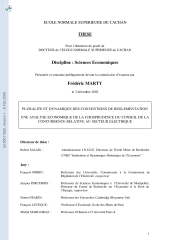 These.PDF (1.85 Mo)
Télécharger le fichier
annexes_These.PDF (774.3 Ko)
Télécharger le fichier