Methodologie et structuration d'un outil de decouverte de connaissances base sur la litterture biomedicale : une application basee sur le MeSH
The information available in bibliographic databases is dated and validated by a long process and becomes not very innovative. Usually bibliographic databases are consultated in a boolean way. The result of a request represente is a set of known which do not bring any additional novelty.
In 1985 Don Swanson proposed an original method to draw out innovative information from bibliographic databases. His reasoning is based on systematic use of the biomedical literature to draw the latent connections between different well established knowledges. He demonstrated unsuspected potential of bibliographic databases in knowledge discovery. The value of his work did not lie in the nature of the available information but consisted in the methodology he used. This general methodology was mainly applied on validated and structured information that is bibliographic information. We propose to test the robustness of Swanson's theory by setting out the methods inspired by this theory. These methods led to the same conclusions as Don Swanson's ones. Then we explain how we developed a knowledge discovery system based on the literature available from public biomedical information sources.
L'information disponible dans les bases de données bibliographiques est une information datée, validée par un processus long qui la rend peu innovante. Dans leur mode d'exploitation, les bases de données bibliographiques sont classiquement interrogées de manière booléenne. Le résultat d'une requête est donc un ensemble d'informations connues qui n'apporte en lui-même aucune nouveauté.
Pourtant, en 1985, Don Swanson propose une méthode originale pour extraire de bases de donnés une information innovante. Son raisonnement est basé sur une exploitation systématique de la littérature biomédicale afin de dégager des connexions latentes entre différentes connaissances bien établies. Ses travaux montrent le potentiel insoupçonné des bases bibliographiques dans la révélation et la découverte de connaissances. Cet intérêt ne tient pas tant à la nature de l'information disponible qu'à la méthodologie utilisée. Cette méthodologie générale s'applique de façon privilégiée dans un environnement d'information validée et structurée ce qui est le cas de l'information bibliographique. Nous proposons de tester la robustesse de la théorie de Swanson en présentant les méthodes qu'elle a inspirées et qui conduisent toutes aux mêmes conclusions. Nous exposons ensuite, comment à partir de sources d'information biomédicales publiques, nous avons développé un système de découverte de connaissances basé sur la littérature.
Fichier principal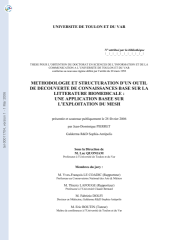 These_JDP.pdf (1003.24 Ko)
Télécharger le fichier
Soutenance_JD_Pierret.pdf (822.94 Ko)
Télécharger le fichier