CHROMATIC ALTERATIONS OF LEAD-CONTAINING PIGMENTS IN ARTWORKS- Experimental Study of the Alterations observed on Mural Paintings
ALTERATIONS CHROMATIQUES DES PIGMENTS AU PLOMB DANS LES ŒUVRES DU PATRIMOINE -Etude expérimentale des altérations observée sur les peintures murales-
Lead-containing pigments (red lead, white lead), widely employed in paintings since Antiquity, are liable to undergo transformations which lead to discolorations of the pictorial layer (blackening, whitening, greening). The conditions of appearing of the alteration phases are studied through artificial ageing tests of raw pigments and experimental paintings. The tests reveal both the decomposition of white lead in the presence of lime and the transformation of minium into black plattnerite b-PbO2 in dilute acidic environment. The characterization of red lead micro-samples taken from an experimental wall painting after a 25-years natural ageing period reveal that blackening is linked to the formation of plattnerite through a probable mechanism of disproportionnation of Pb3O4 in acidic environment. The whitening is cause by the re-crystallization of divalent lead into both cerusite (PbCO3) and anglesite (PbSO4), produced by the absorption of gaseous pollutants (CO2, SO2).
Les pigments au plomb (minium, céruse), couramment employés en peinture depuis l'Antiquité, sont connus pour subir des transformations entraînant des décolorations de la couche picturale (noircissement, blanchissement, verdissement). Les conditions de stabilité des pigments sont étudiées par des essais de vieillissement artificiels de pigments bruts et d'éprouvettes peintes. Ceux-ci montrent la décomposition de l'hydrocérusite en présence de chaux ainsi que la transformation de Pb3O4 en plattnérite (b-PbO2) en milieu acide dilué. La caractérisation d'échantillons de minium prélevés sur un peinture murale expérimentale après 25 ans de vieillissement naturel révèle que le noircissement du minium est lié à la formation de plattnérite par un mécanisme possible de disproportionnation de Pb3O4 en milieu acide. Le
blanchissement est dû à la recristallisation du plomb divalent sous forme de cérusite (PbCO3) et d'anglésite (PbSO4), causée par l'absorption de polluants gazeux (CO2, SO2).
Fichier principal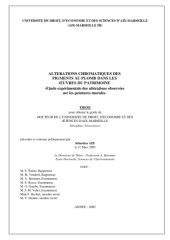 These_Aze.pdf (40.81 Mo)
Télécharger le fichier
Soutenance_Aze.pps (15.91 Mo)
Télécharger le fichier