Analysis and Synthesis of the Finite Word Length Implementation of linear controllers or filters.
- Application to embedded automotive control -
Analyse et synthèse de l'implémentation de lois de contrôle-commande en précision finie
- Étude dans le cadre des applications automobiles sur calculateur embarquée -
These thesis, done in industrial context with PSA Peugeot-Citroën and IRCCyN, deals with the numerical aspect of the implementation of filters or controllers in embedded processors.

The implementation of a controller or a filter in a Finite Word Length context may lead to a deterioration of the global performance, due to parametric errors and numerical noises. We focus here on the effect of the quantization of the embedded coefficients.

It exists an infinity of equivalent relalizations of a given controller, and these realizations are no more equivalent in finite precision : classical state-space realizations, delta-realizations, direct forms, observer-state feedback, cascade or parallel decomposition, etc.

After having exhibits theses possibilites, this Phd thesis proposes an unifying framework — the implicit specialized state-space — that encompasses usual realizations (and many others unexplored). This specialized form, but still macroscopic, is directly connected to the in-line calculations to be performed and the involved coefficients. Various analysis tools, applied to our formalism, may be used to determine how the realization will be altered during the FWL process (with floating point and fixed point considerations).

Then, according to these tools, optimal realizations with the best FWL robustness can be found, via an optimization problem.
Cette thèse CIFRE, réalisée en collaboration industrielle entre l'IRCCyN et PSA Peugeot-Citroën, s'intéresse à l'aspect numérique de l'implémentation, au sein de calculateurs embarqués, de lois de contrôle/commande.

Ces travaux ont porté sur l'implémentation de lois de contrôle-commande (provenant de l'automatique ou du traitement du signal) sous les contraintes de précision finie.
Le processus d'implémentation amène de nombreuses dégradations de la loi et nous nous intéressons plus particulièrement à la quantification des coefficients intervenant dans les calculs.

Pour une loi (filtre ou régulateur) donnée, il existe une infinité de réalisations numériques possibles qui, bien que mathématiquement équivalentes, ne le sont plus en précision finie : de nombreuses réalisations équivalentes existent : forme d'état, réalisations en delta, formes directes, structures retour d'état observateur, décompositions en cascade, en parallèle, ...

Après avoir présenté ces différentes possibilités, ce mémoire de thèse, propose un formalisme mathématique — la forme implicite spécialisée —qui permet de décrire de manière unifiée un ensemble élargi d'implémentations. Celui-ci, bien que macroscopique, permet d'exprimer précisément les calculs à réaliser et les paramètres réellement mis en jeu. Différentes mesures, appliquées à ce formalisme et qui permettent d'évaluer l'impact de la quantification (en virgule fixe et virgule flottante) et d'analyser la dégradation induite, sont ensuite proposées.
Via un problème d'optimisation, la réalisation qui présente la meilleure robustesse face aux détériorations induites par les processus d'implémentation en précision finie est trouvée.
Fichier principal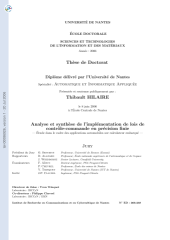 _Hila06c_Analyse_et_synthese_de_l_implementation_de_lois_de_commande_en_precision_finie.pdf (3.55 Mo)
Télécharger le fichier
thesis_-_handout.pdf (814.63 Ko)
Télécharger le fichier