Compared influence between material and virtual considering the understanding of the pupils about the flexion-extension of the arm.
Influence comparée du matériel et du virtuel sur la compréhension des élèves à propos de la flexion-extension du bras.
The thesis consisted to conceive and try out a recourse to the virtual support in a strategy of teaching aiming at the pupil the comprehension and the medium-term memorizing of the movement of flexion-extension of the arm.
Virtual supports using different images (drawing, diagram and animated photograph) were elaborate in the form of simulations. The analysis has essentially reach on the single usage or in complement of a material model of these simulations near the pupils from 8 to 10 years old of several Parisian elementary schools.
The results of the analyses show that more the image approaches reality better is the acquisition of the concepts related to the phenomenon. In regards to the complementarity of the material and the virtual one, data-processing simulation less effective only than is used in complement of the material support, this complementarity working better in the material order then virtual.
La thèse a consisté à concevoir et expérimenter un recours au support virtuel dans une stratégie d'enseignement visant chez l'élève à la compréhension et à la mémorisation à moyen terme du mouvement de flexion-extension du bras.
Des supports virtuels utilisant des images différentes (dessin, schéma et photo animée) ont été élaborés sous forme de simulations. L'analyse a essentiellement portée sur l'utilisation seule ou en complément d'un modèle matériel de ces simulations auprès des élèves de 8 à 10 ans de plusieurs écoles élémentaires parisiennes.
Les résultats montrent que plus l'image se rapproche du réel meilleure est l'acquisition des concepts liés au phénomène. En ce qui concerne la complémentarité du matériel et du virtuel, la simulation informatique est moins efficace seule qu'utilisée en complément du support matériel, cette complémentarité fonctionnant mieux dans l'ordre matériel puis virtuel.
Fichier principal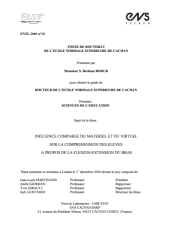 These_BODUR.pdf (1.86 Mo)
Télécharger le fichier
01 - Didacticiel_ Articulation du coude 1-2-3_These B. BODUR/articulation1240603.dcr (117.36 Ko)
Télécharger le fichier
01 - Didacticiel_ Articulation du coude 1-2-3_These B. BODUR/articulation1240603.dir (975.73 Ko)
Télécharger le fichier
01 - Didacticiel_ Articulation du coude 1-2-3_These B. BODUR/articulation1240603.html (994 B)
Télécharger le fichier
01 - Didacticiel_ Articulation du coude 1-2-3_These B. BODUR/articulation2230603.dcr (118.69 Ko)
Télécharger le fichier
01 - Didacticiel_ Articulation du coude 1-2-3_These B. BODUR/articulation2230603.dir (1008.54 Ko)
Télécharger le fichier
01 - Didacticiel_ Articulation du coude 1-2-3_These B. BODUR/articulation2230603.html (994 B)
Télécharger le fichier
01 - Didacticiel_ Articulation du coude 1-2-3_These B. BODUR/articulation3_14-11-03.dcr (734.61 Ko)
Télécharger le fichier
01 - Didacticiel_ Articulation du coude 1-2-3_These B. BODUR/articulation3_14-11-03.dir (3.57 Mo)
Télécharger le fichier
01 - Didacticiel_ Articulation du coude 1-2-3_These B. BODUR/articulation3_14-11-03.html (1006 B)
Télécharger le fichier
02 - GRILLE D'OBS THESE/Grille D'OBS MEMORISATION.doc (36.5 Ko)
Télécharger le fichier
02 - GRILLE D'OBS THESE/Grille D'OBS MV1-MV2-MV3.doc (49.5 Ko)
Télécharger le fichier
02 - GRILLE D'OBS THESE/Grille D'OBS V1-V2-V3.doc (46 Ko)
Télécharger le fichier
02 - GRILLE D'OBS THESE/Grille D'OBS V1M-V2M-V3M.doc (50 Ko)
Télécharger le fichier
03 - GRILLE D'OBS TRANSCRIPTION/MV1/OE139.doc (52 Ko)
Télécharger le fichier
03 - GRILLE D'OBS TRANSCRIPTION/MV1/OE140.doc (52 Ko)
Télécharger le fichier
03 - GRILLE D'OBS TRANSCRIPTION/MV1/OE141.doc (51.5 Ko)
Télécharger le fichier
03 - GRILLE D'OBS TRANSCRIPTION/MV1/OE142.doc (52.5 Ko)
Télécharger le fichier
03 - GRILLE D'OBS TRANSCRIPTION/MV1/OE143.doc (52.5 Ko)
Télécharger le fichier
03 - GRILLE D'OBS TRANSCRIPTION/MV1/OE144.doc (52.5 Ko)
Télécharger le fichier
03 - GRILLE D'OBS TRANSCRIPTION/MV1/OE145.doc (52.5 Ko)
Télécharger le fichier
03 - GRILLE D'OBS TRANSCRIPTION/MV1/OE146.doc (52.5 Ko)
Télécharger le fichier
03 - GRILLE D'OBS TRANSCRIPTION/MV1/OE147.doc (52.5 Ko)
Télécharger le fichier
03 - GRILLE D'OBS TRANSCRIPTION/MV1/OE148.doc (52.5 Ko)
Télécharger le fichier
03 - GRILLE D'OBS TRANSCRIPTION/MV1/OE149.doc (52.5 Ko)
Télécharger le fichier
03 - GRILLE D'OBS TRANSCRIPTION/MV1/OE150.doc (52.5 Ko)
Télécharger le fichier
03 - GRILLE D'OBS TRANSCRIPTION/MV1/OE151.doc (52 Ko)
Télécharger le fichier
03 - GRILLE D'OBS TRANSCRIPTION/MV1/OE152.doc (52 Ko)
Télécharger le fichier
03 - GRILLE D'OBS TRANSCRIPTION/MV1/OE153.doc (53 Ko)
Télécharger le fichier
03 - GRILLE D'OBS TRANSCRIPTION/MV2/OE154.doc (52 Ko)
Télécharger le fichier
03 - GRILLE D'OBS TRANSCRIPTION/MV2/OE155.doc (52 Ko)
Télécharger le fichier
03 - GRILLE D'OBS TRANSCRIPTION/MV2/OE156.doc (52.5 Ko)
Télécharger le fichier
03 - GRILLE D'OBS TRANSCRIPTION/MV2/OE157.doc (52 Ko)
Télécharger le fichier
03 - GRILLE D'OBS TRANSCRIPTION/MV2/OE158.doc (52.5 Ko)
Télécharger le fichier
03 - GRILLE D'OBS TRANSCRIPTION/MV2/OE159.doc (52.5 Ko)
Télécharger le fichier
03 - GRILLE D'OBS TRANSCRIPTION/MV2/OE160.doc (52.5 Ko)
Télécharger le fichier
03 - GRILLE D'OBS TRANSCRIPTION/MV2/OE161.doc (52 Ko)
Télécharger le fichier
03 - GRILLE D'OBS TRANSCRIPTION/MV2/OE162.doc (53 Ko)
Télécharger le fichier
03 - GRILLE D'OBS TRANSCRIPTION/MV2/OE163.doc (53 Ko)
Télécharger le fichier
03 - GRILLE D'OBS TRANSCRIPTION/MV2/OE164.doc (53 Ko)
Télécharger le fichier
03 - GRILLE D'OBS TRANSCRIPTION/MV2/OE165.doc (53 Ko)
Télécharger le fichier
03 - GRILLE D'OBS TRANSCRIPTION/MV2/OE166.doc (53 Ko)
Télécharger le fichier
03 - GRILLE D'OBS TRANSCRIPTION/MV2/OE167.doc (53 Ko)
Télécharger le fichier
03 - GRILLE D'OBS TRANSCRIPTION/MV3/OE168.doc (53 Ko)
Télécharger le fichier
03 - GRILLE D'OBS TRANSCRIPTION/MV3/OE169.doc (52.5 Ko)
Télécharger le fichier
03 - GRILLE D'OBS TRANSCRIPTION/MV3/OE170.doc (52.5 Ko)
Télécharger le fichier
03 - GRILLE D'OBS TRANSCRIPTION/MV3/OE171.doc (53 Ko)
Télécharger le fichier
03 - GRILLE D'OBS TRANSCRIPTION/MV3/OE172.doc (52.5 Ko)
Télécharger le fichier
03 - GRILLE D'OBS TRANSCRIPTION/MV3/OE173.doc (53 Ko)
Télécharger le fichier
03 - GRILLE D'OBS TRANSCRIPTION/MV3/OE174.doc (53 Ko)
Télécharger le fichier
03 - GRILLE D'OBS TRANSCRIPTION/MV3/OE175.doc (52.5 Ko)
Télécharger le fichier
03 - GRILLE D'OBS TRANSCRIPTION/MV3/OE176.doc (53 Ko)
Télécharger le fichier
03 - GRILLE D'OBS TRANSCRIPTION/MV3/OE177.doc (53 Ko)
Télécharger le fichier
03 - GRILLE D'OBS TRANSCRIPTION/MV3/OE178.doc (53 Ko)
Télécharger le fichier
03 - GRILLE D'OBS TRANSCRIPTION/MV3/OE179.doc (53 Ko)
Télécharger le fichier
03 - GRILLE D'OBS TRANSCRIPTION/MV3/OE180.doc (53 Ko)
Télécharger le fichier
03 - GRILLE D'OBS TRANSCRIPTION/MV3/OE181.doc (53 Ko)
Télécharger le fichier
03 - GRILLE D'OBS TRANSCRIPTION/MV3/OE182.doc (52.5 Ko)
Télécharger le fichier
03 - GRILLE D'OBS TRANSCRIPTION/V1/OE1.doc (44.5 Ko)
Télécharger le fichier
03 - GRILLE D'OBS TRANSCRIPTION/V1/OE10.doc (44 Ko)
Télécharger le fichier
03 - GRILLE D'OBS TRANSCRIPTION/V1/OE11.doc (44 Ko)
Télécharger le fichier
03 - GRILLE D'OBS TRANSCRIPTION/V1/OE12.doc (44.5 Ko)
Télécharger le fichier
03 - GRILLE D'OBS TRANSCRIPTION/V1/OE13.doc (44 Ko)
Télécharger le fichier
03 - GRILLE D'OBS TRANSCRIPTION/V1/OE14.doc (44 Ko)
Télécharger le fichier
03 - GRILLE D'OBS TRANSCRIPTION/V1/OE15.doc (44 Ko)
Télécharger le fichier
03 - GRILLE D'OBS TRANSCRIPTION/V1/OE16.doc (44 Ko)
Télécharger le fichier
03 - GRILLE D'OBS TRANSCRIPTION/V1/OE17.doc (44.5 Ko)
Télécharger le fichier
03 - GRILLE D'OBS TRANSCRIPTION/V1/OE18.doc (44.5 Ko)
Télécharger le fichier
03 - GRILLE D'OBS TRANSCRIPTION/V1/OE19.doc (44 Ko)
Télécharger le fichier
03 - GRILLE D'OBS TRANSCRIPTION/V1/OE2.doc (44.5 Ko)
Télécharger le fichier
03 - GRILLE D'OBS TRANSCRIPTION/V1/OE20.doc (44 Ko)
Télécharger le fichier
03 - GRILLE D'OBS TRANSCRIPTION/V1/OE21.doc (44 Ko)
Télécharger le fichier
03 - GRILLE D'OBS TRANSCRIPTION/V1/OE22.doc (44 Ko)
Télécharger le fichier
03 - GRILLE D'OBS TRANSCRIPTION/V1/OE23.doc (44 Ko)
Télécharger le fichier
03 - GRILLE D'OBS TRANSCRIPTION/V1/OE24.doc (44 Ko)
Télécharger le fichier
03 - GRILLE D'OBS TRANSCRIPTION/V1/OE25.doc (44 Ko)
Télécharger le fichier
03 - GRILLE D'OBS TRANSCRIPTION/V1/OE26.doc (44 Ko)
Télécharger le fichier
03 - GRILLE D'OBS TRANSCRIPTION/V1/OE27.doc (44 Ko)
Télécharger le fichier
03 - GRILLE D'OBS TRANSCRIPTION/V1/OE28.doc (44 Ko)
Télécharger le fichier
03 - GRILLE D'OBS TRANSCRIPTION/V1/OE29.doc (44 Ko)
Télécharger le fichier
03 - GRILLE D'OBS TRANSCRIPTION/V1/OE3.doc (44 Ko)
Télécharger le fichier
03 - GRILLE D'OBS TRANSCRIPTION/V1/OE30.doc (44 Ko)
Télécharger le fichier
03 - GRILLE D'OBS TRANSCRIPTION/V1/OE31.doc (44 Ko)
Télécharger le fichier
03 - GRILLE D'OBS TRANSCRIPTION/V1/OE32.doc (44.5 Ko)
Télécharger le fichier
03 - GRILLE D'OBS TRANSCRIPTION/V1/OE33.doc (44 Ko)
Télécharger le fichier
03 - GRILLE D'OBS TRANSCRIPTION/V1/OE34.doc (44.5 Ko)
Télécharger le fichier
03 - GRILLE D'OBS TRANSCRIPTION/V1/OE35.doc (44 Ko)
Télécharger le fichier
03 - GRILLE D'OBS TRANSCRIPTION/V1/OE36.doc (44 Ko)
Télécharger le fichier
03 - GRILLE D'OBS TRANSCRIPTION/V1/OE37.doc (44 Ko)
Télécharger le fichier
03 - GRILLE D'OBS TRANSCRIPTION/V1/OE38.doc (44 Ko)
Télécharger le fichier
03 - GRILLE D'OBS TRANSCRIPTION/V1/OE39.doc (44.5 Ko)
Télécharger le fichier
03 - GRILLE D'OBS TRANSCRIPTION/V1/OE4.doc (44.5 Ko)
Télécharger le fichier
03 - GRILLE D'OBS TRANSCRIPTION/V1/OE40.doc (44 Ko)
Télécharger le fichier
03 - GRILLE D'OBS TRANSCRIPTION/V1/OE41.doc (44 Ko)
Télécharger le fichier
03 - GRILLE D'OBS TRANSCRIPTION/V1/OE42.doc (44.5 Ko)
Télécharger le fichier
03 - GRILLE D'OBS TRANSCRIPTION/V1/OE5.doc (44 Ko)
Télécharger le fichier
03 - GRILLE D'OBS TRANSCRIPTION/V1/OE6.doc (44 Ko)
Télécharger le fichier
03 - GRILLE D'OBS TRANSCRIPTION/V1/OE7.doc (44.5 Ko)
Télécharger le fichier
03 - GRILLE D'OBS TRANSCRIPTION/V1/OE8.doc (44 Ko)
Télécharger le fichier
03 - GRILLE D'OBS TRANSCRIPTION/V1/OE9.doc (44 Ko)
Télécharger le fichier
03 - GRILLE D'OBS TRANSCRIPTION/V1M/OE183.doc (52 Ko)
Télécharger le fichier
03 - GRILLE D'OBS TRANSCRIPTION/V1M/OE184.doc (52 Ko)
Télécharger le fichier
03 - GRILLE D'OBS TRANSCRIPTION/V1M/OE185.doc (52.5 Ko)
Télécharger le fichier
03 - GRILLE D'OBS TRANSCRIPTION/V1M/OE186.doc (52 Ko)
Télécharger le fichier
03 - GRILLE D'OBS TRANSCRIPTION/V1M/OE187.doc (52 Ko)
Télécharger le fichier
03 - GRILLE D'OBS TRANSCRIPTION/V1M/OE188.doc (52.5 Ko)
Télécharger le fichier
03 - GRILLE D'OBS TRANSCRIPTION/V1M/OE189.doc (53 Ko)
Télécharger le fichier
03 - GRILLE D'OBS TRANSCRIPTION/V1M/OE190.doc (52 Ko)
Télécharger le fichier
03 - GRILLE D'OBS TRANSCRIPTION/V1M/OE191.doc (53 Ko)
Télécharger le fichier
03 - GRILLE D'OBS TRANSCRIPTION/V1M/OE192.doc (52.5 Ko)
Télécharger le fichier
03 - GRILLE D'OBS TRANSCRIPTION/V1M/OE193.doc (53 Ko)
Télécharger le fichier
03 - GRILLE D'OBS TRANSCRIPTION/V1M/OE194.doc (53 Ko)
Télécharger le fichier
03 - GRILLE D'OBS TRANSCRIPTION/V1M/OE195.doc (53 Ko)
Télécharger le fichier
03 - GRILLE D'OBS TRANSCRIPTION/V1M/OE196.doc (53 Ko)
Télécharger le fichier
03 - GRILLE D'OBS TRANSCRIPTION/V1M/OE197.doc (52.5 Ko)
Télécharger le fichier
03 - GRILLE D'OBS TRANSCRIPTION/V2/OE43.doc (45.5 Ko)
Télécharger le fichier
03 - GRILLE D'OBS TRANSCRIPTION/V2/OE44.doc (45 Ko)
Télécharger le fichier
03 - GRILLE D'OBS TRANSCRIPTION/V2/OE45.doc (45 Ko)
Télécharger le fichier
03 - GRILLE D'OBS TRANSCRIPTION/V2/OE46.doc (45 Ko)
Télécharger le fichier
03 - GRILLE D'OBS TRANSCRIPTION/V2/OE47.doc (45 Ko)
Télécharger le fichier
03 - GRILLE D'OBS TRANSCRIPTION/V2/OE48.doc (45 Ko)
Télécharger le fichier
03 - GRILLE D'OBS TRANSCRIPTION/V2/OE49.doc (45 Ko)
Télécharger le fichier
03 - GRILLE D'OBS TRANSCRIPTION/V2/OE50.doc (45 Ko)
Télécharger le fichier
03 - GRILLE D'OBS TRANSCRIPTION/V2/OE51.doc (45 Ko)
Télécharger le fichier
03 - GRILLE D'OBS TRANSCRIPTION/V2/OE52.doc (45 Ko)
Télécharger le fichier
03 - GRILLE D'OBS TRANSCRIPTION/V2/OE53.doc (45 Ko)
Télécharger le fichier
03 - GRILLE D'OBS TRANSCRIPTION/V2/OE54.doc (45.5 Ko)
Télécharger le fichier
03 - GRILLE D'OBS TRANSCRIPTION/V2/OE55.doc (45 Ko)
Télécharger le fichier
03 - GRILLE D'OBS TRANSCRIPTION/V2/OE56.doc (45.5 Ko)
Télécharger le fichier
03 - GRILLE D'OBS TRANSCRIPTION/V2/OE57.doc (45 Ko)
Télécharger le fichier
03 - GRILLE D'OBS TRANSCRIPTION/V2/OE58.doc (45 Ko)
Télécharger le fichier
03 - GRILLE D'OBS TRANSCRIPTION/V2/OE59.doc (46 Ko)
Télécharger le fichier
03 - GRILLE D'OBS TRANSCRIPTION/V2/OE60.doc (45.5 Ko)
Télécharger le fichier
03 - GRILLE D'OBS TRANSCRIPTION/V2/OE61.doc (45.5 Ko)
Télécharger le fichier
03 - GRILLE D'OBS TRANSCRIPTION/V2/OE62.doc (45.5 Ko)
Télécharger le fichier
03 - GRILLE D'OBS TRANSCRIPTION/V2/OE63.doc (45.5 Ko)
Télécharger le fichier
03 - GRILLE D'OBS TRANSCRIPTION/V2/OE64.doc (45.5 Ko)
Télécharger le fichier
03 - GRILLE D'OBS TRANSCRIPTION/V2/OE65.doc (45.5 Ko)
Télécharger le fichier
03 - GRILLE D'OBS TRANSCRIPTION/V2/OE66.doc (45.5 Ko)
Télécharger le fichier
03 - GRILLE D'OBS TRANSCRIPTION/V2/OE67.doc (45.5 Ko)
Télécharger le fichier
03 - GRILLE D'OBS TRANSCRIPTION/V2/OE68.doc (45.5 Ko)
Télécharger le fichier
03 - GRILLE D'OBS TRANSCRIPTION/V2/OE69.doc (45.5 Ko)
Télécharger le fichier
03 - GRILLE D'OBS TRANSCRIPTION/V2/OE70.doc (46 Ko)
Télécharger le fichier
03 - GRILLE D'OBS TRANSCRIPTION/V2/OE71.doc (46 Ko)
Télécharger le fichier
03 - GRILLE D'OBS TRANSCRIPTION/V2/OE72.doc (46 Ko)
Télécharger le fichier
03 - GRILLE D'OBS TRANSCRIPTION/V2/OE73.doc (46 Ko)
Télécharger le fichier
03 - GRILLE D'OBS TRANSCRIPTION/V2/OE74.doc (46 Ko)
Télécharger le fichier
03 - GRILLE D'OBS TRANSCRIPTION/V2/OE75.doc (46 Ko)
Télécharger le fichier
03 - GRILLE D'OBS TRANSCRIPTION/V2/OE76.doc (46.5 Ko)
Télécharger le fichier
03 - GRILLE D'OBS TRANSCRIPTION/V2/OE77.doc (46.5 Ko)
Télécharger le fichier
03 - GRILLE D'OBS TRANSCRIPTION/V2/OE78.doc (46 Ko)
Télécharger le fichier
03 - GRILLE D'OBS TRANSCRIPTION/V2/OE79.doc (46 Ko)
Télécharger le fichier
03 - GRILLE D'OBS TRANSCRIPTION/V2/OE80.doc (46 Ko)
Télécharger le fichier
03 - GRILLE D'OBS TRANSCRIPTION/V2/OE81.doc (46 Ko)
Télécharger le fichier
03 - GRILLE D'OBS TRANSCRIPTION/V2/OE82.doc (46 Ko)
Télécharger le fichier
03 - GRILLE D'OBS TRANSCRIPTION/V2/OE83.doc (46 Ko)
Télécharger le fichier
03 - GRILLE D'OBS TRANSCRIPTION/V2/OE84.doc (46 Ko)
Télécharger le fichier
03 - GRILLE D'OBS TRANSCRIPTION/V2/OE85.doc (46 Ko)
Télécharger le fichier
03 - GRILLE D'OBS TRANSCRIPTION/V2/OE86.doc (46.5 Ko)
Télécharger le fichier
03 - GRILLE D'OBS TRANSCRIPTION/V2M/OE198.doc (53 Ko)
Télécharger le fichier
03 - GRILLE D'OBS TRANSCRIPTION/V2M/OE199.doc (53 Ko)
Télécharger le fichier
03 - GRILLE D'OBS TRANSCRIPTION/V2M/OE200.doc (53 Ko)
Télécharger le fichier
03 - GRILLE D'OBS TRANSCRIPTION/V2M/OE201.doc (53 Ko)
Télécharger le fichier
03 - GRILLE D'OBS TRANSCRIPTION/V2M/OE202.doc (53 Ko)
Télécharger le fichier
03 - GRILLE D'OBS TRANSCRIPTION/V2M/OE203.doc (53.5 Ko)
Télécharger le fichier
03 - GRILLE D'OBS TRANSCRIPTION/V2M/OE204.doc (53 Ko)
Télécharger le fichier
03 - GRILLE D'OBS TRANSCRIPTION/V2M/OE205.doc (53 Ko)
Télécharger le fichier
03 - GRILLE D'OBS TRANSCRIPTION/V2M/OE206.doc (52.5 Ko)
Télécharger le fichier
03 - GRILLE D'OBS TRANSCRIPTION/V2M/OE207.doc (52.5 Ko)
Télécharger le fichier
03 - GRILLE D'OBS TRANSCRIPTION/V2M/OE208.doc (54 Ko)
Télécharger le fichier
03 - GRILLE D'OBS TRANSCRIPTION/V3/OE100.doc (46 Ko)
Télécharger le fichier
03 - GRILLE D'OBS TRANSCRIPTION/V3/OE101.doc (46 Ko)
Télécharger le fichier
03 - GRILLE D'OBS TRANSCRIPTION/V3/OE102.doc (46 Ko)
Télécharger le fichier
03 - GRILLE D'OBS TRANSCRIPTION/V3/OE103.doc (46 Ko)
Télécharger le fichier
03 - GRILLE D'OBS TRANSCRIPTION/V3/OE104.doc (46 Ko)
Télécharger le fichier
03 - GRILLE D'OBS TRANSCRIPTION/V3/OE105.doc (46 Ko)
Télécharger le fichier
03 - GRILLE D'OBS TRANSCRIPTION/V3/OE106.doc (46 Ko)
Télécharger le fichier
03 - GRILLE D'OBS TRANSCRIPTION/V3/OE107.doc (46 Ko)
Télécharger le fichier
03 - GRILLE D'OBS TRANSCRIPTION/V3/OE108.doc (46 Ko)
Télécharger le fichier
03 - GRILLE D'OBS TRANSCRIPTION/V3/OE109.doc (46 Ko)
Télécharger le fichier
03 - GRILLE D'OBS TRANSCRIPTION/V3/OE110.doc (46 Ko)
Télécharger le fichier
03 - GRILLE D'OBS TRANSCRIPTION/V3/OE111.doc (46 Ko)
Télécharger le fichier
03 - GRILLE D'OBS TRANSCRIPTION/V3/OE112.doc (46 Ko)
Télécharger le fichier
03 - GRILLE D'OBS TRANSCRIPTION/V3/OE113.doc (46 Ko)
Télécharger le fichier
03 - GRILLE D'OBS TRANSCRIPTION/V3/OE114.doc (46 Ko)
Télécharger le fichier
03 - GRILLE D'OBS TRANSCRIPTION/V3/OE115.doc (46 Ko)
Télécharger le fichier
03 - GRILLE D'OBS TRANSCRIPTION/V3/OE116.doc (46 Ko)
Télécharger le fichier
03 - GRILLE D'OBS TRANSCRIPTION/V3/OE117.doc (46.5 Ko)
Télécharger le fichier
03 - GRILLE D'OBS TRANSCRIPTION/V3/OE118.doc (46 Ko)
Télécharger le fichier
03 - GRILLE D'OBS TRANSCRIPTION/V3/OE119.doc (46 Ko)
Télécharger le fichier
03 - GRILLE D'OBS TRANSCRIPTION/V3/OE120.doc (46 Ko)
Télécharger le fichier
03 - GRILLE D'OBS TRANSCRIPTION/V3/OE121.doc (46 Ko)
Télécharger le fichier
03 - GRILLE D'OBS TRANSCRIPTION/V3/OE122.doc (46 Ko)
Télécharger le fichier
03 - GRILLE D'OBS TRANSCRIPTION/V3/OE123.doc (46.5 Ko)
Télécharger le fichier
03 - GRILLE D'OBS TRANSCRIPTION/V3/OE124.doc (46 Ko)
Télécharger le fichier
03 - GRILLE D'OBS TRANSCRIPTION/V3/OE125.doc (46 Ko)
Télécharger le fichier
03 - GRILLE D'OBS TRANSCRIPTION/V3/OE126.doc (46 Ko)
Télécharger le fichier
03 - GRILLE D'OBS TRANSCRIPTION/V3/OE127.doc (46 Ko)
Télécharger le fichier
03 - GRILLE D'OBS TRANSCRIPTION/V3/OE128.doc (46.5 Ko)
Télécharger le fichier
03 - GRILLE D'OBS TRANSCRIPTION/V3/OE129.doc (46.5 Ko)
Télécharger le fichier
03 - GRILLE D'OBS TRANSCRIPTION/V3/OE130.doc (46.5 Ko)
Télécharger le fichier
03 - GRILLE D'OBS TRANSCRIPTION/V3/OE131.doc (46.5 Ko)
Télécharger le fichier
03 - GRILLE D'OBS TRANSCRIPTION/V3/OE132.doc (46.5 Ko)
Télécharger le fichier
03 - GRILLE D'OBS TRANSCRIPTION/V3/OE133.doc (46.5 Ko)
Télécharger le fichier
03 - GRILLE D'OBS TRANSCRIPTION/V3/OE134.doc (46.5 Ko)
Télécharger le fichier
03 - GRILLE D'OBS TRANSCRIPTION/V3/OE135.doc (46.5 Ko)
Télécharger le fichier
03 - GRILLE D'OBS TRANSCRIPTION/V3/OE136.doc (46.5 Ko)
Télécharger le fichier
03 - GRILLE D'OBS TRANSCRIPTION/V3/OE137.doc (46.5 Ko)
Télécharger le fichier
03 - GRILLE D'OBS TRANSCRIPTION/V3/OE138.doc (46.5 Ko)
Télécharger le fichier
03 - GRILLE D'OBS TRANSCRIPTION/V3/OE87.doc (46 Ko)
Télécharger le fichier
03 - GRILLE D'OBS TRANSCRIPTION/V3/OE88.doc (45.5 Ko)
Télécharger le fichier
03 - GRILLE D'OBS TRANSCRIPTION/V3/OE89.doc (45.5 Ko)
Télécharger le fichier
03 - GRILLE D'OBS TRANSCRIPTION/V3/OE90.doc (45.5 Ko)
Télécharger le fichier
03 - GRILLE D'OBS TRANSCRIPTION/V3/OE91.doc (46 Ko)
Télécharger le fichier
03 - GRILLE D'OBS TRANSCRIPTION/V3/OE92.doc (46 Ko)
Télécharger le fichier
03 - GRILLE D'OBS TRANSCRIPTION/V3/OE93.doc (46 Ko)
Télécharger le fichier
03 - GRILLE D'OBS TRANSCRIPTION/V3/OE94.doc (46 Ko)
Télécharger le fichier
03 - GRILLE D'OBS TRANSCRIPTION/V3/OE95.doc (46 Ko)
Télécharger le fichier
03 - GRILLE D'OBS TRANSCRIPTION/V3/OE96.doc (46 Ko)
Télécharger le fichier
03 - GRILLE D'OBS TRANSCRIPTION/V3/OE97.doc (46 Ko)
Télécharger le fichier
03 - GRILLE D'OBS TRANSCRIPTION/V3/OE98.doc (46 Ko)
Télécharger le fichier
03 - GRILLE D'OBS TRANSCRIPTION/V3/OE99.doc (46 Ko)
Télécharger le fichier
03 - GRILLE D'OBS TRANSCRIPTION/V3M/OE209.doc (54 Ko)
Télécharger le fichier
03 - GRILLE D'OBS TRANSCRIPTION/V3M/OE210.doc (54 Ko)
Télécharger le fichier
03 - GRILLE D'OBS TRANSCRIPTION/V3M/OE211.doc (54.5 Ko)
Télécharger le fichier
03 - GRILLE D'OBS TRANSCRIPTION/V3M/OE212.doc (54 Ko)
Télécharger le fichier
03 - GRILLE D'OBS TRANSCRIPTION/V3M/OE213.doc (54 Ko)
Télécharger le fichier
03 - GRILLE D'OBS TRANSCRIPTION/V3M/OE214.doc (54.5 Ko)
Télécharger le fichier
03 - GRILLE D'OBS TRANSCRIPTION/V3M/OE215.doc (54.5 Ko)
Télécharger le fichier
03 - GRILLE D'OBS TRANSCRIPTION/V3M/OE216.doc (54.5 Ko)
Télécharger le fichier
03 - GRILLE D'OBS TRANSCRIPTION/V3M/OE217.doc (54.5 Ko)
Télécharger le fichier
03 - GRILLE D'OBS TRANSCRIPTION/V3M/OE218.doc (54.5 Ko)
Télécharger le fichier
03 - GRILLE D'OBS TRANSCRIPTION/V3M/OE219.doc (54.5 Ko)
Télécharger le fichier
03 - GRILLE D'OBS TRANSCRIPTION/V3M/OE220.doc (54.5 Ko)
Télécharger le fichier
03 - GRILLE D'OBS TRANSCRIPTION/V3M/OE221.doc (54.5 Ko)
Télécharger le fichier
03 - GRILLE D'OBS TRANSCRIPTION/V3M/OE222.doc (54.5 Ko)
Télécharger le fichier
03 - GRILLE D'OBS TRANSCRIPTION/V3M/OE223.doc (54.5 Ko)
Télécharger le fichier
03 - GRILLE D'OBS TRANSCRIPTION/V3M/OE224.doc (54.5 Ko)
Télécharger le fichier
04 - THESE OBS DETAILS/Q.1.11.doc (53.5 Ko)
Télécharger le fichier
04 - THESE OBS DETAILS/Q.1.13.doc (33.5 Ko)
Télécharger le fichier
04 - THESE OBS DETAILS/Q.1.4.doc (51 Ko)
Télécharger le fichier
04 - THESE OBS DETAILS/Q.1.6.doc (48.5 Ko)
Télécharger le fichier
04 - THESE OBS DETAILS/Q.1.8.doc (62 Ko)
Télécharger le fichier
05 - GRILLE MEMORIS TRANSCRIPTION/MV1/ME139.doc (37 Ko)
Télécharger le fichier
05 - GRILLE MEMORIS TRANSCRIPTION/MV1/ME140.doc (37 Ko)
Télécharger le fichier
05 - GRILLE MEMORIS TRANSCRIPTION/MV1/ME141.doc (37 Ko)
Télécharger le fichier
05 - GRILLE MEMORIS TRANSCRIPTION/MV1/ME142.doc (37.5 Ko)
Télécharger le fichier
05 - GRILLE MEMORIS TRANSCRIPTION/MV1/ME143.doc (37 Ko)
Télécharger le fichier
05 - GRILLE MEMORIS TRANSCRIPTION/MV1/ME144.doc (37 Ko)
Télécharger le fichier
05 - GRILLE MEMORIS TRANSCRIPTION/MV1/ME145.doc (37 Ko)
Télécharger le fichier
05 - GRILLE MEMORIS TRANSCRIPTION/MV1/ME146.doc (37 Ko)
Télécharger le fichier
05 - GRILLE MEMORIS TRANSCRIPTION/MV1/ME147.doc (37 Ko)
Télécharger le fichier
05 - GRILLE MEMORIS TRANSCRIPTION/MV1/ME148.doc (37 Ko)
Télécharger le fichier
05 - GRILLE MEMORIS TRANSCRIPTION/MV1/ME149.doc (37 Ko)
Télécharger le fichier
05 - GRILLE MEMORIS TRANSCRIPTION/MV1/ME150.doc (37 Ko)
Télécharger le fichier
05 - GRILLE MEMORIS TRANSCRIPTION/MV1/ME151.doc (37 Ko)
Télécharger le fichier
05 - GRILLE MEMORIS TRANSCRIPTION/MV1/ME152.doc (37 Ko)
Télécharger le fichier
05 - GRILLE MEMORIS TRANSCRIPTION/MV1/ME153.doc (37 Ko)
Télécharger le fichier
05 - GRILLE MEMORIS TRANSCRIPTION/MV2/ME154.doc (37 Ko)
Télécharger le fichier
05 - GRILLE MEMORIS TRANSCRIPTION/MV2/ME155.doc (37 Ko)
Télécharger le fichier
05 - GRILLE MEMORIS TRANSCRIPTION/MV2/ME156.doc (37.5 Ko)
Télécharger le fichier
05 - GRILLE MEMORIS TRANSCRIPTION/MV2/ME157.doc (37 Ko)
Télécharger le fichier
05 - GRILLE MEMORIS TRANSCRIPTION/MV2/ME158.doc (37.5 Ko)
Télécharger le fichier
05 - GRILLE MEMORIS TRANSCRIPTION/MV2/ME159.doc (37.5 Ko)
Télécharger le fichier
05 - GRILLE MEMORIS TRANSCRIPTION/MV2/ME160.doc (37 Ko)
Télécharger le fichier
05 - GRILLE MEMORIS TRANSCRIPTION/MV2/ME161.doc (37.5 Ko)
Télécharger le fichier
05 - GRILLE MEMORIS TRANSCRIPTION/MV2/ME162.doc (37.5 Ko)
Télécharger le fichier
05 - GRILLE MEMORIS TRANSCRIPTION/MV2/ME163.doc (37.5 Ko)
Télécharger le fichier
05 - GRILLE MEMORIS TRANSCRIPTION/MV2/ME164.doc (37.5 Ko)
Télécharger le fichier
05 - GRILLE MEMORIS TRANSCRIPTION/MV2/ME165.doc (37.5 Ko)
Télécharger le fichier
05 - GRILLE MEMORIS TRANSCRIPTION/MV2/ME166.doc (37.5 Ko)
Télécharger le fichier
05 - GRILLE MEMORIS TRANSCRIPTION/MV2/ME167.doc (37.5 Ko)
Télécharger le fichier
05 - GRILLE MEMORIS TRANSCRIPTION/MV3/ME168.doc (37.5 Ko)
Télécharger le fichier
05 - GRILLE MEMORIS TRANSCRIPTION/MV3/ME169.doc (37.5 Ko)
Télécharger le fichier
05 - GRILLE MEMORIS TRANSCRIPTION/MV3/ME170.doc (37.5 Ko)
Télécharger le fichier
05 - GRILLE MEMORIS TRANSCRIPTION/MV3/ME171.doc (37.5 Ko)
Télécharger le fichier
05 - GRILLE MEMORIS TRANSCRIPTION/MV3/ME172.doc (37.5 Ko)
Télécharger le fichier
05 - GRILLE MEMORIS TRANSCRIPTION/MV3/ME173.doc (37.5 Ko)
Télécharger le fichier
05 - GRILLE MEMORIS TRANSCRIPTION/MV3/ME174.doc (37.5 Ko)
Télécharger le fichier
05 - GRILLE MEMORIS TRANSCRIPTION/MV3/ME175.doc (37.5 Ko)
Télécharger le fichier
05 - GRILLE MEMORIS TRANSCRIPTION/MV3/ME176.doc (37.5 Ko)
Télécharger le fichier
05 - GRILLE MEMORIS TRANSCRIPTION/MV3/ME177.doc (37.5 Ko)
Télécharger le fichier
05 - GRILLE MEMORIS TRANSCRIPTION/MV3/ME178.doc (38 Ko)
Télécharger le fichier
05 - GRILLE MEMORIS TRANSCRIPTION/MV3/ME179.doc (37.5 Ko)
Télécharger le fichier
05 - GRILLE MEMORIS TRANSCRIPTION/MV3/ME180.doc (37.5 Ko)
Télécharger le fichier
05 - GRILLE MEMORIS TRANSCRIPTION/MV3/ME181.doc (37.5 Ko)
Télécharger le fichier
05 - GRILLE MEMORIS TRANSCRIPTION/MV3/ME182.doc (37.5 Ko)
Télécharger le fichier
05 - GRILLE MEMORIS TRANSCRIPTION/V1/ME1.doc (35.5 Ko)
Télécharger le fichier
05 - GRILLE MEMORIS TRANSCRIPTION/V1/ME10.doc (36 Ko)
Télécharger le fichier
05 - GRILLE MEMORIS TRANSCRIPTION/V1/ME11.doc (36 Ko)
Télécharger le fichier
05 - GRILLE MEMORIS TRANSCRIPTION/V1/ME12.doc (36 Ko)
Télécharger le fichier
05 - GRILLE MEMORIS TRANSCRIPTION/V1/ME13.doc (36.5 Ko)
Télécharger le fichier
05 - GRILLE MEMORIS TRANSCRIPTION/V1/ME14.doc (36.5 Ko)
Télécharger le fichier
05 - GRILLE MEMORIS TRANSCRIPTION/V1/ME15.doc (36 Ko)
Télécharger le fichier
05 - GRILLE MEMORIS TRANSCRIPTION/V1/ME16.doc (36 Ko)
Télécharger le fichier
05 - GRILLE MEMORIS TRANSCRIPTION/V1/ME17.doc (36.5 Ko)
Télécharger le fichier
05 - GRILLE MEMORIS TRANSCRIPTION/V1/ME18.doc (36 Ko)
Télécharger le fichier
05 - GRILLE MEMORIS TRANSCRIPTION/V1/ME19.doc (36.5 Ko)
Télécharger le fichier
05 - GRILLE MEMORIS TRANSCRIPTION/V1/ME2.doc (36 Ko)
Télécharger le fichier
05 - GRILLE MEMORIS TRANSCRIPTION/V1/ME20.doc (36 Ko)
Télécharger le fichier
05 - GRILLE MEMORIS TRANSCRIPTION/V1/ME21.doc (36 Ko)
Télécharger le fichier
05 - GRILLE MEMORIS TRANSCRIPTION/V1/ME22.doc (36 Ko)
Télécharger le fichier
05 - GRILLE MEMORIS TRANSCRIPTION/V1/ME23.doc (36 Ko)
Télécharger le fichier
05 - GRILLE MEMORIS TRANSCRIPTION/V1/ME24.doc (36 Ko)
Télécharger le fichier
05 - GRILLE MEMORIS TRANSCRIPTION/V1/ME25.doc (36 Ko)
Télécharger le fichier
05 - GRILLE MEMORIS TRANSCRIPTION/V1/ME26.doc (36.5 Ko)
Télécharger le fichier
05 - GRILLE MEMORIS TRANSCRIPTION/V1/ME27.doc (36 Ko)
Télécharger le fichier
05 - GRILLE MEMORIS TRANSCRIPTION/V1/ME28.doc (36 Ko)
Télécharger le fichier
05 - GRILLE MEMORIS TRANSCRIPTION/V1/ME29.doc (36.5 Ko)
Télécharger le fichier
05 - GRILLE MEMORIS TRANSCRIPTION/V1/ME3.doc (36.5 Ko)
Télécharger le fichier
05 - GRILLE MEMORIS TRANSCRIPTION/V1/ME30.doc (36 Ko)
Télécharger le fichier
05 - GRILLE MEMORIS TRANSCRIPTION/V1/ME31.doc (36 Ko)
Télécharger le fichier
05 - GRILLE MEMORIS TRANSCRIPTION/V1/ME32.doc (36.5 Ko)
Télécharger le fichier
05 - GRILLE MEMORIS TRANSCRIPTION/V1/ME33.doc (36 Ko)
Télécharger le fichier
05 - GRILLE MEMORIS TRANSCRIPTION/V1/ME34.doc (36 Ko)
Télécharger le fichier
05 - GRILLE MEMORIS TRANSCRIPTION/V1/ME35.doc (36 Ko)
Télécharger le fichier
05 - GRILLE MEMORIS TRANSCRIPTION/V1/ME36.doc (36 Ko)
Télécharger le fichier
05 - GRILLE MEMORIS TRANSCRIPTION/V1/ME37.doc (36 Ko)
Télécharger le fichier
05 - GRILLE MEMORIS TRANSCRIPTION/V1/ME38.doc (36 Ko)
Télécharger le fichier
05 - GRILLE MEMORIS TRANSCRIPTION/V1/ME39.doc (36.5 Ko)
Télécharger le fichier
05 - GRILLE MEMORIS TRANSCRIPTION/V1/ME4.doc (36.5 Ko)
Télécharger le fichier
05 - GRILLE MEMORIS TRANSCRIPTION/V1/ME40.doc (36 Ko)
Télécharger le fichier
05 - GRILLE MEMORIS TRANSCRIPTION/V1/ME41.doc (36 Ko)
Télécharger le fichier
05 - GRILLE MEMORIS TRANSCRIPTION/V1/ME42.doc (36 Ko)
Télécharger le fichier
05 - GRILLE MEMORIS TRANSCRIPTION/V1/ME5.doc (36.5 Ko)
Télécharger le fichier
05 - GRILLE MEMORIS TRANSCRIPTION/V1/ME6.doc (36.5 Ko)
Télécharger le fichier
05 - GRILLE MEMORIS TRANSCRIPTION/V1/ME7.doc (36 Ko)
Télécharger le fichier
05 - GRILLE MEMORIS TRANSCRIPTION/V1/ME8.doc (36 Ko)
Télécharger le fichier
05 - GRILLE MEMORIS TRANSCRIPTION/V1/ME9.doc (36 Ko)
Télécharger le fichier
05 - GRILLE MEMORIS TRANSCRIPTION/V1M/ME183.doc (37.5 Ko)
Télécharger le fichier
05 - GRILLE MEMORIS TRANSCRIPTION/V1M/ME184.doc (37.5 Ko)
Télécharger le fichier
05 - GRILLE MEMORIS TRANSCRIPTION/V1M/ME185.doc (37.5 Ko)
Télécharger le fichier
05 - GRILLE MEMORIS TRANSCRIPTION/V1M/ME186.doc (37.5 Ko)
Télécharger le fichier
05 - GRILLE MEMORIS TRANSCRIPTION/V1M/ME187.doc (37.5 Ko)
Télécharger le fichier
05 - GRILLE MEMORIS TRANSCRIPTION/V1M/ME188.doc (37.5 Ko)
Télécharger le fichier
05 - GRILLE MEMORIS TRANSCRIPTION/V1M/ME189.doc (37.5 Ko)
Télécharger le fichier
05 - GRILLE MEMORIS TRANSCRIPTION/V1M/ME190.doc (37.5 Ko)
Télécharger le fichier
05 - GRILLE MEMORIS TRANSCRIPTION/V1M/ME191.doc (37.5 Ko)
Télécharger le fichier
05 - GRILLE MEMORIS TRANSCRIPTION/V1M/ME192.doc (37.5 Ko)
Télécharger le fichier
05 - GRILLE MEMORIS TRANSCRIPTION/V1M/ME193.doc (37.5 Ko)
Télécharger le fichier
05 - GRILLE MEMORIS TRANSCRIPTION/V1M/ME194.doc (37.5 Ko)
Télécharger le fichier
05 - GRILLE MEMORIS TRANSCRIPTION/V1M/ME195.doc (37.5 Ko)
Télécharger le fichier
05 - GRILLE MEMORIS TRANSCRIPTION/V1M/ME196.doc (37.5 Ko)
Télécharger le fichier
05 - GRILLE MEMORIS TRANSCRIPTION/V1M/ME197.doc (37.5 Ko)
Télécharger le fichier
05 - GRILLE MEMORIS TRANSCRIPTION/V2/ME43.doc (36 Ko)
Télécharger le fichier
05 - GRILLE MEMORIS TRANSCRIPTION/V2/ME44.doc (36 Ko)
Télécharger le fichier
05 - GRILLE MEMORIS TRANSCRIPTION/V2/ME45.doc (36 Ko)
Télécharger le fichier
05 - GRILLE MEMORIS TRANSCRIPTION/V2/ME46.doc (36 Ko)
Télécharger le fichier
05 - GRILLE MEMORIS TRANSCRIPTION/V2/ME47.doc (36 Ko)
Télécharger le fichier
05 - GRILLE MEMORIS TRANSCRIPTION/V2/ME48.doc (36 Ko)
Télécharger le fichier
05 - GRILLE MEMORIS TRANSCRIPTION/V2/ME49.doc (36 Ko)
Télécharger le fichier
05 - GRILLE MEMORIS TRANSCRIPTION/V2/ME50.doc (36 Ko)
Télécharger le fichier
05 - GRILLE MEMORIS TRANSCRIPTION/V2/ME51.doc (36 Ko)
Télécharger le fichier
05 - GRILLE MEMORIS TRANSCRIPTION/V2/ME52.doc (36 Ko)
Télécharger le fichier
05 - GRILLE MEMORIS TRANSCRIPTION/V2/ME53.doc (36 Ko)
Télécharger le fichier
05 - GRILLE MEMORIS TRANSCRIPTION/V2/ME54.doc (36 Ko)
Télécharger le fichier
05 - GRILLE MEMORIS TRANSCRIPTION/V2/ME55.doc (36 Ko)
Télécharger le fichier
05 - GRILLE MEMORIS TRANSCRIPTION/V2/ME56.doc (36 Ko)
Télécharger le fichier
05 - GRILLE MEMORIS TRANSCRIPTION/V2/ME57.doc (36 Ko)
Télécharger le fichier
05 - GRILLE MEMORIS TRANSCRIPTION/V2/ME58.doc (36 Ko)
Télécharger le fichier
05 - GRILLE MEMORIS TRANSCRIPTION/V2/ME59.doc (36.5 Ko)
Télécharger le fichier
05 - GRILLE MEMORIS TRANSCRIPTION/V2/ME60.doc (36.5 Ko)
Télécharger le fichier
05 - GRILLE MEMORIS TRANSCRIPTION/V2/ME61.doc (37 Ko)
Télécharger le fichier
05 - GRILLE MEMORIS TRANSCRIPTION/V2/ME62.doc (37 Ko)
Télécharger le fichier
05 - GRILLE MEMORIS TRANSCRIPTION/V2/ME63.doc (36.5 Ko)
Télécharger le fichier
05 - GRILLE MEMORIS TRANSCRIPTION/V2/ME64.doc (37 Ko)
Télécharger le fichier
05 - GRILLE MEMORIS TRANSCRIPTION/V2/ME65.doc (36.5 Ko)
Télécharger le fichier
05 - GRILLE MEMORIS TRANSCRIPTION/V2/ME66.doc (37 Ko)
Télécharger le fichier
05 - GRILLE MEMORIS TRANSCRIPTION/V2/ME67.doc (37 Ko)
Télécharger le fichier
05 - GRILLE MEMORIS TRANSCRIPTION/V2/ME68.doc (36.5 Ko)
Télécharger le fichier
05 - GRILLE MEMORIS TRANSCRIPTION/V2/ME69.doc (36.5 Ko)
Télécharger le fichier
05 - GRILLE MEMORIS TRANSCRIPTION/V2/ME70.doc (36.5 Ko)
Télécharger le fichier
05 - GRILLE MEMORIS TRANSCRIPTION/V2/ME71.doc (37 Ko)
Télécharger le fichier
05 - GRILLE MEMORIS TRANSCRIPTION/V2/ME72.doc (36.5 Ko)
Télécharger le fichier
05 - GRILLE MEMORIS TRANSCRIPTION/V2/ME73.doc (36.5 Ko)
Télécharger le fichier
05 - GRILLE MEMORIS TRANSCRIPTION/V2/ME74.doc (36.5 Ko)
Télécharger le fichier
05 - GRILLE MEMORIS TRANSCRIPTION/V2/ME75.doc (36.5 Ko)
Télécharger le fichier
05 - GRILLE MEMORIS TRANSCRIPTION/V2/ME76.doc (37 Ko)
Télécharger le fichier
05 - GRILLE MEMORIS TRANSCRIPTION/V2/ME77.doc (36.5 Ko)
Télécharger le fichier
05 - GRILLE MEMORIS TRANSCRIPTION/V2/ME78.doc (37 Ko)
Télécharger le fichier
05 - GRILLE MEMORIS TRANSCRIPTION/V2/ME79.doc (36.5 Ko)
Télécharger le fichier
05 - GRILLE MEMORIS TRANSCRIPTION/V2/ME80.doc (36.5 Ko)
Télécharger le fichier
05 - GRILLE MEMORIS TRANSCRIPTION/V2/ME81.doc (36.5 Ko)
Télécharger le fichier
05 - GRILLE MEMORIS TRANSCRIPTION/V2/ME82.doc (36.5 Ko)
Télécharger le fichier
05 - GRILLE MEMORIS TRANSCRIPTION/V2/ME83.doc (36.5 Ko)
Télécharger le fichier
05 - GRILLE MEMORIS TRANSCRIPTION/V2/ME84.doc (36.5 Ko)
Télécharger le fichier
05 - GRILLE MEMORIS TRANSCRIPTION/V2/ME85.doc (37 Ko)
Télécharger le fichier
05 - GRILLE MEMORIS TRANSCRIPTION/V2/ME86.doc (36.5 Ko)
Télécharger le fichier
05 - GRILLE MEMORIS TRANSCRIPTION/V2M/ME198.doc (37.5 Ko)
Télécharger le fichier
05 - GRILLE MEMORIS TRANSCRIPTION/V2M/ME199.doc (38 Ko)
Télécharger le fichier
05 - GRILLE MEMORIS TRANSCRIPTION/V2M/ME200.doc (37.5 Ko)
Télécharger le fichier
05 - GRILLE MEMORIS TRANSCRIPTION/V2M/ME201.doc (37.5 Ko)
Télécharger le fichier
05 - GRILLE MEMORIS TRANSCRIPTION/V2M/ME202.doc (37.5 Ko)
Télécharger le fichier
05 - GRILLE MEMORIS TRANSCRIPTION/V2M/ME203.doc (37.5 Ko)
Télécharger le fichier
05 - GRILLE MEMORIS TRANSCRIPTION/V2M/ME204.doc (38 Ko)
Télécharger le fichier
05 - GRILLE MEMORIS TRANSCRIPTION/V2M/ME205.doc (38 Ko)
Télécharger le fichier
05 - GRILLE MEMORIS TRANSCRIPTION/V2M/ME206.doc (37.5 Ko)
Télécharger le fichier
05 - GRILLE MEMORIS TRANSCRIPTION/V2M/ME207.doc (37.5 Ko)
Télécharger le fichier
05 - GRILLE MEMORIS TRANSCRIPTION/V2M/ME208.doc (37.5 Ko)
Télécharger le fichier
05 - GRILLE MEMORIS TRANSCRIPTION/V3/ME100.doc (36.5 Ko)
Télécharger le fichier
05 - GRILLE MEMORIS TRANSCRIPTION/V3/ME101.doc (37 Ko)
Télécharger le fichier
05 - GRILLE MEMORIS TRANSCRIPTION/V3/ME102.doc (36.5 Ko)
Télécharger le fichier
05 - GRILLE MEMORIS TRANSCRIPTION/V3/ME103.doc (36.5 Ko)
Télécharger le fichier
05 - GRILLE MEMORIS TRANSCRIPTION/V3/ME104.doc (36.5 Ko)
Télécharger le fichier
05 - GRILLE MEMORIS TRANSCRIPTION/V3/ME105.doc (36.5 Ko)
Télécharger le fichier
05 - GRILLE MEMORIS TRANSCRIPTION/V3/ME106.doc (36.5 Ko)
Télécharger le fichier
05 - GRILLE MEMORIS TRANSCRIPTION/V3/ME107.doc (37 Ko)
Télécharger le fichier
05 - GRILLE MEMORIS TRANSCRIPTION/V3/ME108.doc (36.5 Ko)
Télécharger le fichier
05 - GRILLE MEMORIS TRANSCRIPTION/V3/ME109.doc (37 Ko)
Télécharger le fichier
05 - GRILLE MEMORIS TRANSCRIPTION/V3/ME110.doc (37 Ko)
Télécharger le fichier
05 - GRILLE MEMORIS TRANSCRIPTION/V3/ME111.doc (37 Ko)
Télécharger le fichier
05 - GRILLE MEMORIS TRANSCRIPTION/V3/ME112.doc (37 Ko)
Télécharger le fichier
05 - GRILLE MEMORIS TRANSCRIPTION/V3/ME113.doc (37 Ko)
Télécharger le fichier
05 - GRILLE MEMORIS TRANSCRIPTION/V3/ME114.doc (37 Ko)
Télécharger le fichier
05 - GRILLE MEMORIS TRANSCRIPTION/V3/ME115.doc (37 Ko)
Télécharger le fichier
05 - GRILLE MEMORIS TRANSCRIPTION/V3/ME116.doc (37 Ko)
Télécharger le fichier
05 - GRILLE MEMORIS TRANSCRIPTION/V3/ME117.doc (37 Ko)
Télécharger le fichier
05 - GRILLE MEMORIS TRANSCRIPTION/V3/ME118.doc (37 Ko)
Télécharger le fichier
05 - GRILLE MEMORIS TRANSCRIPTION/V3/ME119.doc (37 Ko)
Télécharger le fichier
05 - GRILLE MEMORIS TRANSCRIPTION/V3/ME120.doc (37 Ko)
Télécharger le fichier
05 - GRILLE MEMORIS TRANSCRIPTION/V3/ME121.doc (37 Ko)
Télécharger le fichier
05 - GRILLE MEMORIS TRANSCRIPTION/V3/ME122.doc (37 Ko)
Télécharger le fichier
05 - GRILLE MEMORIS TRANSCRIPTION/V3/ME123.doc (37 Ko)
Télécharger le fichier
05 - GRILLE MEMORIS TRANSCRIPTION/V3/ME124.doc (37 Ko)
Télécharger le fichier
05 - GRILLE MEMORIS TRANSCRIPTION/V3/ME125.doc (37 Ko)
Télécharger le fichier
05 - GRILLE MEMORIS TRANSCRIPTION/V3/ME126.doc (37 Ko)
Télécharger le fichier
05 - GRILLE MEMORIS TRANSCRIPTION/V3/ME127.doc (37 Ko)
Télécharger le fichier
05 - GRILLE MEMORIS TRANSCRIPTION/V3/ME128.doc (37 Ko)
Télécharger le fichier
05 - GRILLE MEMORIS TRANSCRIPTION/V3/ME129.doc (37.5 Ko)
Télécharger le fichier
05 - GRILLE MEMORIS TRANSCRIPTION/V3/ME130.doc (37.5 Ko)
Télécharger le fichier
05 - GRILLE MEMORIS TRANSCRIPTION/V3/ME131.doc (37 Ko)
Télécharger le fichier
05 - GRILLE MEMORIS TRANSCRIPTION/V3/ME132.doc (37 Ko)
Télécharger le fichier
05 - GRILLE MEMORIS TRANSCRIPTION/V3/ME133.doc (37 Ko)
Télécharger le fichier
05 - GRILLE MEMORIS TRANSCRIPTION/V3/ME134.doc (37 Ko)
Télécharger le fichier
05 - GRILLE MEMORIS TRANSCRIPTION/V3/ME135.doc (37 Ko)
Télécharger le fichier
05 - GRILLE MEMORIS TRANSCRIPTION/V3/ME136.doc (37.5 Ko)
Télécharger le fichier
05 - GRILLE MEMORIS TRANSCRIPTION/V3/ME137.doc (37 Ko)
Télécharger le fichier
05 - GRILLE MEMORIS TRANSCRIPTION/V3/ME138.doc (37 Ko)
Télécharger le fichier
05 - GRILLE MEMORIS TRANSCRIPTION/V3/ME87.doc (36.5 Ko)
Télécharger le fichier
05 - GRILLE MEMORIS TRANSCRIPTION/V3/ME88.doc (36.5 Ko)
Télécharger le fichier
05 - GRILLE MEMORIS TRANSCRIPTION/V3/ME89.doc (36.5 Ko)
Télécharger le fichier
05 - GRILLE MEMORIS TRANSCRIPTION/V3/ME90.doc (36.5 Ko)
Télécharger le fichier
05 - GRILLE MEMORIS TRANSCRIPTION/V3/ME91.doc (36.5 Ko)
Télécharger le fichier
05 - GRILLE MEMORIS TRANSCRIPTION/V3/ME92.doc (36.5 Ko)
Télécharger le fichier
05 - GRILLE MEMORIS TRANSCRIPTION/V3/ME93.doc (37 Ko)
Télécharger le fichier
05 - GRILLE MEMORIS TRANSCRIPTION/V3/ME94.doc (36.5 Ko)
Télécharger le fichier
05 - GRILLE MEMORIS TRANSCRIPTION/V3/ME95.doc (36.5 Ko)
Télécharger le fichier
05 - GRILLE MEMORIS TRANSCRIPTION/V3/ME96.doc (37 Ko)
Télécharger le fichier
05 - GRILLE MEMORIS TRANSCRIPTION/V3/ME97.doc (36.5 Ko)
Télécharger le fichier
05 - GRILLE MEMORIS TRANSCRIPTION/V3/ME98.doc (36.5 Ko)
Télécharger le fichier
05 - GRILLE MEMORIS TRANSCRIPTION/V3/ME99.doc (36.5 Ko)
Télécharger le fichier
05 - GRILLE MEMORIS TRANSCRIPTION/V3M/ME209.doc (37.5 Ko)
Télécharger le fichier
05 - GRILLE MEMORIS TRANSCRIPTION/V3M/ME210.doc (37.5 Ko)
Télécharger le fichier
05 - GRILLE MEMORIS TRANSCRIPTION/V3M/ME211.doc (37.5 Ko)
Télécharger le fichier
05 - GRILLE MEMORIS TRANSCRIPTION/V3M/ME212.doc (37.5 Ko)
Télécharger le fichier
05 - GRILLE MEMORIS TRANSCRIPTION/V3M/ME213.doc (38 Ko)
Télécharger le fichier
05 - GRILLE MEMORIS TRANSCRIPTION/V3M/ME214.doc (37.5 Ko)
Télécharger le fichier
05 - GRILLE MEMORIS TRANSCRIPTION/V3M/ME215.doc (37.5 Ko)
Télécharger le fichier
05 - GRILLE MEMORIS TRANSCRIPTION/V3M/ME216.doc (37.5 Ko)
Télécharger le fichier
05 - GRILLE MEMORIS TRANSCRIPTION/V3M/ME217.doc (37.5 Ko)
Télécharger le fichier
05 - GRILLE MEMORIS TRANSCRIPTION/V3M/ME218.doc (38 Ko)
Télécharger le fichier
05 - GRILLE MEMORIS TRANSCRIPTION/V3M/ME219.doc (38 Ko)
Télécharger le fichier
05 - GRILLE MEMORIS TRANSCRIPTION/V3M/ME220.doc (38 Ko)
Télécharger le fichier
05 - GRILLE MEMORIS TRANSCRIPTION/V3M/ME221.doc (38 Ko)
Télécharger le fichier
05 - GRILLE MEMORIS TRANSCRIPTION/V3M/ME222.doc (38 Ko)
Télécharger le fichier
05 - GRILLE MEMORIS TRANSCRIPTION/V3M/ME223.doc (38 Ko)
Télécharger le fichier
05 - GRILLE MEMORIS TRANSCRIPTION/V3M/ME224.doc (38 Ko)
Télécharger le fichier
06 - THESE MEMORIS DETAILS/Q.2.1.doc (73 Ko)
Télécharger le fichier
06 - THESE MEMORIS DETAILS/Q.2.10.doc (59 Ko)
Télécharger le fichier
06 - THESE MEMORIS DETAILS/Q.2.9.doc (87 Ko)
Télécharger le fichier
Page_de_garde_These_BODUR.pdf (62.11 Ko)
Télécharger le fichier