Caractérisation de l'interaction entre la glycoprotéine d'enveloppe gp120 du VIH-1 et les héparanes sulfate : importance des changements conformationnels induits par la liaison à CD4
During viral entry, HIV surface glycoprotein gp120 binds to CD4, thereby anchoring the virus to the host cell surface. This interaction induces conformational changes within gp120 that expose CD4-induced (CD4i) epitope, the binding site for coreceptors (usually a member of the chemokine receptor family). In addition, HIV binds to heparan sulphate (HS), an abundant cell surface polysaccharide, through several domains of gp120, including CD4i. Thus, it may be possible to inhibit HIV binding to cells, using soluble molecules derived from HS. In this context, we proposed to characterise further the structural features of the CD4i/HS interaction. First, we produced and purified gp120 proteins mutated on four residues within CD4i, suspected to interact with HS and, then, we studied their ability to bind to heparin by SPR. A second aspect of the project concerned the development of a new strategy for defining critical residues involved in protein/heparin interactions. Results led to the identification of four heparin binding domains within gp120 and, in particular, three residues within CD4i (R419, K421 and K432) were reported to bind heparin. These studies should contribute to clarify the role of HS in the mechanism of HIV binding to the cell surface and provide precise structural information enabling the definition of HS-derived inhibitors of viral entry.
Lors de l'attachement du VIH à la surface d'une cellule, la protéine d'enveloppe gp120 se fixe au récepteur cellulaire CD4, exposant alors son site CD4i qui est alors reconnu par des corécepteurs. Par ailleurs, Le VIH est capable de se fixer aux héparanes sulfate (HS), des polysaccharides présents en abondance à la surface cellulaire, notamment via le site CD4i de gp120 (site de fixation des corécepteurs). Il serait donc possible d'inhiber l'attachement du VIH sur les cellules par l'utilisation de molécules solubles dérivées des HS. Dans ce contexte, nos travaux se sont attachés à définir les aspects structuraux de l'interaction VIH/HS au niveau du site CD4i. Pour cela, des protéines gp120 mutées sur quatre résidus du site CD4i, potentiellement engagés dans la fixation des HS, ont été produites, purifiées et étudiées, par BIAcore, pour leur capacité à interagir avec l'héparine. En parallèle, nous avons développé une méthode simple, permettant d'identifier les régions de fixation à l'héparine d'une protéine donnée. L'ensemble de ces travaux nous a permis d'identifier, au sein de gp120, quatre domaines de liaison à l'héparine et de valider, en particulier, l'engagement de trois résidus du site CD4i (R419, K421 et K432) dans l'interaction avec le polysaccharide. Ces différentes approches ont pour but de clarifier le rôle des HS dans le processus d'attachement du virus à la surface cellulaire et de fournir des informations structurales précises permettant la définition de composés issus des HS capables d'inhiber le mécanisme de l'entrée virale.
Fichier principal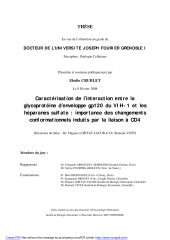 these_crublet.pdf (5.86 Mo)
Télécharger le fichier
these.ppt (13.73 Mo)
Télécharger le fichier