Dynamique Eulerienne-Lagrangienne et généralisée et caracterisation de la reconnexion diffusive.
This thesis is based in the Eulerian-Lagrangian representation of the velocity field, wich we call Weber-Clebsch transformation. Constantin, in 2002, built an extension of the Weber-Clebsch description of perfect fluids to viscous fluids. The need to periodically reset the Lagrangian coordinates was interpreted by Constantin as a diagnostic of vortex reconnection. The system of Constantin is contained in our formulation, wich is more general, as a singular limit.

To compare the results obtained using our generalised formulation with the results that are obtained from Constantin's formulation we performed numerical simulations of a number of flows that follows the Navier-Stokes equations.

Extensions to magnetohydrodynamics and compressible fluids are proposed and numerically validated.
Cette théese est basée sur la représentation Eulerienne-Lagrangiene de la vitesse, qui nous appelons la transformation de Weber-Clebsch.
Constantin a construit en 2002 une extension de la description de Weber-Clebsch des fluides parfaits aux fluides visqueux. La nécessité de réinitialiser périodiquement les coordonnées Lagrangiennes à été interprété par Constantin comme un diagnostique de la reconnexion de la
vorticité. Le système de Constantin est contenu dans notre formulation, qui est plus générale, dans une limite singulière.

Pour comparer les résultats obtenus en utilisant notre formulation généralisée à ceux qui sont obtenus dans la formulation de
Constantin nous avons procédé à des simulations numériques d'un certain nombre d'écoulements obéissants aux équations de Navier
Stokes.

Des extensions à la magnéto hydrodynamique et aux fluides compressibles sont également proposées et validées numériquement.
Fichier principal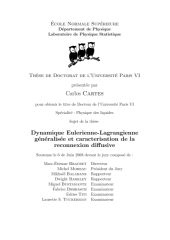 Merged.pdf (2.21 Mo)
Télécharger le fichier
soutenance.pdf (4.33 Mo)
Télécharger le fichier