Programming and Confidence
Programmation et confiance
This document presents the work I have done during the last eight years.
My first motivation was to make available the concepts related to the notion of term rewriting.
For this purpose, my strategy was to develop a language, called TomT, as an extension of an existing language. Contrary to develop a stand-alone language, the main interest of this approach, called Formal Island, is to let the programmer's environment unchanged.
This approach, allowing to combine several paradigms, has been formally studied.

In a second step I focussed my research on the confidence the programmers can have in the programs they write, in the tools they use.
For that, I proposed several high-level constructs (equational matching,
anti-terms, and strategies) whose semantics have been precisely defined.
We also present an original approach to formally certify that the semantics of the previously introduced constructs are preserved when using the Tom compiler.
Ce manuscrit présente les travaux de recherche, d'encadrement et de développement que j'ai effectués au cours des huit dernières années. Ma première motivation a été de rendre utilisables les concepts liés à la notion de réécriture. Pour cela, ma stratégie a consisté à proposer un langage, dénommé Tom, construit comme une extension de langages existants, et non comme un langage à part entière. L'intérêt principal de cette approche, appelée Îlot Formel, est de fournir de nouvelles constructions aux programmeurs sans pour autant changer leur environnement de travail.
Cette approche, permettant de combiner différents formalismes est étudiée d'un point de vue formel.
Dans un deuxième temps, je me suis intéressé à la confiance que les programmeurs peuvent avoir dans les programmes qu'ils écrivent et dans les outils qu'ils utilisent.
Ces travaux m'ont amené à proposer des constructions de haut niveau (filtrage équationnel, anti-termes et stratégies) ainsi qu'à formaliser leur sémantique.
Nous présentons également une méthode originale qui permet certifier que le code produit par le compilateur Tom préserve bien la sémantique de ces constructions.
Fichier principal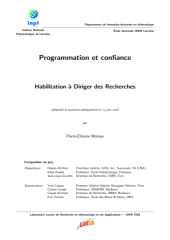 main.pdf (730.34 Ko)
Télécharger le fichier
hdr_slides.pdf (2.3 Mo)
Télécharger le fichier