The sharing of the honorary and the disgraceful parts of the pot.
An anthropological essay about food practices among Xalx Mongols.
Le partage des prémices et du fond de la marmite. Essai d'anthropologie des pratiques alimentaires chez les mongols Xalx.
Mongolian people present themselves as a nomadic herder people and as meat eaters. On monographic background, the thesis presents an anthropology of food of steppes nomadic herder families and of urban settled families belonging to the same networks of relationships and socio-economic mutual aids. From a study of techniques for appropriating foods, their categorization, the culinary treatments of preparation and cooking, the distribution and consumption, the leftover foods sorting for conservation and the fate reserved to the wastes, the ordinary food practices and food practices of hospitality, as well as extra-ordinary food practices of feast (birth) and of reverse of feast (death) are analyzed. The recurrent theme of the thesis is the sharing that confers to the foods other qualities than nutritive. Cooked or raw, foods are offered to living humans, to the souls of recently deceased persons, to ancestor's manes, to the spirits masters of nature or to Buddhist divinities for receiving many blessings in return, and to the wandering souls of dead persons to avoid misfortune. The anthropological analysis suggests between the lines how three ideological systems -- the one left by Communist atheistic regime, Buddhism today's officially declared state religion and shamanism emerging as a reinterpreted form --, cohabit in the minds of families after several historical periods of confrontations and persecutions.
Les Mongols Xalx (Halh) se définissent comme un peuple d'éleveurs nomades et des mangeurs de viande. Sur fond monographique, la thèse présente une anthropologie des pratiques alimentaires des familles d'éleveurs nomades des steppes et des familles urbaines sédentarisées appartenant aux mêmes réseaux de relations et d'entraides socioéconomiques. À partir d'une étude des techniques d'appropriation des aliments, de leur catégorisation, de leurs traitements culinaires de préparation et de cuisson, de distribution (étiquette) et de consommation (manières de boire et de manger), de tri des restes pour leur conservation et du sort réservé aux déchets, sont analysées les pratiques alimentaires ordinaires et celles relevant de l'hospitalité, ainsi que les pratiques alimentaires extra-ordinaires de fête (naissance) et de revers de fête (mort). Le fil rouge de la thèse est le partage alimentaire, qui confère aux aliments d'autres qualités que nutritives. Selon qu'elles sont cuites ou crues, les nourritures sont offertes à des êtres humains vivants, à des âmes de morts récents, aux mânes des ancêtres, aux esprits maîtres de la nature ou aux divinités bouddhiques pour bénéficier en retour de nombreux bienfaits, et aux âmes des morts errantes pour éviter des malheurs. L'analyse anthropologique révèle en filigrane comment trois systèmes idéologiques -- celui légué par le régime communiste athéiste, le bouddhisme déclaré aujourd'hui religion officielle et le chamanisme qui émerge sous une forme réinterprétée -- cohabitent dans l'esprit des familles après plusieurs périodes historiques d'affrontements et de persécutions.
Fichier principal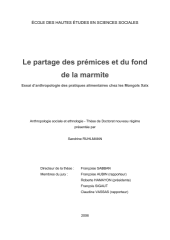 TheseRuhlmannSandrine.pdf (12.32 Mo)
Télécharger le fichier
descritif-these-ruhlmann_copie.pdf (328.65 Ko)
Télécharger le fichier