Elaboration and characterisation of nanostructured Cr2+:ZnSe films for mid-infrared microlasers applications.
Elaboration et caractérisation de films minces Cr2+:ZnSe nanostructurés pour la fabrication de microlasers émettant dans le moyen infrarouge.
Mid-infrared (mid-IR) laser sources have important potential applications in remote sensing, vibrational spectroscopy, trace detection, and medicine. Among the transition metal doped II-VI compound semiconductors studied for room-temperature (RT) operated broadly tunable mid-IR laser sources it has been pointed that Cr2+:ZnSe seems to be the highly favourable laser system in the 2000-3000 nm.
In order to develop a compact electrically pumping mid-IR laser, Cr2+:ZnSe films have been grown on glass, [100]-Si and [100]-GaAs substrates at room-temperature by radiofrequency magnetron co-sputtering of a silica target covered with ZnSe and chromium chips, under Argon pressure.
Whatever the chosen substrate, the films crystallize in the cubic zinc-blende structure and exhibit a columnar growth with preferential orientation along the <111> direction. Combined analysis of RX data was used to solve simultaneously the texture, the structure (% of cubic and hexagonal phase of ZnSe), the microstructure (anisotropic crystallite size, twin faults) and the residual stress of the deposited films. Photoluminescence (PL) experiments reveal that the shape of PL spectra are comparable to that reported for bulk materials, indicating that chromium is incorporated in the optically active Cr2+ state. The intensity of the mid-IR emission (2000-3000 nm) and the corresponding fluorescence lifetime have been studied at various temperatures as a function of chromium concentration under direct (1.85 µm) and indirect (458-514 nm) excitations. The optimization of the deposition parameters leads to films emitting maximum mid-IR PL intensity.
Il existe une demande de plus en plus importante pour des sources laser bon marché émettant dans le moyen infrarouge (MIR) à température ambiante pour différentes applications incluant la détection des constituants atmosphériques, la communication optique et le domaine de la médecine. De part ses propriétés optiques et structurales, le Cr2+: ZnSe est devenu le candidat idéal pour une émission largement accordable dans la région 2-3 µm.
Dans l'objectif de développer un laser compact pompé électriquement, des films minces de Cr2+:ZnSe ont été élaborés à température ambiante par pulvérisation magnétron radiofréquence d'une cible de SiO2 recouverte de morceaux de ZnSe et de chrome sous plasma d'argon pur, sur des substrats de verre, Si et GaAs.
Quelque soit le substrat, les films déposés sont constitués de ZnSe cubique quasi-stoechiométrique et présentent une structure colonnaire avec une forte orientation préférentielle dans la direction 111. Le recours à l'analyse combinée par diffraction X a permis de résoudre simultanément la texture, la structure et la microstructure d'un des films déposés. Le spectre de PL des films à température ambiante dans le domaine 2-3 µm, comparable à celui des cristaux de référence de Cr2+ :ZnSe, a été obtenu d'une part par excitation directe des ions Cr2+ (1.85 µm) et d'autre part par excitation indirecte en utilisant un laser visible. Les paramètres de dépôt (puissance radiofréquence, pression d'argon, quantité de chrome) ont été optimisés pour obtenir des films présentant une intensité de PL maximum dans le MIR.
Fichier principal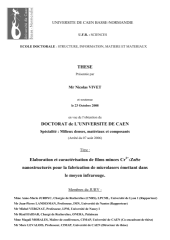 THESE-TEL.pdf (5.07 Mo)
Télécharger le fichier
Discours-soutenance-these.pdf (2.04 Mo)
Télécharger le fichier
presentation.pps (12.37 Mo)
Télécharger le fichier