Symmetry breaking in superstring theories : applications in cosmology and particle physics.
Brisure de symétries en théorie des supercordes : applications en cosmologie et en physique des particules
This thesis is devoted to the study of some applications of superstring theory in cosmology and in particle physics. The unifying principle of our work is the stringy spontaneous (super)symmetry breaking mechanism. Our manuscript starts with a general overview of string theory, where the emphasis is put on the aspects that will be important throughout our work.

We introduce then our first work, in which we exhibit a new symmetry of the vacua of N=1 heterotic string theory, exchanging the vectorial and spinorial representations of the grand unified gauge group.

In a second part, we consider stringy cosmological evolutions, at non-zero temperature and in the presence of a supersymmetry breaking scale. We also give arguments for a stabilization of the compactification moduli.
Cette thèse est consacrée à l'étude d'applications de la théorie des cordes dans deux domaines de la physique fondamentale : la physique des particules et la cosmologie. Le principe unificateur de nos deux travaux est l'utilisation en théorie des cordes du mécanisme, initialement introduit en théorie des champs, de brisure spontanée de (super)symétrie.

Nous commençons par une présentation générale de la théorie des cordes, principalement focalisée sur les concepts que nous manierons.
Nous introduisons ensuite notre premier travail, dans lequel nous exhibons une dualité de l'espace des vides des théories de supercordes hétérotiques N=1, qui relie les représentations spinorielles et vectorielles du groupe de grande unification.
Dans un second travail, nous nous intéressons cette fois à la modélisation par la théorie des supercordes d'une évolution cosmologique à température non nulle et en présence d'une échelle de brisure de supersymétrie. Nous donnons également des arguments pour une stabilisation des divers modules de compactification.
Fichier principal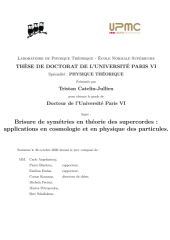 these_HAL.pdf (3.69 Mo)
Télécharger le fichier
beamer_these.pdf (775.79 Ko)
Télécharger le fichier