Contribution to the development of a station of atmospheric observation at Reunion Island and to the study of tropospheric ozone in tropical region.
Contribution au développement d'une station d'observation de l'Atmosphère à la Réunion et à l'étude de l'ozone troposphérique en région tropicale
This document is a synthesis of about ten years of scientific activity at Reunion Island in the Southern Tropics, as "physicien adjoint" affected to IPSL and detached to Reunion university, in the laboratory LPA which became LACY while joining Meteo-France. This document thus contains a presentation of instrumental development of the station OPAR and its place in the international networks of research, which corresponds to my mission of participation in the observation services. A synthesis of the main results obtained within the tropical tropospheric ozone problematic is then presented. Indeed, this ten years of tropospheric ozone measurements by lidar and radiosonde has allowed us to look further into detail cases studies of mechanisms source of tropospheric ozone at Reunion Island, to establish the climatology of ozone and of the tropopause and to release the first estimates of trends of tropospheric ozone.
Ce document constitue une synthèse de ma dizaine d'années d'activité scientifique passées sous les tropiques, en tant que physicien adjoint affecté à l'IPSL et détaché à la Réunion, au LPA qui devint LACY en s'associant à Météo-France. Ce document contient donc une présentation de l'essor instrumental de la station de l'OPAR et sa place dans les réseaux de recherche internationaux, qui reflète mon activité dans le cadre de ma mission de participation aux services d'observation. Une synthèse des principaux résultats obtenus par rapport au bilan de l'ozone troposphérique tropical est ensuite présentée. En effet, cette dizaine d'années d'observation de l'ozone troposphérique par lidar et radiosondages nous a permis d'approfondir des cas d'études pour détailler les mécanismes source de l'ozone troposphérique à la Réunion, d'établir la climatologie de l'ozone et de la tropopause et de dégager les premières estimations de tendances de l'ozone troposphérique.
Fichier principal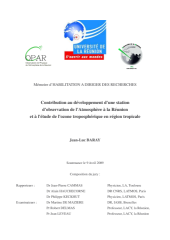 HDR_JLB_compress.pdf (25.45 Mo)
Télécharger le fichier
HDR_JLB_presentation.pdf (18.8 Mo)
Télécharger le fichier