Algebraic Domain Decomposition Methods for Darcy flow in heterogeneous media
To meet the needs of the oil industry to a more accurate description of the geometry and petrophysical properties of basins and reservoirs, the numerical simulation of flow in porous media must evolve towards more efficient and robust algorithms with respect to size of simulations, the complexity of mesh and heterogeneities of the porous medium. The domain decomposition methods are an alternative to multigrid methods and could help remove the difficulties in terms of robustness and efficiency on parallel architectures. They are inherently more suited to parallel computing and are more robust especially when the subdomains are solved by direct methods. They also deal in a single framework with the couplings of models such as wells or conducting faults. The thesis deals specifically with methods defined at the algebraic level. We do not assume prior knowledge of the continuous problem from which the matrix is derived and there was no access to the matrices before assembly. This lack of prior information makes it more difficult to build effective methods. We propose two new methods for construction domain decomposition methods at the algebraic level i.e., algebraic construction of optimized interface conditions and a coarse grid. This last method is particularly important to have robust methods with respect to the number of subdomains. The methods are adaptive and they are based on the analysis of the Krylov space generated in the first resolution of the classical Schwarz method. From the Ritz vectors corresponding to the lowest eigenvalues, we construct interface conditions and coarse grid, which nullifies the error on these components. The methods were tested on parallel computers up to 1000 subdomains on up to 512 cores for matrices from the real simulation of porous media flow.
Afin de répondre aux besoins de l'industrie pétrolière d'une description plus fine de la géométrie et des propriétés pétrophysiques des bassins et des réservoirs, la simulation numérique des écoulements en milieux poreux doit évoluer vers des algorithmes plus performants et plus robustes vis à vis de la taille des simulations, de la complexité des maillages et des hétérogénéités du milieu poreux. Les méthodes de décomposition de domaine constituent une alternative aux méthodes multigrilles et pourraient permettre de lever les difficultés précédentes en terme de robustesse et d'efficacité sur architectures parallèles. Elles sont par nature plus adaptées au calcul parallèle et sont plus robustes en particulier lorsque les sous domaines sont résolus par des méthodes directes. Elles permettent aussi de traiter dans un cadre unique les couplages de modèles comme les puits ou les failles conductrices et s'étendent au cas des systèmes couplés. Le travail de thèse traite plus particulièrement de méthodes définies au niveau algébrique. On ne suppose pas avoir une connaissance préalable du problème continu dont la matrice provient. On n'a pas non plus accés aux matrices avant assemblage. Ce manque d'informations a priori rend plus difficile la construction de méthodes efficaces. On propose deux nouvelles méthodes de construction de méthodes de décomposition de domaine au niveau algébrique: la construction de conditions d'interface optimisées et d'une grille grossière. Ce dernier point est particulièrement important pour avoir des méthodes robustes vis à vis du nombre des sous-domaines. Les méthodes sont adaptatives et basées sur l'analyse de l'espace de Krylov généré durant les premières itérations de la méthode de Schwarz classique. A partir des vecteurs de Ritz correspondant aux plus basses valeurs propres, on construit des conditions d'interface et des grilles grossières qui annihilent l'erreur sur ces composantes. Les méthodes ont été testées sur des calculateurs parallèles pour des matrices issues de la simulation de milieux poreux.
Fichier principal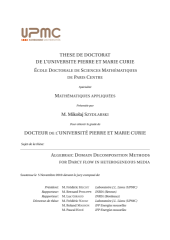 M.SZYDLARSKI_PhD.pdf (20.13 Mo)
Télécharger le fichier

M.SZYDLARSKI_PhD_Slides.pdf (7.62 Mo)
Télécharger le fichier