ADF/cofiline, an essential factor that controls actin dynamics during cell motility.
ADF/cofiline, un facteur essentiel dans le contrôle de la dynamique de l'actine au cours de la motilité cellulaire
During my thesis, I have studied the pivotal role of ADF/cofilin, a protein that binds to the actin cytoskeleton, specifically decorates 'old' actin filament parts, decreases by a factor of 5 the local filament rigidity and triggers filament fragmentation at boundaries between decorated and non-decorated filament sections. In my first study (Suarez et al., Current Biology, 2011), I have used evanescent wave microscopy and labeled ADF/cofilin to demonstrate that ADF/cofilin is a marker of the nucleotide state (i.e. ATP, ADP-Pi or ADP) associated with the actin sub-units in actively polymerizing filaments. In addition, because ADF/cofilin accelerates inorganic phosphate (Pi) release, the size of the ATP/ADP-Pi cap is diminished, although it cannot be reduced to zero. Fragmentation events frequency, determined from a thorough analysis of a population of single filaments decorated with labeled ADF/cofilin, is perfectly correlated with the binding density of ADF/cofilin on filaments. However, the maximal severing efficiency is obtained for half ADF/cofilin density. This paradoxical result is confirmed by analysis showing that severing sites are mainly associated with boundaries between decorated and bare actin filament sections. In consequence, in a second paper (McCullough et al., Biophysical Journal, 2011), I have took part in the study of actin filament deformation in relation with severing efficiency. Using different ADF/cofilin (vertebrate and yeast) and actin (vertebrate and yeast), we have shown that filament deformation at the boundary between bare and ADF/cofilin-decorated filament sections (which depends on the ADF/cofilin/actin combination) and severing are highly correlated. During my third study, (Reymann et al., Molecular Biology of the Cell, 2011), we established that stochastic dynamics, discovered at the molecular level for single filaments (or bundles of them), is also relevant to describe the macroscopic fragmentation of a comet tail consisting of hundreds of thousands filaments. I have shown that ADF/cofilin activity is at the crossroad between macroscopic and microscopic systems, on one hand, and physics and chemistry, on the other hand. The characteristics of microscopic interactions of ADF/cofilin with a single filament are fundamental to understand the macroscopic dynamics of a fragmenting comet. In addition, we have established how the binding of ADF/cofilin (chemistry) controls the mechanical properties of the filament (physics) before fragmentation. ADF/cofilin is essential in the integration of physical and chemical mechanisms at the microscopic level, to ensure consistent behavior at the cell scale.
Durant mon travail de thèse, j'ai étudié le rôle central de l'ADF/cofiline, une protéine qui se lie au cytosquelette d'actine, décore spécifiquement les parties 'âgées' des filaments d'actine, diminue localement par un facteur 5 la rigidité du filament et provoque la fragmentation du filament à l'interface entre les sections nues et décorées. Dans ma première étude (Suarez et al., Current Biology, 2011), j'ai utilisé la microscopie à onde évanescente et une ADF/cofiline fluorescente pour démontrer que l'ADF/cofiline est un marqueur de l'état nucléotidique (ATP, ADP-Pi ou ADP) des sous-unités d'un filament d'actine en cours de polymérisation. De plus, l'ADF/cofiline, en accélérant la dissociation du phosphate inorganique (Pi), limite la taille du cap ATP/ADP-Pi du filament d'actine, sans toutefois le réduire à une taille zéro. Des analyses statistiques sur filaments isolés établissent une corrélation parfaite entre la densité de fixation de l'ADF/cofiline et son efficacité de fragmentation. Paradoxalement, l'efficacité de fragmentation est maximale pour une densité d'ADF/cofiline de 0.5. Ceci est confirmé par des analyses supplémentaires qui montrent que les sites de fragmentation du filament coïncident avec la position des frontières entre zones décorées et zones nues. Les conséquences de ce dernier résultat paradoxal sont l'objet de ma seconde étude (McCullough et al., 2011, Biophysical Journal). En combinant différentes sources d'ADF/cofilines (vertébré et levure) et d'actines (vertébré et levure), nous montrons, sur les quatre couples actine-ADF/cofiline possibles, qu'il existe une très forte corrélation entre (1) l'efficacité de fragmentation (qui dépend de la combinaison entre actine et ADF/cofiline) et (2) la déformation du filament, mesurée à la frontière entre zone décorée et zone nue. Au cours de ma troisième étude (Reymann et al., Molecular Biology of the Cell, 2011), nous montrons que le mécanisme de fragmentation ADF/cofiline-dépendant, établi à l'échelle d'un filament isolé, peut s'appliquer aussi à l'échelle d'une comète d'actine qui comporte un réseau complexe de filaments. Mon travail de thèse a montré que le mode d'action de l'ADF/cofiline se situe à l'intersection entre mécanismes microscopiques et macroscopiques, d'une part, et entre chimie et physique, d'autre part. Les caractéristiques microscopiques des interactions de cette protéine avec un filament d'actine isolé sont fondamentales pour expliquer des évènements macroscopiques, comme la fragmentation de filaments ou de structures complexes. D'autre part, nous avons montré comment les propriétés chimiques de l'ADF/cofiline modifient les propriétés physiques locales du filament et conduisent à la fragmentation. L'ADF/cofiline a un rôle central pour l'intégration de mécanismes physico-chimiques, à l'échelle microscopique, afin d'assurer un comportement cohérent à l'échelle de la cellule.
Fichier principal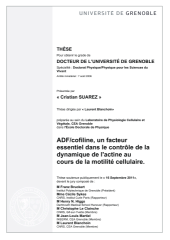 22725_SUAREZ_2011_archivage_1_.pdf (8.77 Mo)
Télécharger le fichier
Origin : Version validated by the jury (STAR)