Role of RNA interference and Mmi1 in the regulation of sexual differentiation of Schizosaccharomyces pombe.
Rôle de l'interférence à l'ARN et de Mmi1 dans la régulation de la différenciation sexuelle chez le Schizosaccharomyces pompe
RNA interference (RNAi) is a cellular process known for inhibiting gene expression in a sequence-specific manner. In the fission yeast Schizosaccharomyces pombe, this process induces modifications in chromatin structure and is assumed to involve an interaction between nascent transcripts and a small RNA contained in the RNAi complex, RITS (RNA-induced Initiation of Transcriptional gene Silencing). RITS targets repeated and non-coding regions, and is essential for heterochromatin integrity at these genomic sites. In one study, RITS complex subunit Argonaute 1, and a heterochromatin mark, methylation of histone H3 on lysine 9 (H3K9me), were detected on chromatin of two meiotic genes, mei4 and ssm4. This finding suggested a possible new function for RNAi in sexual differentiation. During my PhD studies, I found that a RNA-binding protein, Mmi1 (Meiotic mRNA interception protein 1), enables RITS to specifically associate with the chromatin and messenger RNAs of these meiotic genes. Mmi1 protein triggers a post-transcriptional repression of specific meiotic genes, a silencing activity essential for the control of sexual differentiation. We conducted a genome wide transcriptomic analysis from a mmi1Δ strain, and uncovered additional meiotic mRNAs that are directly targeted by both Mmi1 and RNAi. Intriguingly, chromatin of the corresponding meiotic genes does not necessarily display the repressive epigenetic mark H3K9me, suggesting that RNAi might silence some protein-coding genes only at a post-transcriptional level. In parallel, combining genetic, molecular biology and physiological techniques, we highlighted a potentially direct role for RNAi in the inhibition of sexual differentiation. We propose that RNAi cooperates with Mmi1 to efficiently block expression of the early meiotic transcriptional programme during vegetative growth. This regulation might be essential for the proper timing of activation of this programme during sexual differentiation progression.
L'interférence à l'ARN (RNAi) est un mécanisme cellulaire connu pour inhiber l'expression de gènes avec une grande spécificité de séquence. Chez la levure Schizosaccharomyces pombe, ce processus induit des modifications de structure de la chromatine et implique une interaction entre un ARN naissant et un petit ARN associé au complexe du RNAi, RITS (RNA-induced Initiation of Transcriptional gene Silencing). RITS cible les régions répétées et non codantes et joue un rôle essentiel dans l'intégrité de l'hétérochromatine de ces sites génomiques. Une étude a mis en évidence la présence de la sous-unité Argonaute 1 du complexe RITS, ainsi qu'une marque de l'hétérochromatine, la méthylation de la lysine 9 de l'histone H3 (H3K9me), au niveau de la chromatine de deux gènes méiotiques, mei4 et ssm4. Ceci suggérait une nouvelle fonction du RNAi dans la différenciation sexuelle. Au cours de ma thèse, j'ai montré que la protéine de liaison à l'ARN Mmi1 (Meiotic mRNA interception protein 1), permet à RITS de s'associer spécifiquement à la chromatine et à l'ARN messager de ces gènes méiotiques. La protéine Mmi1 orchestre une répression post-transcriptionnelle de gènes méiotiques spécifiques, une activité de « silencing » essentielle au contrôle de la différenciation sexuelle. Nous avons mené une analyse de l'ensemble du transcriptome dans une souche déficiente pour Mmi1, ce qui nous a conduits à l'identification de nouveaux ARNm méiotiques ciblés directement par Mmi1 et le RNAi. Curieusement, la chromatine des gènes méiotiques correspondants ne présente pas systématiquement la marque épigénétique répressive H3K9me, ce qui suggère que le RNAi pourrait réprimer certains gènes codants seulement au niveau post-transcriptionnel. En parallèle, en combinant des techniques de génétique, de biologie moléculaire et de physiologie cellulaire, nous mettons en évidence un probable rôle direct du RNAi dans l'inhibition de la différenciation sexuelle. Nous proposons que le RNAi pourrait coopérer avec Mmi1 pour bloquer de manière efficace une partie du programme transcriptionnel méiotique durant le cycle végétatif. Cette régulation serait essentielle pour l'activation appropriée de ce programme au cours de la progression de la différenciation sexuelle.
Fichier principal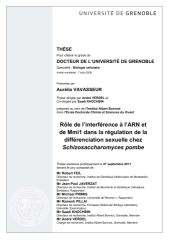 These_-_Aurelia_-_Vavasseur2_-_2011.pdf (11.21 Mo)
Télécharger le fichier
Origin : Version validated by the jury (STAR)