Propriétés excitoniques de puits quantiques ZnO/(Zn,Mg)O
Zinc oxide is a wide gap semiconductor (≈ 3.4 eV) which one of the main advantages is a large exciton binding energy (60 meV). This thesis is dedicated to the study of excitonic properties of ZnO/(Zn,Mg)O single quantum wells (QW). The existence of an internal electric field in polar QW grown along the main axis c is well established for a few years. The effects of this electric field on emission and absorption properties of polar QW grown by molecular beam epitaxy (MBE) on sapphire substrate are discussed. We also demonstrate the direct formation of excitons-phonons complexes in the case of narrow wells by an experience of photoluminescence excitation. Moreover, the presence of this internal electric field combined with the high density of non-radiative defects due to hetero-epitaxial growth leads to a low radiative efficiency. Reflectivity, continuous-wave and time-resolved photoluminescence experiments have been performed on homo-epitaxial QW grown by MBE on non-polar M-plane. First we demonstrate the absence of internal electric field in these QW. We also report the formation of excitons-donors and excitons-excitons complexes. The most important observation is the drastic improvement of radiative efficiency: excitons recombination is essentially radiative up to 325 K. The exciton lifetime increases linearly with temperature, which indicates that excitonic properties are preserved up to room temperature. This outcome is essential for the exploitation of QW based on ZnO in optoelectronics or as a model system.
Le ZnO est un semiconducteur à grand gap (≈ 3,4 eV) dont l'un des principaux avantages est une forte énergie de liaison de l'exciton (60 meV). Cette thèse est consacrée à l'étude des propriétés excitoniques des puits quantiques (PQ) ZnO/(Zn,Mg)O. L'existence d'un champ électrique interne dans les PQ polaires crûs selon l'axe principal c est bien établie depuis quelques années. Les propriétés d'émission et d'absorption de puits quantiques polaires élaborés par épitaxie à jets moléculaires (EJM) sur substrat saphir sont discutées. Nous mettons également en évidence par une expérience d'excitation de la photoluminescence la formation directe de complexes excitons-phonons dans le cas de puits étroits. La présence de ce champ électrique interne combinée à la forte densité de défauts non-radiatifs inhérente à l'hétéro-épitaxie conduit à une efficacité radiative médiocre. Des expériences de réflectivité, de photoluminescence continue et résolue en temps ont été effectuées sur des PQ élaborés par EJM sur substrat de ZnO non-polaire (plan M). Ces expériences démontrent l'absence de champ électrique interne, ainsi que la formation de complexes excitons-donneurs et excitons-excitons. L'observation la plus importante est l'amélioration drastique du rendement radiatif : la recombinaison des excitons est essentiellement radiative jusqu'à 325 K. La durée de vie de l'exciton croît linéairement avec la température, ce qui indique que les propriétés excitoniques sont conservées jusqu'à température ambiante. Ce résultat est important en vue de l'exploitation de PQ à base de ZnO en opto-électronique ou comme système modèle.
Fichier principal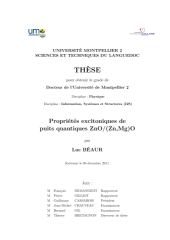 These_LB.pdf (7.27 Mo)
Télécharger le fichier
Origin : Files produced by the author(s)