Role of fibrillin-1 in the cardiovascular function during ageing : fibrillin-1 signalling in human endothelial cells and structural and functional exploration in Fbn-1+/mg delta mice.
Rôle de la fibrilline-1 dans la fonction cardiovasculaire au cours du vieillissement : signalisation de la fibrilline-1 dans les cellules endothéliales humaines et exploration structurale et fonctionnelle chez les souris Fbn-1+/mgΔ.
Fibrillin-1, the main component of microfibrils and second main component of elastic fibers, is a glycoprotein whose gene mutation in human is responsible for Marfan syndrome, characterized at the vascular level by aortic aneurysm and dissections. In this work, we investigated on the one hand, the role of fibrillin-1 in human endothelial cell physiology and, on the other hand, the effect of fibrillin-1 quantitative deficiency on the structure and function of the cardiovascular system during aging in mice. Fibrillin-1 fragment "PF14" induced calcium signaling through α5β1 and αvβ3 integrins, phospholipase C activation and intracellular calcium store mobilization, as well as endothelial cell proliferation and migration. Fibrillin-1 severe or full deficiency leads to premature lethality (within two weeks postnatal) in mice, while partial deficiency, through fibrillin-1 heterozygous hypomorphic deletion of exons 19 to 24 (mgΔ deletion), does not affect mice longevity. Fbn-1+/mgΔ mice were hypotensive with cardiac hypertrophy and presented aortic aneurysm becoming more frequent in aged animals. The aortic wall of Fbn-1+/mgΔ mice presented structural (elastic fibers fragmentations), biomechanical (increased aortic stiffness) and vasomotor alterations. This work suggests that fibrillin- 1 quantitative deficiency may alter the signaling events normally triggered by this protein in endothelial cells during vascular morphogenesis, and subsequently induce aneurysms in the aorta wall during ageing. The opposite effects of fibrillin-1 and elastin deficiencies suggest opposite roles for these two major components of elastic fibers. Moreover, this work validates Fbn-1+/mgΔ mice as a structural and functional model for Marfan syndrome.
La fibrilline-1, composant majeur des microfibrilles et second composant majeur des fibres élastiques, est une glycoprotéine dont la mutation du gène chez l'humain est responsable du syndrome de Marfan, caractérisé par des anévrismes et des dissections aortiques. Dans ce travail de thèse, nous avons étudié d'une part le rôle de la fibrilline-1 dans la physiologie des cellules endothéliales vasculaires humaines et d'autre part la conséquence du déficit quantitatif de la fibrilline-1 sur la structure et la fonction du système cardiovasculaire au cours du vieillissement chez la souris. Le fragment de fibrilline-1 "PF14" induit une signalisation calcique via les intégrines α5β1 et αvβ3, l'activation de la phospholipase C et la mobilisation des réserves intracellulaires de calcium, ainsi que la prolifération et la migration des cellules endothéliales humaines. La déficience quantitative sévère ou totale de la fibrilline-1 entraîne une létalité chez la souris dans les deux semaines après la naissance alors que celle, partielle, due à la délétion hétérozygote hypomorphique des exons 19 à 24 du gène de la fibrilline-1 (délétion mgΔ) n'affecte pas la longévité des souris. Les souris Fbn-1+/mgΔ présentent une hypertrophie cardiaque et une hypotension ainsi que des anévrismes aortiques qui deviennent plus fréquents avec l'âge. La paroi aortique de ces souris présente des altérations structurales (fragmentations des lames élastiques), biomécaniques (l'augmentation de la rigidité) et de la vasomotricité, qui s'accentuent avec l'âge. Nos résultats suggèrent que la déficience quantitative de la fibrilline-1 pourrait altérer la signalisation que cette protéine déclenche normalement dans les cellules endothéliales dès la phase de morphogénèse artérielle, et induire en conséquence une pathologie anévrismale de la paroi aortique au cours du vieillissement. Les effets opposés des déficiences quantitatives en fibrilline-1 et en élastine sur la fonction vasculaire suggèrent des rôles opposés pour ces deux composants majeurs des fibres élastiques. Ce travail permet par ailleurs de valider les souris Fbn-1+/mgΔ, tant sur le plan structural que fonctionnel, comme modèle du syndrome de Marfan.
Fichier principal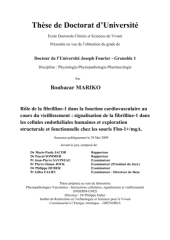 ManuscritdetheI_se.finaleSept09_BM-deI_poI_tinternet.pdf (5.89 Mo)
Télécharger le fichier