Introduction to the cosmological phenomenology by Eugen Fink
Introduction à la phénoménologie cosmologique d'Eugen Fink.
Tue purpose of this work is to introduce in french to german thinker Eugen Fink (1905-1975), which is most unknow in french. We will see the relation between the "young" Fink and the "old" Fink, and the continuity between the both period of his thought. First we will read newly the classics texts of the young Fink, and show the cosmological dimension of his thought, and then we will see how the "old" Fink drive his philosophy: with a theory, - new -, of the philosophical wondering, which drive to a new cosmology; from here, Fink read and think newly the history of metaphysics. To end, we will compare the Fink's thought with the theory of the man, from one side, and with the ontology of the last Heidegger, from the other side. This will be the first introduction to the whole Fink's thought in french.
Il s'agira d'envisager, en français, l'oeuvre du philosophe allemand Eugen Fink (1905-1975), dont le corpus complet n'est disponible qu'en allemand. Ce sera donc une "introduction" à sa pensée. A cet égard nous nous demanderons quelle est la continuité de la pensée dite du jeune Fink et de celle du Fink dit "de la maturité". Nous montrerons, contre certains préjugés, la continuité problématique, - cosmologique -, du penseur allemand. A la lumière de l'oeuvre ultérieure nous proposerons d'abord une nouvelle interprétation de la pensée du jeune Fink en même temps que son originalité vis à vis des maitres de Fribourg (Husserl, Heidegger). Dans une seconde partie nous exposerons une structure problématique que nous soutenons être celle du Fink de la maturité: d'abord une théorie du questionnement métaphysique, à la lumière de laquelle Fink réevalue les problèmes philosophiques fondamentaux: c'est à dire d'abord une cosmologie originale, une théorie de la phénoménalité fondamentale, à partir desquelles Fink repense de façon originale l'histoire de la métaphysique (antique et moderne). Après un appendice sur son interprétation de Nietzsche (qui prend son sens dans ce qui précède), nous concluerons sur sa position sur les problèmes qui lui furent contemporains (anthropologie et ontologie).
Fichier principal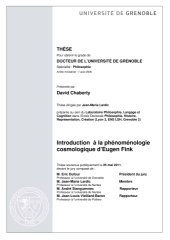 35398_CHABERTY_2011_archivage.pdf.pdf (4.95 Mo)
Télécharger le fichier
Origin : Version validated by the jury (STAR)