Comparison of erodimeters and analysis, evaluation of the soil sensitivity to interface erosion.
Confrontation et analyse d'érodimètres et caractérisation de la sensibilité à l'érosion d'interface.
A bibliographical review is proposed for the problem of erosion and its "measurement". A comparative study is carried out with two erodimeters (JET/HET) on natural soil samples, compacted with the Proctor protocol. The obtained values with the litterature methods, considering identical mechanism, are dependent on the used device. An energy approach between the fluid and the soil is built for the two devices. For a same eroded weight, the expended energies are similar. Two scales of energy appears for a same eroded weight. A new erosion resistance index based on energy and eroded mass links the two tests on a same scale. A statistical analysis is carried out. It gives an expression of the erosion resistance index in some physical parameters near the Proctor optimum. A study concerning the variation observed on the soil "erodibility" from the dry side to the wet side shows the influence of the saturation degree. In addition, a relationship between the permeability and the erosion resistance index is pointed out.
Une revue bibliographique présente le problème de l'érosion et les études antérieures. Une campagne d'essais est menée à l'aide de deux érodimètres (JET/HET) sur un ensemble de sols naturels, compactés suivant le protocole Proctor. L'interprétation des essais est effectuée avec les méthodes de la littérature. Les paramètres obtenus dépendent de l'appareil utilisé avec un mécanisme identique. Une méthode d'interprétation basée sur l'énergie hydraulique dissipée est développée pour les deux érodimètres. Pour une masse érodée donnée, les énergies sont similaires. L'indice de résistance à l'érosion proposé permet de regrouper sur un meme plan les essais. Une analyse statistique aboutit à l'expression de l'indice de résistance à l'érosion en quelques paramètres au voisinage de l'optimum Proctor. Une étude de la variabilité de la sensibilité à l'érosion met en évidence l'influence du degré de saturation et la corrélation de la perméabilité avec l'indice de résistance à l'érosion.
Fichier principal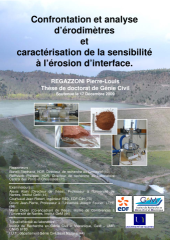 REGA_2009_Confrontation_et_analyse_d_erodimetres_et_caracterisation_de_la_sensibilite_a_l_erosion_da_interface.pdf (16.59 Mo)
Télécharger le fichier