THE LITTERARY CRITICISM OF ALFRED JARRY IN LA REVUE BLANCHE.
LA CRITIQUE LITTÉRAIRE D'ALFRED JARRY À LA REVUE BLANCHE.
JARRY SEEMS TO HAVE COMPLETELY ABANDONED THE LEARNED SYNTAXIC AND LEXICAL COMPLICATIONS WHICH CHARACTERIZED HIS FIRST TEXTS WHEN HE WORKED AS A LITERARY CRITIC IN LA REVUE BLANCHE. IN FACT, THE AUTHOR OF MESSALINE KEEPS EXERTING, BUT IN AN EXTREMELY UNDERLYING WAY, A KIND OF OBSCURITY. THAT OBSCURITY IS PARADOXICAL, IN THE SENSE THAT IT IS NOT APPARENT AND THAT IT ULTIMATELY RESULTS IN THE ABIDING DEVELOPMENT OF AN AESTHETIC OF THE ABRIDGED, AND IN AN APPARENT SETTING BACK OF HIS PRESENCE OF CRITIC, EVEN IN THE VERY ACT OF MAKING REPORTS. JARRY GIVES ALL THE IMPORTANCE TO THE COMMENTED TEXT, HUSHING UP THE WAY HE HAS TO QUOTE IT, INCESSANTLY. THUS, THIS WORK IS LED, ON THE ONE HAND, BY OUR CONCERN OF REVEALING THE WAY THE AESTHETIC OF THE ABRIDGED APPEARS - JARRY PROCEEDS BY CEASELESS SYNTHESES, WHICH, BY DINT OF BEING ASSERTED, BECOME EITHER OBSCURE OR ELUSIVE - IN THOSE LITTERARY CRITICISMS WHICH SEEM TO BE BREAD AND BUTTER WORK, BECAUSE THE AUTHOR OF LE SURMÂLE PRESENTS IN THEM REAL CONCRETIONS OF SENSE, IN CONNECTION WITH THE NOTION OF ERUDITION, IN EXTREMELY DIVERSE FIELDS. ON THE OTHER HAND, OUR WORK AIMS AT SHOWING HOW JARRY DIVERTS THE USUAL USE OF THE QUOTATION - THAT CARRIES A CORROSIVE CRITICISM OF THE STATUS OF CRITIC - THE AUTHOR OF LA CHANDELLE VERTE BECOMING A CRITIC WHO EXPRESSES HIMSELF MOSTLY ACCORDING TO THE TOTAL ABSENCE OF CRITICAL WORDS, BECAUSE WHEN IT IS A QUESTION OF EXPRESSING "JUDGMENTS", THIS IS IN FACT TO CONTINUE TO WEAVE A FILIATION WITH AN AUTHORS' COMMUNITY OF WHICH HE FEELS CLOSE TO, AND THUS, MAINLY, WITH THE PLACE OF LE MERCURE DE FRANCE.
JARRY SEMBLE AVOIR TOTALEMENT ABANDONNÉ LES COMPLICATIONS STYLISTIQUES QUI CARACTERISAIENT SES PREMIERS TEXTES LORSQU'IL FAIT ŒUVRE DE CRITIQUE LITTERAIRE À LA REVUE BLANCHE. EN RÉALITÉ, L'AUTEUR DE MESSALINE CONTINUE, MAIS DE FAÇON EXTRÊMEMENT SOUS-JACENTE, À PRATIQUER UNE FORME D'OBSCURITE, ELLE PARADOXALE, DANS LE SENS OÙ ELLE EST INAPPARENTE, ET QUI SE TRADUIT PAR LE DÉVELOPPEMENT CONSTANT D'UNE ESTHÉTIQUE DU RACCOURCI ET PAR UN APPARENT RETRAIT DE SA PRÉSENCE DE CRITIQUE JUSQUE DANS L'ACTE MÊME DU COMPTE RENDU, JARRY DONNANT TOUTE SA PLACE AU TEXTE COMMENTÉ, EN TAISANT CETTE FAÇON QU'IL A, INCESSAMMENT, DE LE CITER. AINSI, CE TRAVAIL EST CONDUIT D'UNE PART PAR NOTRE SOUCI DE FAIRE AFFLEURER LA FAÇON DONT SE FAIT JOUR L'ESTHÉTIQUE DU RACCOURCI (JARRY PROCÈDE PAR SYNTHESES INCESSANTES QUI, À FORCE D'AFFIRMATION, EN DEVIENNENT SOIT OBSCURES SOIT INSAISISSABLES) AU SEIN DE CES TEXTES APPAREMMENT ALIMENTAIRES QUE SONT LES CRITIQUES LITTERAIRES DE JARRY, L'AUTEUR DU SURMÂLE PRÉSENTANT DE VÉRITABLES CONCRÉTIONS DE SENS, EN LIEN AVEC LA NOTION D'ÉRUDITION, DANS DES DOMAINES EXTRÊMEMENT DIVERS. D'AUTRE PART, NOTRE TRAVAIL VISE À MONTRER COMMENT SE FAIT JOUR CHEZ JARRY LE DÉTOURNEMENT DE L'USAGE HABITUEL DE LA CITATION, QUI PORTE EN CREUX UNE CRITIQUE CORROSIVE DU STATUT DE CRITIQUE, L'AUTEUR DE LA CHANDELLE VERTE DEVENANT UN CRITIQUE QUI NE S'EXPRIME LE PLUS SOUVENT QUE SUIVANT L'ABSENCE TOTALE DE PROPOS CRITIQUE - PUISQUE LORSQU'IL S'AGIT D'ÉNONCER DES " JUGEMENTS ", C'EST EN FAIT POUR CONTINUER DE TISSER UNE FILIATION AVEC UNE COMMUNAUTE D'AUTEURS DESQUELS IL SE SENT PROCHE ET AINSI, PRINCIPALEMENT, AVEC LE LIEU DU MERCURE DE FRANCE.
Fichier principal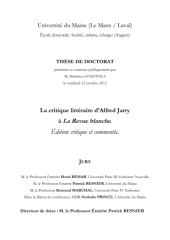 these-matthieu-gosztola-la-critique-litteraire-d-alfred-jarry-a-la-revue-blanche-novembre-2014.pdf (12.76 Mo)
Télécharger le fichier
matthieu-gosztola-expose-de-la-soutenance-de-these.pdf (275.28 Ko)
Télécharger le fichier
memoire-master-1-alfred-jarry-revues-litteraires-matthieu-gosztola.pdf (3.01 Mo)
Télécharger le fichier
memoire-master-2-jarry-valery-detour-oblige-sciences-matthieu-gosztola.pdf (862.98 Ko)
Télécharger le fichier