A history of sexual perversion. Emergence and transformations of the concept of "sexual perversion" in psychiatry during the 19th century
" Histoire de la perversion sexuelle. Émergence et transformations du concept de perversion sexuelle dans la psychiatrie de 1797 à 1912 ".
History of marginal sexualities has been quite extensively analyzed since the early 70's both from the cultural history perspective and the history of sexuality viewpoint. But nowadays few philosophical researches attempt to provide a critical epistemological explanation of the concept of sexual perversion. This concept is in itself a queer object . It is a medico-psychological category that has been present in psychopathologia for over a century and a half . However it displays evident moral aspects whose sheer presence should have lead to its elimination from the field of knowledge of mind illness since a long time. How to restitute the historical and epistemological stability of a concept within which two apparently contradictory dimensions converge ? This twork will explore the articulation between the moral and the psychological discourses on sexuality, through the genealogy of the concept of sexual perversion in French psychiatry during the extended XIXth century (1797-1912). Two questions are transversal to this history : what is the relationship between sexual perversion and conducts non-conform to moral, social and legal standards, i.e what is called deviance ? And what are images of relationship between sex and the evil stemming from psychopathological discourses ? These two issues then open the way to a larger problematization of the function and political effects of the concept of sexual perversion, questioning the security policy and politics towards social deviances, but also the place of pleasure in the contemporary occidental civilization.
Si l'histoire des sexualités marginales est bien abordée du point de vue de l'histoire culturelle depuis les années 1970, peu de travaux philosophiques s'attachent aujourd'hui à fournir une élucidation épistémologique critique du concept de perversion sexuelle. Ce dernier est pourtant un objet tout à fait étrange. C'est une catégorie médico-psychologique présente depuis plus d'un siècle et demi dans l'univers psychopathologique. Elle présente cependant des aspects indéniablement moraux, dont il semble que la simple présence aurait du la disqualifier depuis longtemps aux yeux des savoirs de l'esprit malade. Comment rendre compte de la stabilité historique et épistémologique d'un concept au sein duquel convergent deux dimensions en apparence contradictoires ? Cette thèse se propose d'explorer cette articulation du discours moral et du discours psychopathologique sur la sexualité, à travers la généalogie du concept de perversion sexuelle dans la psychiatrie française durant le long XIXème siècle (1797-1912). Deux questions traversent l'histoire de cette catégorie : quelle est la relation de la perversion sexuelle avec les écarts individuels aux normes morales, sociales, et juridiques, c'est à dire à la déviance ? Et quelles sont les images de la relation du sexe et du mal produites par le discours psychopathologique ? Ces deux problématiques engagent alors un questionnement plus large sur la fonction et les effets politiques du concept de perversion sexuelle, interrogation relative à la gestion sécuritaire des écarts sociaux, mais aussi à la place de la jouissance dans la civilisation occidentale contemporaine.
Fichier principal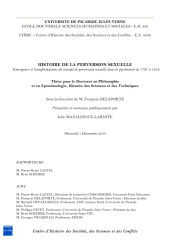 ThA_se_mazaleigue.pdf (4.28 Mo)
Télécharger le fichier
Rapport_analytique.pdf (387.31 Ko)
Télécharger le fichier