Can we still talk about a "style-Minuit" at the beginning of the twenty-first century (Éric Chevillard, Éric Laurrent, Laurent Mauvignier, Marie NDiaye et Tanguy Viel)?
Peut-on encore parler d'un style-Minuit à l'orée du XXIe siècle (Éric Chevillard, Éric Laurrent, Laurent Mauvignier, Marie NDiaye et Tanguy Viel) ?
In the early twenty-first century, the "style-Minuit" can be first approached as a critical construction. Indeed, since the fifties literary movement called the Nouveau Roman (the New Novel), also known as the Minuit School, books published by Editions de Minuit have been received by the literary world as homogeneous productions. Thus, the "impassive" or "minimalist" writers, then the "ludic" ones would have followed the Nouveaux Romanciers and upto the nineties, the mythical publisher, Jérôme Lindon, would have discovered three stylistic schools. Literary critics also contribute to perpetuate the idea of a style-Minuit in the media and between 1999 and 2009 journalists have depicted the Minuit-style as a stereotypical socio-critical object through a metaphorical and metonymical discourse playing constantly with several meanings of the word "style". However, if we restrict the meaning of style to what makes "an event in language", can we still pretend there would be a "style-Minuit"? Examining on both a diachronic and a synchronic level the literary language of a generation of writers all born between 1964 and 1973 (Éric Chevillard, Éric Laurrent, Laurent Mauvignier, Marie NDiaye et Tanguy Viel) reveals a common pattern composed by similar stylistic figures. Therefore a deep analysis of punctuation, syntax and discourse makes it possible to highlight first the linguistic uniqueness of each writer but also the convergences of some stylistic practices which properly delimit the collective "style- Minuit".
À l'aube du XXIe siècle, le style-Minuit s'offre d'abord comme une construction critique. En effet, depuis les années 1950 et le mouvement du Nouveau Roman, aussi appelé école de Minuit, les récits publiés aux Éditions de Minuit sont perçus irréductiblement par l'histoire littéraire comme des productions homogènes. Ainsi, les écrivains "impassibles" ou "minimalistes" puis "ludiques" auraient succédé aux Nouveaux Romanciers et, jusque dans les années 1990, le mythique éditeur, Jérôme Lindon, aurait découvert trois écoles stylistiques. Les critiques littéraires contribuent également à perpétuer dans la presse l'idée d'un style-Minuit. Entre 1999 et 2009, les journalistes représentent, dans un discours métaphorique et métonymique qui joue sans cesse d'un glissement sémantique sur la lexie polysémique "style", le style-Minuit en tant qu'objet sociocritique stéréotypique. Mais, si l'on entend par style ce qui fait événement dans la langue, peut-on encore faire l'hypothèse selon laquelle il existe un style-Minuit ? Passée au crible d'une étude à la fois synchronique et diachronique, la langue littéraire des écrivains Minuit nés entre 1964 et 1973 (Éric Chevillard, Éric Laurrent, Laurent Mauvignier, Marie NDiaye et Tanguy Viel) révèle un méta-patron discursif composé de traits de style supra-individuels. Ainsi, une analyse approfondie de la ponctuation, la syntaxe et l'énonciation permet de dégager non seulement la singularité langagière de chaque écrivain mais aussi les convergences de pratiques stylistiques qui définissent bien un style collectif Minuit.
Fichier principal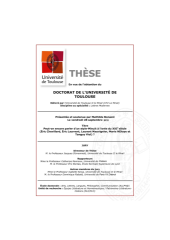 Bonazzi_Mathilde.pdf (5.58 Mo)
Télécharger le fichier
Bonazzi_Mathilde_annexe10.flac (38.71 Mo)
Télécharger le fichier
Origin : Version validated by the jury (STAR)