Modelling and simulation of the recovery in a kraft pulp mill.
Modélisation et simulation de l'atelier de régénération de l'usine Kraft
Chemical recovery at the kraft mill is the process whereby the valuable inorganic elements areextracted from spent kraft liquors and regenerated under their form effective to the cooking ofthe wood and energy is producted from the dissolved organic fraction. Many unit operations areinvolved, often poorly described. This work aims at a better understanding of the recovery processes.Reliable models describing the physical phenomena were proposed for each operation andimplemented as a computer algorithm. The whole chemical recovery unit was then simulated.
L'atelier de régénération d'une usine kraft permet d'extraire des liqueurs noires les élémentschimiques nécessaires à la cuisson du bois et de les régénérer sous leur forme active, ainsi quede valoriser la fraction organique dissoute sous forme de chaleur. Les opérations unitaires enoeuvre sont nombreuses, complexes, et souvent mal décrites. Ce travail vise à permettre unemeilleure compréhension de la régénération, par la réalisation de modèles fiables décrivant lesphénomènes et processus dans chaque opération unitaire, leur implémentation algorithmiqueet leur exploitation par la simulation du procédé global.
Fichier principal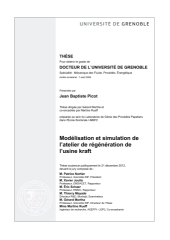 30266_PICOT_2012_archivage.pdf (4.93 Mo)
Télécharger le fichier
Origin : Version validated by the jury (STAR)