Medical nanosized aerosols : generation, characterization and deposition.
Aérosols nanométriques médicaux : Développement, caractérisation et cartographie de dépôt.
Medical and socio-economic issues of respiratory diseases have a major importance in world medicine. Among the conventional minimally invasive procedures in the treatment of respiratory diseases, the aerosoltherapy distinguishes itself by its ability to deliver medication directly into the respiratory tract, such as the sinuses or the tracheal-bronchial tree. In this context, the use of nanoparticles to target the lungs is object of great advances in aerosoltherapy as nanometric aerosols have the ability to overcome obstacles in the upper airways and deposit in the deep lung, increasing the therapeutic and diagnostic performance of these aerosols. In order to contribute with the advance of aerosoltherapy treatments this thesis is directed towards the development of new techniques of generation of nanometric and submicronic aerosols, able to target specific regions of the respiratory system of a patient. The major problem within this context is the adjustment of the aerosol's particle size in order to promote a targeted deposition in a patient. Therefore, it is firstly necessary to have a wide range of aerosols sizes, from micronic to nanometric, and then it is needed to determine the relationship between particle size and deposition site in the respiratory tract. As a result, the main objectives of this thesis are the metrological characterization of nanometric aerosols and the evaluation of its performance in terms of its deposition in the respiratory tract. The achieved results have demonstrated that is possible to efficiently generate submicronic and nanometric aerosols, either with solid or liquid particles. Aerosols containing a higher amount of nanoparticles showed a larger deposit in the lungs that may contribute to the advancement of aerosoltherapy techniques as well as for toxicological studies.
Les enjeux médicaux et le contexte socio-économique des maladies respiratoires ont une importance majeure à l'échelle mondiale. Parmi les procédures mini-invasives classiques de traitement des maladies respiratoires, l'aérosolthérapie se distingue par sa capacité d'administrer des médicaments pour les pathologies locales, directement dans les voies respiratoires, comme les sinus ou l'arbre trachéaux-bronchique. Dans ce contexte, l'utilisation de nanoparticules à visée pulmonaire est objet de grandes avancées en aérosolthérapie car les aérosols nanométriques ont la capacité de contourner les obstacles dans les voies aériennes supérieures et se déposer dans le poumon profond, renforçant ainsi la performance thérapeutique et diagnostique de ces aérosols. Afin de contribuer à l'évolution des traitements par aérosolthérapie cette thèse s'est orientée vers le développement des nouvelles techniques de génération d'aérosols nanométriques et submicroniques, capables de cibler des régions spécifiques de l'appareil respiratoire d'un patient. La problématique majeure à être confrontée dans ce contexte est donc l'adaptation de la taille des particules de l'aérosol afin de promouvoir un dépôt ciblé chez le patient. Pour cela il est d'abord nécessaire d'avoir une large gamme de tailles d'aérosols, de micronique à nanométrique, puis déterminer la relation entre la taille des particules et leur site de dépôt dans les voies respiratoires. De ce fait, les objectifs principaux de cette thèse sont la caractérisation métrologique et l'évaluation des performances des aérosols nanométriques en termes de cartographie de dépôt. Les résultats obtenus ont démontré qu'il est possible de générer efficacement des aérosols submicroniques et nanométriques soit solides soit liquides. Les aérosols contenant une plus grande quantité de nanoparticules ont montré un dépôt plus important dans les poumons, ce qui contribue au développement des techniques d'administration de médicaments par aérosolthérapies ainsi que pour des études toxicologiques.
Fichier principal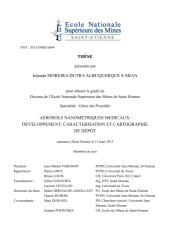 albuquerque-iolanda-diff.pdf (83.26 Mo)
Télécharger le fichier
Origin : Version validated by the jury (STAR)