Contribution des retombées atmosphériques aux flux de polluants issus d'un petit bassin versant urbain: Cas du Pin Sec à Nantes
Aerosol are the main carriers of pollutants in the atmosphere and have largely been studied because they have multiple effects on human health and the environment. Those aerosols and associated pollutants will be evacuated from the atmospheric compartment either by atmospheric deposition or by chemical transformation. After deposition, those pollutants can contribute to water pollution by leaching processes on surfaces. In urban areas, storm water pollution and the impact on aquatic system are of major concern and have been studied for several decades. The aim of this thesis is to improve the estimation of the contribution of atmospheric deposition to the global pollution of a small urban catchment in Nantes city (Pin Sec). To achieve this objective a new method has been used. It takes account of the different urban surfaces (i.e. tiles, bitumen, front coatings etc.) and relies on the use of a natural aerosol tracer, Beryllium 7. Micro pollutants (i.e. metals, pesticides and PAHs) have been characterized during a one-year survey. The survey shows that the pollution level on this catchment is low and that utilization of pesticides has been reduced. Furthermore, the study highlights the importance of the nature of urban surfaces on dry deposition flux. This flux appears to be lower than the flux estimated by classical methods. The metallic contribution is, therefore, less important than that previously reported (Zn : 30%, Cu : 52%, Pb :73% en annual mean).
Les aérosols sont les principaux vecteurs des polluants dans l'atmosphère, et sont au coeur de nombreuses études en raison des effets qu'ils peuvent avoir sur la santé humaine et l'environnement. Ces aérosols et polluants associés vont par la suite quitter le compartiment atmosphérique soit par dépôt, soit par transformation lors de réactions chimiques. Une fois déposés, les polluants vont contribuer à la pollution des eaux par des processus de lessivage sur les surfaces. En milieu urbain, la problématique de pollution des eaux de ruissellement et de l'impact sur les milieux aquatiques est étudiée depuis plusieurs décennies. L'objectif de cette thèse est d'améliorer l'estimation de la contribution du dépôt atmosphérique à la pollution globale d'un petit bassin versant urbain nantais (Pin Sec). A cette fin, une méthode innovante de mesure du dépôt sec atmosphérique est utilisée ; elle prend en compte les différentes surfaces urbaines (tuiles, bitume, enduits de façade etc.) et repose sur l'utilisation d'un traceur naturel des aérosols, le Béryllium 7. Les micropolluants (métaux, pesticides et HAP) ont été caractérisés pendant une durée d'un an. Le suivi a montré que ce bassin est faiblement pollué et que les pratiques d'utilisation des pesticides ont fortement diminué. Nous avons également montré la grande influence de la nature des surfaces sur le flux de dépôt sec. De plus, il s'avère que les flux calculés par cette méthode innovante sont nettement inférieurs à ceux généralement rapportés dans la littérature. La contribution du dépôt sec métallique est particulier beaucoup plus faible (Zn : 30%, Cu : 52%, Pb :73% en moyenne annuelle).
Fichier principal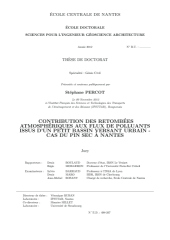 doc00013926.pdf (24.32 Mo)
Télécharger le fichier
Origin : Files produced by the author(s)