Adapeted physical activity for type 2 diabetes patients : a sociological approach investigating the relationship between "APA praticioner careers" and "illness" trajectory"
L'activité physique adaptée pour les personnes atteintes de diabète de type 2 : approche sociologique des "carrières de pratiquant d'APA" dans leurs relations avec la "trajectoire de maladie"
Alongside prescription medication, it is recommended that type 2 diabetes patients (T2D) carry out regular adaptedphysical activity (APA), in the same way that they should adopt a new dietary balance (HAS 2006). This incitement to bringabout concrete changes in lifestyle comes up against opposition which is compounded where the patient does not have ahistory of regular physical exercise. Some health organizations have devised innovative arrangements such as health networks,or inter-disciplinary patient education units, to make this engagement in physical activity possible, and to enable autonomousdevelopment within the framework of an "APA practitioner career" as defined by Becker (1985). The objective here is tostudy this process of engagement in relation to the "illness trajectory" as understood by Strauss (1985), taking into account thedifferent phases of its course. This approach brings into play the concept of Interactionism at the interface of health sociologyand sport sociology. The methodology used here links fieldwork with 52 personal narratives of people affected by chronicillness (39 of whom have T2D), which have developed through two different APA action plans, the first of which offers theorysessions providing information/explanation (n=17), and the second, the setting up of practical sessions which form a series ofAPA lessons followed by guidance towards a patients' sports association (n=35). Textual data processing software is used toanalyse the patients' narratives (Prospéro). Three types of engagement have thus been pinpointed: the first appears in the"illness trajectory" but assumes a new relationship with the body after challenging the patient's pre-conceived ideas about PAand about his/her own capabilities. The second opens an "APA practitioner career" in the context of socialising with otherpeople like themselves, initiated via the apparatus of APA. The third consolidates this "career" into more of a cultural thanmedical practice, by making it part of a wider group activity. These three types of engagement progress along a continuum,over the course of which the following trends result simultaneously: a growing desire to decrease dependence on medicaladvice, an increase in physical self-awareness, and the development of a network of contacts.
Outre la prescription d'un traitement médicamenteux, la pratique régulière d'une Activité Physique Adaptée (APA)est recommandée aux personnes atteintes d'un diabète de type 2 (DT2), au même titre qu'un nouvel équilibre alimentaire(HAS, 2006). Cette incitation à opérer des changements concrets dans son « style de vie » rencontre des résistances, qui sontaccentuées pour les malades n'ayant pas préalablement construit de dispositions à la pratique physique. Des dispositifsinnovants ont été imaginés dans certaines organisations de santé (réseau de santé, unité transversale d'éducation) pour rendrepossible cet engagement physique et lui permettre de se développer de manière autonome dans le cadre d'« une carrière depratiquant d'APA » au sens où la définit Becker (1985). L'objectif est d'étudier ce processus d'engagement dans ses relationsavec la « trajectoire de maladie » au sens où l'entend Strauss (1985), en rendant compte des différentes étapes de saconstruction. A l'interface de la sociologie de la santé et de la sociologie du sport, l'approche mobilise ainsi des conceptsinteractionnistes. La méthodologie articule une observation de terrain avec 52 récits d'expériences de personnes atteintes demaladie(s) chronique(s) (dont 39 de DT2) qui ont évolué dans deux dispositifs d'APA différents : l'un proposant des séancesthéoriques d'information/explication (n=17), l'autre mettant en place des séances pratiques dans un cycle éducatif en APA puisune orientation vers une association sportive de patients (n=35). L'analyse des récits utilise un logiciel de traitement dedonnées textuelles (Prospéro).Trois types d'engagement ont ainsi été repérés : Le premier s'inscrit dans la « trajectoire demaladie » mais suppose un rapport au corps renouvelé après une remise en question des représentations de l'AP du patient etde ses capacités. Le second ouvre une « carrière de pratiquant d'APA » et ajoute une sociabilité de l'entre-soi, initiée par lesdispositifs « à et via » l'APA. Le troisième consolide cette « carrière » dans une pratique davantage culturelle que médicale,en l'inscrivant dans une sociabilité plus ouverte. Ces trois formes d'engagement se succèdent selon un continuum au coursduquel s'affirment simultanément une recherche croissante d'autonomie par rapport aux prescriptions médicales, une attentiongrandissante au corps et un développement du réseau relationnel.
Fichier principal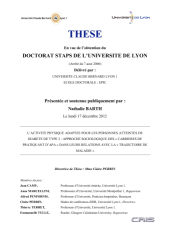 TH2012_Barth_Nathalie.pdf (5.18 Mo)
Télécharger le fichier
Origin : Version validated by the jury (STAR)