Rapports d'embranchement et résonances dans les désintégrations des mésons B en particules charmées dans BaBar et flux cosmique de positons dans AMS
In this document, ten years of activities in the BaBar experiment, as well as my research project in the AMS experiment, are presented. We describe the experimental setup related to BaBar and the main results obtained by this experiment. My research in BaBar is focused on the study of the B -> Dbar(*) D(*) K final states. There are 22 final states which present very interesting properties. First of all, they constitute a non negligible fraction of the B meson decays and a measurement of the branching fractions is presented. This measurement allows to study the isospin relationships between all the final states. These decays give also insights on the angles of the unitary triangle related to the CP violation. The B -> Dbar(*) D(*) K events contain many resonances, and some of them are still poorly known and remain mysterious. We describe a study performed on resonances such as the X(3872) or Ds1*(2700), using either invariant mass distributions or Dalitz plot analysis. Finally, my research project on AMS is presented, and we explain the interest of measuring the positron fraction as well as the positron spectrum. Discrepancies with respect to the predictions could be the sign of nearby pulsars, or could constitute also the indirect observation of dark matter annihilation.
Je présente dix années d'activité passées sur l'expérience BaBar ainsi que mon projet de recherche sur l'expérience AMS. Je décris les installations expérimentales relatives à BaBar et les principaux résultats apportés par l'expérience. Ensuite je détaille mes sujets de recherche qui sont liés à l'étude des états finals B -> Dbar(*) D(*) K. Ces états finals sont au nombre de 22 et présentent des propriétés très intéressantes à mesurer. Tout d'abord, ils constituent une fraction non négligeable des désintégrations des mésons B et une mesure des rapports d'embranchement est ainsi présentée. Cette mesure permet une étude des relations d'isospin entre tous les états finals. Ces désintégrations permettent également de retirer des informations utiles sur les angles du triangle d'unitarité, qui sont liés à la violation de CP. Les événements B -> Dbar(*) D(*) K contiennent de nombreuses résonances, dont certaines sont encore mal connues et demeurent mystérieuses. Je décris l'étude qui est faite sur des résonances telles que le X(3872) ou le Ds1*(2700), en utilisant des distributions de masses invariantes ou des diagrammes de Dalitz. Enfin, mon projet de recherche sur AMS est présenté, et j'explique l'intérêt d'une mesure de la fraction de positons, et à terme, du flux de positons. Des déviations de ces mesures par rapport aux prédictions pourraient être le signe de pulsars proches, mais également pourraient constituer une observation indirecte de l'annihilation de matière noire.
Fichier principal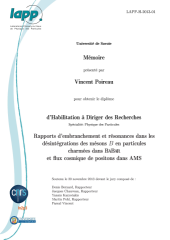 HDRFinaleSansArticle.pdf (1.96 Mo)
Télécharger le fichier
HDR_Vincent.pptx (8.44 Mo)
Télécharger le fichier