Biodétérioration des matériaux cimentaires dans les ouvrages d'assainissement – Etude comparative du ciment d'aluminate de calcium et du ciment Portland
The need for renovation of sewer networks in major cities and the necessity to build new structures lead managers of sewer pipe and manufacturers to seek for solutions for sustainable sanitation. 9% of damages encountered in these structures can be attributed to the biodeterioration of cementitious materials. This study has two main objectives. The first one is to develop an accelerated reproducible laboratory test that gives results similar to those obtained on site. The second is to study the biodeterioration of cementitious materials in order to better understand the mechanisms and more especially the durability differences between materials based on calcium aluminate cement (CAC) and ordinary Portland cement (OPC). Within this framework, different cement formulations were exposed in situ to identify the parameters influencing biodeterioration. Meanwhile, laboratory experiments were conducted to better understand each step of the biodeterioration's mechanisms. Results of on site exposition show that materials based on CAC have a greater durability than other cement formulations. Laboratory studies assign these best performances to the aluminum content which inhibits the growth of microorganisms while protecting the matrix by precipitation of a hydrated alumina layer in the porosity and on the surface of these materials. This layer maintains the pH at 3.5-4. Surface chemistry was shown to play an important role in catalyzing abiotic oxidation of H2S. The results of on-site exhibitions and various laboratory tests were used to develop an accelerated test giving promising results.
La nécessité de rénover les réseaux d'assainissement des grandes villes et les besoins de construire de nouvelles structures conduisent les gestionnaires de réseaux d'assainissement et les fabricants de canalisation à rechercher des solutions pour obtenir des installations d'assainissement durables. Parmi les détériorations rencontrées dans ces structures, 9% peuvent être attribués à la biodétérioration des matériaux cimentaires. Cette étude a deux objectifs principaux. Le premier est de développer un essai accéléré reproductible en laboratoire et qui donne des résultats proches de ceux obtenus sur site. Le second est d'étudier la biodétérioration des matériaux cimentaires pour mieux comprendre les mécanismes et plus spécifiquement la différence de comportement entre les matériaux à base de ciment d'aluminate de calcium (CAC) et de ciment Portland ordinaire (OPC). Dans ce cadre, différentes formulations cimentaires ont été exposées in situ afin de déterminer les paramètres influant sur la biodétérioration. En parallèle, des expériences en laboratoire ont été réalisées pour mieux comprendre chaque étape du mécanisme de biodétérioration. Les résultats des expositions sur site montrent que les matériaux à base de CAC ont une durabilité plus importante que les autres formulations cimentaires. Les études réalisées en laboratoire permettent d'attribuer ces meilleures performances à la teneur en aluminium qui inhibe la croissance des microorganismes tout en protégeant la matrice grâce à la précipitation d'une couche d'alumine hydratée dans la porosité et à la surface de ces matériaux et qui maintient le pH à 3,5-4. La chimie de surface a également un rôle important en favorisant ou non l'oxydation abiotique de l'H2S. Les résultats des expositions sur site et des différents essais de laboratoire ont été utilisés pour développer un essai accéléré donnant des résultats prometteurs.
Fichier principal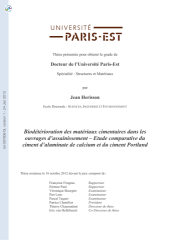 doc00013792.pdf (9.73 Mo)
Télécharger le fichier
Origin : Files produced by the author(s)