Utilisation des relations spatiales pour l'analyse et l'édition de mouvement
The animation of virtual characters driven by data is one of the key topics in computer graphics . In this context , a motion is classically defined by a list of skeletons over time, each of them is described by a vector of positions and rotations. The 3D mesh is then controlled by the skeletons by a rigging step between the skeleton and the mesh. In this document, we propose to study other representations of the motion through a set of spatial relationships. Two approaches are proposed : the first considers the motion in the metric space and the second characterizes each posture by a differential representation using the Laplacian operator. First, we propose to represent the postures of the motion by a set of distances. The goal is to produce new motions from an editing process or kinematic inversions. We show that this representation allows a simple and intuitive control of the animation of a character. It also has several properties exploitable in the context of motion analysis . This last point is illustrated by an original application of motion retrieval in large databases. Next, we define the motion by a set of graphs. The vertices are characterized by a differential information. Through this representation, we propose a new method to edit a motion coupling constraints of distance and the use the discrete Laplacian operator. This operator preserves the spatial relationships during the edition of the motion and the constraints of distance preserve the properties of the induced skeleton . This concept allows us to propose three applications dedicated to the reconstruction and the edition of motions : (i) an interactive system to edit sequences of skeletons using the discret 3D+t Laplacian operator ; (ii) reconstruction of marker trajectories (iii) animation of mesh constrained by an implicit skeleton and driven by markers trjactories.
L'animation de personnages virtuels guidée par des données fait l'objet de nombreuses études dans le domaine de l'informatique graphique. Dans ce contexte, le mouvement est classiquement défini par une suite de squelettes au cours du temps, chacun étant décrit par un vecteur de positions et de rotations. Le maillage 3D est ensuite guidé par les squelettes au moyen d'un couplage défini explicitement. L'enchaînement des différentes étapes de ce processus est difficile à mettre en oeuvre, et conduit à des approximations et des erreurs de modélisation, à la fois au niveau de l'animation du squelette et de la déformation du maillage. Dans ce manuscrit nous proposons d'étudier d'autres représentations du mouvement par le biais d'un ensemble de relations spatiales. Cette approche nous permet de tenir compte implicitement de contraintes de distance entre les points de la structure articulée, du maillage et de l'environnement, et d'exprimer en particulier la notion de contact. Deux axes d'étude sont principalement abordés~: le premier considère le mouvement dans l'espace métrique, et le second caractérise chaque posture par son information différentielle dans l'espace Laplacien. Dans un premier temps, nous proposons de représenter les squelettes associés aux postures du mouvement par un ensemble de distances. Caractériser une telle structure dans l'espace métrique se ramène à un formalisme mathématique connu sous le nom de problème de la géométrie des distances. Ainsi, nous nous inspirons des différentes techniques existantes et les appliquons au contrôle du mouvement. L'objectif est de produire de nouveaux mouvements à partir de processus d'édition ou d'inversion cinématique. Nous montrons que cette représentation permet un contrôle simple et intuitif de l'animation d'un personnage. Elle possède également plusieurs propriétés exploitables dans le cadre de l'analyse du mouvement. Ce dernier point est illustré par une application originale de recherche de mouvements dans des grandes bases de données. Dans un second temps, nous définissons le mouvement par un ensemble de graphes dont les sommets sont caractérisés par une information différentielle. A travers cette représentation, nous proposons une nouvelle méthode d'édition du mouvement couplant des contraintes de distance avec l'opérateur Laplacien discret. Cet opérateur permet de préserver les relations spatiales lors de l'édition du mouvement alors que les contraintes de distance préservent certaines propriétés inhérentes au squelette. Ce concept donne lieu à plusieurs applications dédiées à la reconstruction et l'édition de mouvement : (i) l'édition interactive d'animation de squelette, où nous proposons d'éditer tout type de mouvement avec de fortes déformations tout en préservant l'information spatio-temporelle ; (ii) la reconstruction de trajectoires de marqueurs~: en faisant l'hypothèse qu'il existe un lien entre la trajectoire d'un marqueur et celles de ses voisins, nous proposons de reconstruire les trajectoires incomplètes ; (iii) l'animation de maillage où nous proposons un nouveau processus d'animation directement guidé par les trajectoires des marqueurs.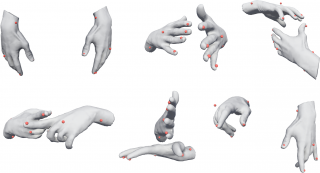 2HandsMotion3.jpg (672.33 Ko)
Télécharger le fichier
Fichier principal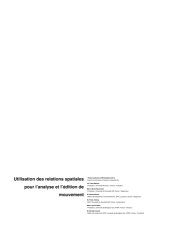 thesis.pdf (5.55 Mo)
Télécharger le fichier