A World Music made in Germany? The Creole competitions and the ideal of a plural society in Germany today.
Une musique du monde faite en Allemagne ? Les compétitions Creole et l'idéal d'une société plurielle dans l'Allemagne d'aujourd'hui.
This work aims to render an account of the relations between musical creation, identity politics and globalization in Germany today taken from one case: the creole competitions, a cycle of festivals leading every two years to a prize for "world music from Germany" (since 2010 "Global Music"). According to its accompanying text, this festival is intended to illustrate the "creolization" of the world and the diversity of cultures in Germany. When one investigates the genesis of the project and the mobilization of candidates, partners and experts, it turns out that the expectations are more complex and that these events, rather than illustrating an established reality, create plural versions of a "world music from Germany". The crux of this work is to explain the tensions between the values which have currency within the intimacy of this professional sector ("die Nische Weltmusik") and the public perception of the genre, tarnished with suspicion and controversy. This world of music cuts across questions that mark more generally German society today: as an "immigrant country" (Einwanderungsland) torn between the idealization of cross-fertilization and the fear of diversity, as a "music country" (Musikland) known for the richness of its intellectual heritage, but desirous to promote examples of contemporary music and as a political system divided between local structures and globalized frameworks which define public culture. Just as the background of this work is large, so too the attention given to specifics has to be precise: to show the organizing frameworks of the contests, the various criteria taken into account by the juries in their deliberations and the debates which emerge among the spectators on the "spirit" of this manifestation.
Ce travail vise à rendre compte des relations entre création musicale, politiques de la diversité et mondialisation dans l'Allemagne d'aujourd'hui en partant d'un cas : creole, un cycle de compétitions organisé selon un principe fédéral, qui donne lieu à des festivals dans différentes villes et débouche tous les deux ans sur un prix récompensant trois ensembles de " musiques du monde d'Allemagne ". Selon les textes des programmes, cette manifestation est censée illustrer la créolisation du monde et les connexions émergeant entre différentes cultures et genres musicaux présents en Allemagne. Lorsque l'on se penche sur le processus d'émergence de ce projet et les dynamiques de mobilisation des participants, il s'avère cependant que le spectre des attentes est plus complexe et que ces événements, plutôt qu'illustrer une réalité univoque, fabriquent en des versions plurielles tout un monde de musiques d'Allemagne. L'étude de ce cas n'est pas une fin en soi mais un moyen pour appréhender divers aspects de l'Allemagne contemporaine. Les débats qui ont cours dans l'intimité du secteur des " musiques du monde " (" die Nische Weltmusik ") manifestent plus largement des tensions traversant la société allemande d'aujourd'hui : en tant que terre d'immigration partagée entre l'idéalisation du métissage et la mise en avant de cultures distinctes, en tant que " pays de musique " connu pour la richesse de son patrimoine savant et en même temps désireux de promouvoir des artistes " populaires " ou " modernes ", en tant que système politique fédéral devant composer avec les diverses instances locales et les cadres mondialisés du marché et de la politique culturelle. Autant l'arrière-plan considéré dans ce travail est large, autant l'attention portée aux situations d'interaction se veut précise : pour rendre compte du processus de fabrique des festivals et des environnements différenciés dans lesquels ils s'inscrivent, des logiques de sélection et des dynamiques de délibérations des jurys, des cadres organisant chaque épreuve ainsi que des débats qui surgissent parmi les spectateurs sur " l'esprit " des festivals creole.
Fichier principal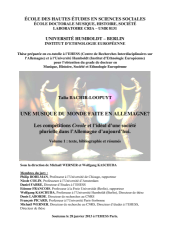 ThA_se_final.pdf (7.4 Mo)
Télécharger le fichier
Annexes_final.pdf (10.89 Mo)
Télécharger le fichier