Analyzing student practice in language resource centres : indicators of learner autonomy.
Analyse de pratiques d'étudiants dans un centre de ressources de langues : indicateurs d'autonomie dans l'apprentissage.
This research set out to study the processes involved in the expression and development of learner autonomy when learning a foreign language in a language resource centre. Eight university students participated. A qualitative analysis of observation sessions and subsequent interviews was carried out according to four indicators, with the following results. Learners explored resources available but not extensively, and their practice confirmed the influence of the context and circumstances on learner trajectory. They piloted their learning process with rather vague objectives in mind and readjusted decisions as they progressed. Effective learning routines appeared to be dynamic, contrary to fixed defensive ones. The students managed advice given by teachers and institutional constraints in their own personal way. Furthermore, our data seems to show that expliciting actions could, in itself, induce learner reflection on his/her learning processes.
Cette recherche porte sur les processus par lesquels les étudiants expriment leur autonomie d'apprentissage tout en apprenant une langue étrangère dans le dispositif. Quatre indicateurs sont proposés pour l'analyse qualitative d'observations et d'entretiens combinés, menés auprès de huit étudiants. Les pratiques d'exploration des ressources, plutôt peu ouvertes ou extensives, confirment l'influence de l'environnement et des circonstances sur la trajectoire d'apprentissage. Le contrôle du processus d'apprentissage par l'étudiant se manifeste par un pilotage flou et un retour réflexif. Les routines développées à des fins d'apprentissage sont dynamiques, contrairement aux routines de survie, figées. Concernant la gestion des contraintes inhérentes au dispositif, les étudiants observés " bricolent " tous leur propre dispositif, entre liberté et contraintes. Par ailleurs, l'explicitation des actions par l'étudiant apparaît pouvoir déclencher à elle seule une réflexivité sur l'apprentissage.
Fichier principal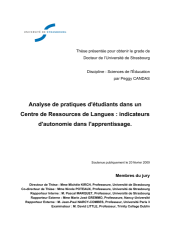 theseCandas_volume_principal.pdf (1.46 Mo)
Télécharger le fichier
theseCandas_livret_annexes.pdf (799.03 Ko)
Télécharger le fichier