Das Engagement von Bettina von Arnim in den politischen und sozialen Debatten anhand ihrer Briefwechsel (1838-1849)
The development of Bettina von Arnim (1785-1859) in the social and political debattes through her letters (1838-1849)
L'implication de Bettina von Arnim dans les débats politiques et sociaux au travers de ses correspondances (1838-1849)
Diese Dissertation beschäftigt sich mit den Brief- und Kommunikationsstrategien von Bettina von Arnim (1785-1859), die vor allem durch ihre Korrespondenz an den politischen und sozialen Debatten im Vormärz teilgenommen hatte. Unter häufiger Missachtung der sozialen, ideologischen und rhetorischen Gewohnheiten sowie der traditionellen Literaturgattungen war Bettina von Arnim bestrebt, dem preußischen König Friedrich Wilhelm IV. Ratschläge zu erteilen. Bettina von Arnim hat Überzeugungsstrategien entworfen, um einen starren und reaktionären Beamtenapparat zu umgehen und wachzurütteln, politische und soziale Reformen zu erzielen sowie das Staatsoberhaupt in Richtung auf ihr Ideal eines Volkskönigs zu beeinflussen. In dieser Arbeit sollen die von Bettina von Arnim verwendeten Mechanismen untersucht werden, wodurch sie sich in die Politik, eine den Männern vorbehaltene Domäne, einzumischen versuchte.
This research project explores the activities and works of Bettina von Arnim (1785-1859), a German literary scholar, taking part in the political and social debates of the period 'Vormarz'. Covering all social boundaries, ideologies, rhetoric and literary styles, Bettina attempted to influence the King of Prussia, Frederick William IV, with her letters, writings and network. Bettina von Arnim fabricated a persuasive communication strategy to disrupt a rigid ministerial system, get political and social reforms, and influence the Sovereign according to her model of the 'Volkskönig'. This study attempts to show the tactics employed by Bettina von Arnim to infiltrate an exclusively male political structure.
Ce travail de recherche aborde les stratégies épistolaires et communicationnelles de Bettina von Arnim (1785-1859), femme de lettres allemande, pour prendre part aux débats politiques et sociaux pendant la période du Vormärz. Transgressant les frontières sociales, idéologiques, rhétoriques et celles des genres littéraires, Bettina von Arnim a tenté d'influer sur le roi de Prusse, Frédéric Guillaume IV, au moyen de ses correspondances, de ses ouvrages et de son réseau. Bettina von Arnim a élaboré des stratégies de communication et de persuasion pour secouer un système ministériel rigide et réactionnaire, obtenir des réformes politiques et sociales et modeler le souverain selon son idéal du Volkskönig. Cette étude va s'attacher à montrer les mécanismes employés par Bettina von Arnim pour s'immiscer dans un domaine exclusivement masculin, la politique.
Fichier principal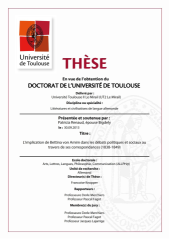 Bigdely_Patricia.pdf (2.1 Mo)
Télécharger le fichier
Origin : Version validated by the jury (STAR)