Novel in vitro models for pathogen detection based on organic transistors integrated with living cells.
Integration de cellules avec des transistors organiques pour la detection rapide de pathogenes et toxines
In biological systems, different tissues have evolved to form a barrier. An example is the intestinal epithelium, consisting of a single layer of cells lining the wall of the stomach and colon. It restricts the passage of harmful chemicals or pathogens from the light into the tissue, while selectively absorbing the most nutrients, electrolytes and water are necessary for the host. Tight junctions are structures which limit the passage of the material through the space between the cells. The ability to measure the paracellular and transcellular transport is of vital importance because it provides a wealth of information on the state of the barrier, indicative of certain disease states , since the disruption or malfunction of the structures involved in the transport through the tissue barrier is often caused or is indicative of toxicity or disease. In addition, the degree of integrity of the barrier is a key indicator of the relevance of a particular model in vitro for use in toxicology and drug screening. The advent of organic electronics has created a unique opportunity to connect the worlds of electronics and biology, using devices such as organic electrochemical transistor (OECT), which provides a very sensitive way to detect ionic currents. These devices have unprecedented sensitivity in a format that can be mass produced at low cost.The purpose of this study was to integrate a monolayer of cells representative of the gastro intestinal barrier with OECTs , to create devices that detect disruptions of the barrier in a timely and sensitive manner. This technique was demonstrated to be at least as sensitive, but a higher speed than current techniques on the market
L'épithélium intestinal est un exemple de tissu qui a évolué pour former une barrière. Cette barrière limite le passage de produits toxiques d'agents pathogènes à partir de la lumière vers les tissus, tout en absorbant les nutriments, électrolytes et l'eau nécessaire à l'hôte. Les jonctions serrées sont des structures qui limitent le passage de la matière à travers l'espace intercellulaire. La capacité de mesurer le transport à travers cette barrière est d'une importance capitale car elle fournit des renseignements sur l'état de celle-ci, révélatrice de certains états pathologiques, puisque la perturbation ou dysfonctionnement des jonctions serrées est souvent due à ou est un indicatif de toxicité ou de maladie. En outre, le degré d'intégrité de la barrière est un indicateur clé de la pertinence d'un modèle in vitro particulier pour une utilisation en toxicologie et screening de médicaments. L'avènement de l'électronique organique a créé une occasion unique pour connecter les mondes de l'électronique et de la biologie, à l'aide des dispositifs tels que le transistor électrochimique organique (OECT), qui fournisse un moyen très sensible pour détecter des courants ioniques. Ces dispositifs ont une sensibilité sans précédent, dans un format qui peut être produit en masse à faible coût.Le but de cette étude était d'intégrer une couche de cellules représentative de la barrière gastro intestinale avec des OECTs, pour créer des dispositifs qui permettent de détecter les perturbations de cette barrière d'une manière rapide et sensible. Cette technique a était démontrée pour être au minimum aussi sensible mais d'une rapidité supérieure que les techniques actuelles sur le marché.
Fichier principal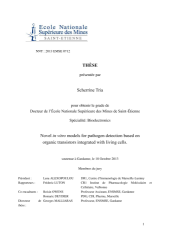 tria-scherrine-diff.pdf (3.49 Mo)
Télécharger le fichier
Origin : Version validated by the jury (STAR)