Juan Mayorga's theatre : from the stag on to the world through the prism of language
El teatro de Juan Mayorga : de la escena al mundo a través del prisma del lenguaje
Le théâtre de Juan Mayorga : de la scène au monde à travers le prisme du langage
In his plays, Juan Mayorga forcefully brings back the word in contemporary Spanish drama. This dissertation examines his works as a "world map" which mirrors and questions numerous aspects of reality through the prism of language. The study of language at play in the scenes and the dramatic language of the play appeals to the theories of pragmatic discourse. Analyses of the theatrical characteristics of the spoken word - the way words take shape and become meaningful on stage and in reality – show that, for this playwright, the image power of the spoken word is intrinsically connected to the language of the "fault". The "fault" – which rests at the very core of Juan Mayorga's works – underlines and prolongs the limits of language, unlocking a dialectical stage where it can be apprehended differently. Between the words, in the "faults" of logical speech, the unutterable arises, i.e. the Real in the Lacanian sense. The aporetic issue of seeing and telling unveils the decisive part of absence and want in the representation, which emanates from a theatrical, esthetic, but also ethical commitment. Choosing to study the stage as a map of the "faults" of discourse, the silence of history, and the absences of the world is a deliberate choice: analyzing the fragmentary characteristics of language is a way of thinking and questioning the world. This dissertation delves into the philosophical works which underlie Juan Mayorga's works: Walter Benjamin's thesis on history, the works of Ludwig Wittgenstein, Theodor Adorno, Giorgio Agamben, and Jean-Luc Nancy's works on the ability to utter and represent, as well as contemporaneous ontology - especially Jacques Derrida and Sören Kierkegaard´s theories, which divert the dichotomous logic that characterizes the Hegelian dialectics. Language itself weaves impassable dialectical relations which the playwright stages through tensions that can be multiplied indefinitely within aesthetics of discontinuity (keeping silent/telling; showing/hiding; showing/ telling, etc.). This dissertation draws attention to these tensions and questions their stakes. To that end, Gilles Deleuze and Felix Guattari's notions of "rhizome" and "the invisible scene" provide us with theoretical elements leading up to the same conclusion: meaning appears in interruptions. This dissertation progresses through Juan Mayorga's plays to unveil its exits and entrances as they materialize the faults of language, so as to examine the junctions, ramifications, or entanglements where the stage crystallizes. In their rhizomatic and underground theatrical experience, Mayorga's "specta-readers" are urged to be in-between, to become animal (Deleuze and Guattari) and to question what is behind the scene.
Con Juan Mayorga, la palabra vuelve a ocupar el primer plano de la escena española contemporánea. Esta tesis doctoral pretende pensar la obra del dramaturgo como un « mapa del mundo » que refleja e interroga determinadas facetas de la realidad a través del prisma del lenguaje. Para analizar las escenas de lenguaje y el lenguaje de la escena, nos valdremos de teorías relativas a la pragmática del discurso. Nuestro estudio, centrado en la teatralidad de la palabra en la obra de Juan Mayorga (es decir, en la forma en que las palabras se hacen cuerpo y sentido en el escenario y en el mundo) evidencia que la capacidad de crear imágenes de la palabra está estrechamente vinculada con la « falla » del discurso. Ésta ocupa un lugar central en la obra de Juan Mayorga, donde encarna los límites del lenguaje a la par que los supera. Así la « falla » da lugar a una escena dialéctica, desde donde se puede pensar una realidad y un lenguaje otros. Entre las palabras, en las « fallas » del discurso lógico, surge lo inefable, es decir lo Real en el sentido lacaniano. La aporía del ver y del decir revela el papel decisivo de la ausencia y de la carencia en la representación, lejos de ser considerada como presencia plena. La voluntad de crear en el escenario una cartografía de las « fallas » del discurso, de los silencios de la historia, y de las ausencias del mundo es una opción estética, pero también un compromiso ético. A través del prisma de un verbo fragmentario, se adivina una forma de pensar y de interrogar el mundo. Este trabajo se nutre de los corrientes filosóficos subyacentes a la escritura de Juan Mayorga: las tesis de Walter Benjamin sobre la historia, los escritos de Ludwig Wittgenstein, Theodor Adorno, Giorgio Agamben, y Jean-Luc Nancy. Se evocará la cuestión de la dicibilidad o de la representabilidad de lo indecible, pero también temáticas inherentes a la ontología contemporánea, particularmente el pensamiento de Jacques Derrida y de Sören Kierkegaard, quienes desvían la lógica dicotómica característica de la dialéctica hegeliana. El lenguaje en sí es creador de relaciones dialécticas insuperables (decir/callar, mostrar/esconder, enseñar/decir, etc.): el dramaturgo las escenifica a partir de tensiones que se multiplican al infinito en una estética de lo discontinuo. Nos proponemos en esta tesis de evidenciarlas e interrogarlas. Para ello, la noción de « rizoma » de Gilles Deleuze y Félix Guattari, así como la de la « escena invisible » (de la « crítica de los dispositivos »), aportan elementos teóricos de reflexión decisivos, que desembocan sobre una misma constatación: el sentido reside en la interrupción. La tesis es un recorrido a través de la obra de Juan Mayorga, en la cual se descubren entradas y salidas, se hurga en sus "fallas", para detenerse/demorarse en las bifurcaciones, ramificaciones o en los nudos – porque en ellos es donde se cristaliza la "escena". Durante su experimentación de la obra mayorguiana, se invita al "especta-lector" a ser entre, a volverse animal (Deleuze y Guattari), y a interrogar el revés/envés del escenario.
Juan Mayorga signe le retour en force du verbe dans la dramaturgie espagnole contemporaine. Cette thèse pense son œuvre comme une "carte du monde" qui reflète et interroge certaines facettes de la réalité à travers le prisme du langage. L'étude des scènes de langage et du langage de la scène fait appel aux théories de pragmatique du discours. Ensuite, les analyses de la théâtralité de la parole (la manière dont les mots prennent corps et sens sur scène et dans le monde) montrent que chez ce dramaturge, la puissance imageante de la parole est étroitement liée à la "faille" du discours. La "faille", qui occupe une place centrale dans l'œuvre de Juan Mayorga, souligne et relaye les limites du langage, ouvrant sur une scène dialectique, d'où on peut (le) penser autrement. Entre les mots, dans les "failles" du discours logique, surgit l'ineffable, c'est-à-dire le Réel au sens lacanien. La question de l'aporie du voir et du dire révèle la part décisive de l'absence et du manque dans la représentation : celle-ci relève d'un engagement dramaturgique et esthétique, mais aussi éthique. Choisir de faire de la scène une cartographie des "failles" du discours, des silences de l'histoire, et des absences du monde, c'est le fruit d'un parti pris. À travers le prisme d'un verbe dont nous relevons le caractère fragmentaire, c'est une manière de penser et d'interroger le monde qui apparaît. Ce travail puise dans les courants philosophiques qui (sous-)tendent l'écriture de Juan Mayorga : les thèses de Walter Benjamin sur l'histoire, les écrits de Ludwig Wittgenstein, Theodor Adorno, Giorgio Agamben et Jean-Luc Nancy, portant sur la dicibilité ou la représentablité de l'indicible, mais aussi l'ontologie contemporaine, en particulier la pensée de Jacques Derrida et de Sören Kierkegaard, qui détournent la logique dichotomique propre à la dialectique hégélienne. Le langage lui-même est créateur de relations dialectiques indépassables que le dramaturge met en scène à partir de tensions se multipliant à l'infini dans une esthétique du discontinu (dire/taire, montrer/cacher, montrer/dire, etc.). Cette thèse les met en lumière et en interroge les enjeux. À cet effet, la notion de "rhizome" de Gilles Deleuze et Félix Guattari, ainsi que celle de "scène invisible" (issue de la "critique des dispositifs"), fournissent des éléments théoriques de réflexion qui débouchent sur un même constat : le sens réside dans l'interruption. La thèse est un cheminement à travers l'œuvre de Juan Mayorga, dont il s'agit de découvrir entrées et sorties, s'engouffrant dans ses "failles", pour enfin s'arrêter sur des bifurcations, ramifications, ou nœuds – car en eux se cristallise la "scène". Au fil de son expérience théâtrale rhizhomatique et souterraine, le "spectalecteur" mayorguien est invité à être entre, à devenir animal (Deleuze et Guattari), et à interroger l'envers du décor.
Fichier principal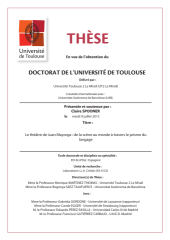 Spooner_Claire.pdf (3.45 Mo)
Télécharger le fichier
Origin : Version validated by the jury (STAR)