Die Phänomenologie als Arbeitsphilosophie : die Entschränkung, die Sinnbereicherung, die Stiftung des Neuen
Phenomenology as working philosophy : de-limitation, enrichment of sense, institution of the new
La phénoménologie en tant que philosophie-en-travail : la dé-limitation, l'enrichissement de sens, l'institution du nouveau
Diese Dissertationsforschung hat zwei parallellaufende Aufgaben vor sich. Die erste besteht darin, die allgemeine Form und die spezifische Vollzugsweise der phänomenologisch philoso-phischen Arbeit zu bestimmen; die zweite besteht ihrerseits darin diese Arbeit im Verlauf – auf ihrem Weg zu zeigen. Dafür hat dieser Dissertationstext zwei Einleitungen: die systematische Einleitung, die die offene Systematik (die sog. «flexible Architektonik») der phänomenologi-schen Philosophie darstellt, und die propädeutische Einleitung, die die Grundintuitionen der phä-nomenologischen Philosophie (z. B. das Unverständlichwerden des Selbstverständlichen – das philosophische Erstaunen, die Enttäuschung bei der Trugwahrnehmung etc.) formuliert. Anders gesagt, das Ziel besteht darin, das Spezifische der phänomenologischen Arbeit zu verstehen und zu vollziehen.
This dissertation examines phenomenology as working philosophy (Arbeitsphilosophie), that is, as an open research project. The main aim of the study consists in determining the mode of performance (Vollzugsweise) of the phenomenological work in progress. To achieve this goal we provide an analysis of the doctrine of attitude (Part I.), the doctrine of method (Part II.), and then the "flexible" architectonics (Part III.) of phenomenology. These elaborations enable us to thematize the de-limitation of consciousness (Entschränkung), the enrichment of sense (Sinnbereicherung) and the institution of the new as the characteristic features of the phenomenological method of operating. This research project requires a constant oscillation between an open systematization of Edmund Husserl's philosophy and particular phenomenological analyses.
Cette thèse examine la phénoménologie en tant que philosophie-en-travail, en tant que projet ouvert de recherche. Sa tâche principale consiste à déterminer la façon d'accomplir le travail phénoménologique. Pour atteindre cet objectif, nous examinons les analyses de la doctrine phénoménologique de l'attitude (Partie I.), de la doctrine de la méthode (Partie II.) et de l'architectonique « flexible » (Partie III.) de la phénoménologie. Ces élaborations nous permettent de thématiser la dé-limitation de la conscience, l'enrichissement de sens et l'institution du nouveau en tant que traits caractéristiques de la manière phénoménologique d'opérer. Cette recherche exige une oscillation constante entre une systématique ouverte de la philosophie d'Edmund Husserl et des analyses phénoménologues particulières.
Fichier principal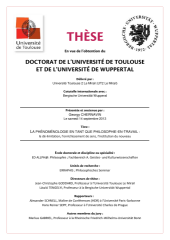 Chernavin_Georgy.pdf (2.16 Mo)
Télécharger le fichier
Origin : Version validated by the jury (STAR)