Paradoxes, aporias and contradictions at the heart of the sustainable development paradigm: the case of NGOs and public and private Institutions in the Metropolitan Region of Recife and in the Atlantic Forest Zone of Pernambouc, Brazil.
PARADOXES, APORIES ET CONTRADICTIONS AU COEUR DU PARADIGME DU DEVELOPPEMENT DURABLE ETUDE D'UN CHAMP INSTITUTIONNEL DE LA REGION METROPOLITAINE DE RECIFE ET DE LA ZONE DE LA FORET ATLANTIQUE DU PERNAMBOUC, BRESIL
This research aims at confronting the theoretical aspects of the sustainable development paradigm with the practical forms it can take, through the study of a regional institutional field (constituted by NGOs, companies/businesses, public and private organizations) situated in the Zone of the Atlantic Forest (Nordeste of Brazil). On a larger scope, we hope to find at the core of this paradigm paradoxes and aporias, which tell us about the contradictions of our contemporary societies, in particular on their structural incapability to limit themselves. From here on this research leads up to a questioning concerning the relation between the paradigm of sustainable development and the counter-productivity of our societies (the paradoxical societal dynamic which is set once some critical thresholds are exceeded). To do so, we will have to resort to a double approach: sociological and anthropological, in order to situate the paradoxes and contradictions of the paradigm in a historical and transversal perspective.
Cette recherche vise à confronter les aspects théoriques du paradigme du développement durable avec les formes pratiques qu'il peut prendre à travers l'étude d'un champ régional institutionnel (constitué par des ONG, des entreprises, des organisations publiques et privées) situé dans la Zone de la Forêt Atlantique (Nordeste du Brésil). Plus largement, il s'agit de retrouver, au coeur de ce paradigme, des paradoxes et des apories qui nous disent beaucoup sur les contradictions de nos sociétés contemporaines, notamment sur leur incapacité, semble-t-il, structurelle à s'auto-limiter et les formes conflictuelles que cela génère. Dès lors, c'est sur un questionnement portant sur la relation entre le paradigme du développement durable et la contre-productivité de nos sociétés (dynamique sociétale paradoxale qui se met en place une fois certains seuils critiques dépassés) que débouche cette recherche. Pour ce faire, on aura recours à une double approche : sociologique et anthropologique afin de situer les paradoxes et contradictions du paradigme dans une perspective historique et transversale.
Fichier principal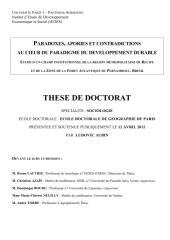 PARADOXES_APORIES_ET_CONTRADICTIONS_AU_COEUR_DU_PARADIGME_DU_DEVELOPPEMENT_DURABLE.pdf (3.53 Mo)
Télécharger le fichier