The taking into account of the diversity of stakeholders in a sustainable tourism process
La prise en compte de la diversité des acteurs dans un processus de tourisme durable.
This action research is focused on the concept of sustainable development applied to tourism. It starts with an analysis of fundamental texts in order to know the essence of sustainability. It goes on analysing the taking into account of this concept by the tourism-concerned stakeholders. It ends with operational recommendations in order to facilitate the appropriation and application of this concept, relying on various experiments taken within territories, businesses and training courses. This research sounded useful, for we are aware of the worsening of environmental and social problems on the planet and of the part of responsibility taken by the tourism activity. It seemed useful, since we have observed, over 15 years experience that stakeholders work to develop new forms of tourism, less predatory for environment and socially more performing. Unluckily, those initiatives often remain fragile, marginal and marginalised. The reasons are varied. The most fundamental one for us is a lack of know-how in making them stronger, more numerous, more significant. This know-how implies a change in culture and practices, and the application of values linked to universalism, at the service of stimulation and autonomy, in a generalized logic of cooperation. Economy is not left aside in this research. Today, tourism in France is losing in competitiveness, basing itself on standards and norms, therefore generating a frenetic concurrence between destinations and businesses. It is time to change the development model in order to favour a diffuse, diversified, creative and inspired offer relying on values and territorial resources, able to respond to both tourists and citizens expectations.STAR
Cette recherche-action est consacrée au développement durable appliqué au tourisme. Elle débute par l'analyse des textes fondamentaux pour connaître l'essence même de la durabilité. Elle se poursuit par l'analyse de la prise en compte du concept par les acteurs liés au tourisme. Elle se termine par des préconisations opérationnelles pour faciliter l'application du concept, en s'appuyant sur des expériences variées, menées au sein de territoires, d'entreprises et de formations. Cette recherche nous a semblé utile car nous sommes conscients de l'aggravation des problèmes environnementaux et sociaux de la planète, et de la part de responsabilité du tourisme. Nous avons observé, en 15 ans d'expériences, que des acteurs œuvrent en faveur de nouvelles formes de tourisme, moins prédatrices pour l'environnement, plus performantes socialement. Malheureusement ces initiatives sont souvent fragiles, marginales et marginalisées. Les raisons sont multiples. La plus fondamentale à nos yeux est le manque de savoir-faire pour qu'elles deviennent significatives. Celui-ci impose un changement de culture et de pratiques et l'application de valeurs universelles au service de la stimulation et de l'autonomie, dans une logique de coopération généralisée. L'économie n'est pas oubliée dans cette recherche. Aujourd'hui, le tourisme en France perd en compétitivité, en se basant sur des standards et des normes engendrant une concurrence effrénée entre les destinations et les entreprises. Il convient de changer de modèle pour favoriser une offre territorialement intégrée, diffuse, diversifiée, créative, inspirée, innovante, reposant sur des valeurs, une offre capable de répondre aux attentes des touristes et des citoyens.
Fichier principal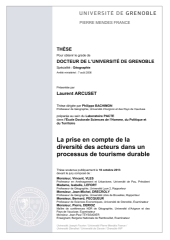 16917_ARCUSET_2013_diffusion.pdf (10.82 Mo)
Télécharger le fichier
Origin : Version validated by the jury (STAR)