Non-invasive markers of steatosis and liver fibrosis.
Marqueurs non-invasifs de stéatose et fibrose hépatique
Several non-invasive methods have been proposed to replace liver biopsy. Transient elastography and FibroTest are the most widely used and best validated non-invasive methods to assess liver fibrosis. Subjects with metabolic disorders such as type-2 diabetes or dyslipidemia, have a high risk of non-alcoholic fatty liver disease (NAFLD). Evidence was previously provided to indicate that NAFLD is associated with an increased risk of cardiovascular disease and overall mortality. The aims of this thesis were. 1) to evaluate the main limitations of non-invasive methods to assess liver fibrosis. 2) to evaluate the prognostic value of liver biomarkers, such as FibroTest and SteatoTest, in patients with type-2 diabetes and/or dyslipidemia. We demonstrated a marked interobserver variability of transient elastography between two experienced operators in chronic hepatitis C. Hepatic steatosis, estimated by SteatoTest, was identified as an independent factor associated with an overestimation of liver fibrosis by transient elastography in patients with type-2 diabetes. We could also show the variability of the APRI test, based on the expression of aspartate aminotransferase relative to the upper limit of normal and the risk of overestimating fibrosis stage by this test due to necro-inflammatory activity in chronic hepatitis C. We reported that FibroTest and SteatoTest had a 10-year prognostic value for prediction of overall mortality independently of metabolic factors in patients at high risk of NAFLD. FibroTest was also predictive of liver-related death and incidence of cardiovascular events. In addition, SteatoTest had a prognostic value for cardiovascular-related death.
Les méthodes non invasives d'évaluation des lésions tissulaires hépatiques les plus utilisées et les mieux validées sont l'élastométrie et le FibroTest. La stéatopathie non-alcoolique (NAFLD) est devenue la forme la plus fréquente de maladie hépatique. Différentes études suggèrent que la NAFLD est associée à un risque accru de mortalité, en particulier d'origine cardiovasculaire. Les objectifs de cette thèse étaient 1) de mieux définir certaines limites des méthodes non invasives d'évaluation de la fibrose hépatique; 2) d'évaluer la valeur pronostique du FibroTest et d'un biomarqueur de stéatose, le SteatoTest chez les patients ayant un diabète et/ou une dyslipidémie. Le travail réalisé a permis de montrer une variabilité interobservateur notable de l'élastométrie entre deux opérateurs expérimentés dans l'hépatite chronique virale C. La stéatose du foie, estimée par le SteatoTest, a été identifiée comme un facteur indépendant associé à la surestimation de la fibrose du foie par l'élastométrie chez les sujets ayant un diabète de type 2. Nous avons également mis en évidence une variabilité du test APRI et l'impact de l'activité nécrotico-inflammatoire sur ce test dont la formule comprend l'aspartate transaminase exprimée en multiple de la normale dans l'hépatite chronique virale C. Chez des patients à haut risque de NAFLD, nous avons pu démontrer la valeur pronostique à 10 ans du FibroTest et du SteatoTest, pour prédire la mortalité globale indépendamment des facteurs métaboliques. Le FibroTest était également prédictif de la mortalité d'origine hépatique et de l'incidence des complications cardiovasculaires et le SteatoTest de la mortalité d'origine cardiovasculaire
Fichier principal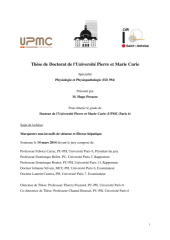 these_archivage_3008440.pdf (5.19 Mo)
Télécharger le fichier
Origin : Version validated by the jury (STAR)