Multiphysics modelling of PEM fuel cell impedance applied to stack diagnosis by E.I.S..
Modélisation multiphysique de l'impédance des piles à combustible PEM. Application au diagnostic de stack par spectroscopie.
The PEM fuel cell commercial industrialization is still hampered due to some reliability issues. Their performances are mainly affected by a poor water management. Hence, Electrochemical Impedance Spectroscopy (EIS) is used to characterise the PEMFC state-of-health and to prevent these degradations. In the present work, a diagnostic tool has been developed. A PEMFC test station, up to 2,4 kW, has been designed to run EIS experiments under controlled operating conditions (pressure, reactants mass flow rate, temperature and hygrometry). A 400 W electrical output stack (16 cells) is used where every cell is monitored. Cell impedance measurements are analysed thanks to an original pseudo 2D modelling based on fundamental fuel cell equations describing charges and species transport, electrochemical reactions. The computed cell frequency response is fitted on impedance measurement and intrinsic physical fuel cell parameters are identified. These parameters are then used to determine the stack state- of-health cell by cell and to discriminate the contribution of each phenomenon on cell degradations. The developed diagnostic tool is able to detect oxygen starvation due to cell flooding before it gets critical. Moreover, it has been shown that stack flooding conditions lead to cell heterogeneities where cell flooding and drying may appear at the same time through the stack.
L'un des verrous au développement industriel des piles à combustible PEM reste la fiabilité de leurs performances dans le temps. La réponse à cette problématique passe par la mise en place de méthodes de diagnostic performantes telle que la spectroscopie d'impédance. Les travaux reportés dans cette thèse présentent le développement d'un outil de diagnostic. Une station de test de 2,4kW est mise en place afin de permettre des mesures par E.I.S. sous différentes conditions opératoires. Un stack de 400 W, composé de 16 cellules, est instrumenté. Les réponses fréquentielles de chacune des cellules sont analysées par une modélisation pseudo 2D originale, basée sur les équations physiques du transport et du transfert de charges et d'espèces. Les calculs réalisés sont validés expérimentalement, et des paramètres physiques caractérisant le fonctionnement de la pile sont déduits. Ils sont utilisés pour déterminer (i) l'état de santé de chacune des cellules du stack et (ii) la contribution de différents phénomènes aux pertes de potentiels mesurées. Basé sur cet outil de diagnostic, il est possible de détecter une sous-alimentation en air de certaines cellules avant la chute critique des performances. L'apparition d'hétérogénéités de fonctionnement entre les différentes cellules du stack est observée et quantifiée. Enfin, la cohabitation de conditions de noyage et d'assèchement au sein du stack a pu être mise en évidence.
Fichier principal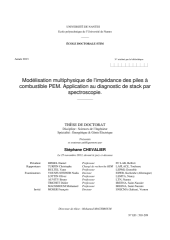 Manuscrit_Chevalier_Stephane_2013.pdf (19.08 Mo)
Télécharger le fichier
Soutenance_Chevalier_Stephane_2013.pdf (70 Mo)
Télécharger le fichier