Methodology for the evaluation of signals emitted by emerging technology. : Applications to electromagnetic compatibility and to human exposure.
Méthodologie pour l'évaluation des signaux émis par les technologies émergentes. : Applications à la compatibilité électromagnétique des systèmes et à l'exposition des personnes.
The knowledge of human exposure, either general public or occupational, to radiofrequency electromagnetic fields, is still incomplete. Two issues are yet to be addressed:•Knowledge of the uses of communicating objects that are ever changing,•The evaluation of the potential impact that these new technologies could have on the environment.This document provides a synthesis of studies conducted to address the issues of electromagnetic compatibility and human exposure. In this context, it was necessary to evaluate, to characterize and to define the most relevant parameters of the radiated signals or the levels of electromagnetic fields emitted by devices that implement these emerging technologies. We additionally examined related issues such as exposure to electromagnetic fields at very low frequencies induced by high-voltage lines or emissions from domestic equipment integrating potentially radiating electronic devices. It also includes a summary of all results obtained from actual case studies, in terms of the knowledge of both the detailed electromagnetic compatibility of new or emerging systems and human exposure. Finally, solutions have been proposed that can help to improve the knowledge of signals and potential impacts, through updates of either current standards by taking into account more relevant new parameters or modification of calibration procedures of the instrumentation employed to characterize the exposure.
La connaissance de l'exposition des personnes aux champs électromagnétiques radiofréquences, pour le public ou pour les professionnels, est encore aujourd'hui très parcellaire. Deux problématiques sont encore mal connues:•La connaissance des usages des objets communicants, en évolution constante et rapide,•L'estimation de l'impact potentiel que pourraient avoir ces nouvelles technologies sur l'environnement.Ce document est une synthèse des travaux de recherche conduits pour affiner les questions de compatibilité électromagnétique et d'exposition des personnes. Dans ce contexte, il a fallu évaluer, caractériser et définir les paramètres les plus importants des signaux rayonnés ou des niveaux des champs électromagnétiques émis par les dispositifs mettant en œuvre les technologies émergentes. Dans cette étude, on s'est également intéressé à des problématiques connexes comme l'exposition des personnes aux champs électromagnétiques de très basses fréquences induits par des lignes à très haute tension ou aux émissions rayonnées par des équipements domestiques intégrant des dispositifs électroniques potentiellement rayonnants. Il comprend également, une synthèse de tous les résultats obtenus à partir d'études de cas concrets, tant sur le plan des connaissances détaillées de la compatibilité électromagnétique des systèmes nouveaux ou émergents que sur la problématique de l'exposition des personnes. Enfin, des solutions ont été proposées, pouvant permettre d'améliorer les connaissances des signaux et des impacts potentiels par des modifications de normes, par la prise en compte de nouveaux paramètres plus pertinents, ou par la modification de procédures d'étalonnage de systèmes utilisés pour caractériser l'exposition.
Fichier principal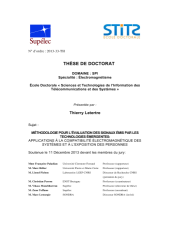 LETERTRE_Thierry_These_3_2014_vf.pdf (4.62 Mo)
Télécharger le fichier
Origin : Version validated by the jury (STAR)