Help activities in learning situations : interactions, resources, instrumentation.
Activités d'aide en situations d'apprentissage : interactions, ressources, instrumentations
This research focuses on ordinary help activities both teaching and learning situations. The first one concerns help in a face-to-face situation, the second in a situation instrumented by a digital and asynchronous artifacts. The ordinary help is viewed as the process and the product of adjustment, modification and redefinition of a knowledge object. The latter is achieved by and to the actors in the situation. This research deals with the help as an interactional, situated and instrumented activity. Build on a multi-sited ethnography, this study was subjected to a participative observation of a Latin university course and to the design of one digital resource to assist Latin-language learning. Both research parts allowed the constitution of a corpus including audio-video records of learning real situation, interviews and ethnographic notes. From these data, I analyze the interactional and instrumented help processes in learning. I consider the interactional organization of help sequences, the conditions of physical and digital artifacts mobilization and interactions between learners and digital help resource. Finally, I suggest articulating the help design (e.g.: in curricula) to the probable future instrumental genesis of resources and artifacts.
Cette recherche porte sur les activités d'aide ordinaire dans deux situations d'enseignement/apprentissage ; la première en face-à-face et la seconde instrumentée par un artefact numérique et asynchrone. L'aide ordinaire est entendue comme étant à la fois le processus et le produit d'ajustement, de modification, de redéfinition d'un objet de connaissance réalisés par et pour les acteurs d'une situation d'enseignement/apprentissage La présente recherche aborde donc l'aide en tant qu'activité interactionnelle, située et instrumentale. En partant d'une ethnographie multi-située de situations d'apprentissage du latin, elle a fait l'objet d'une observation participante d'un cours d'aide à la préparation d'un concours et de la conception d'une ressource numérique d'aide à la remise à niveau en langue latine. Ces deux moments de la recherche ont permis la réalisation d'un corpus composé de collections d'enregistrements audiovisuels de situations réelles d'apprentissage, d'entretiens et de notes ethnographiques. En nous appuyant sur ces données, nous analysons les processus interactionnels et instrumentaux d'aide inhérents à l'apprentissage. Nous en proposons la description de l'organisation, l'analyse des modalités de mobilisations des artefacts physiques et numériques et des interactions entre les apprenants et une ressource numérique d'aide. Enfin, nous préconisons d'articuler la conception de l'aide (dans la constitution de scénarios pédagogiques en ligne) à la prise en compte de la future genèse instrumentale des ressources et artefacts.
Fichier principal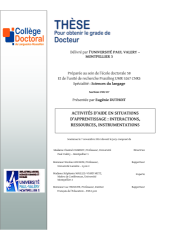 2014MON30029.pdf (8.47 Mo)
Télécharger le fichier
Origin : Version validated by the jury (STAR)