SURVEILLANCE OF HUMAN ACTIVITIES AT SEA: AN ESSAY ON THE RELATIONS BETWEEN TECHNIQUE AND LAW.
DE LA SURVEILLANCE DES ACTIVITES HUMAINES EN MER. ESSAI SUR LES RAPPORTS DU DROIT ET DE LA TECHNIQUE.
Truly prospective technique is often at the roots of substantial changes to the Law. It impacts on our social environment using legal restrictions to limit physical and moral damages by utilising the advanced technical process. The implementation of a new application, its use and commercialisation, should observe legal norms respecting the numerous and varied arms of law. As one of the structuring elements of society, law is impacted by technique and its application. Technical treatment and authentication of threats and risks are intrinsically linked to the concept maritime safety. The civil-military continuum deals with safety and security and involves the contribution of all members of society, based on a global vision of defence and safety. The part played by technique is considerable in this domain because it supplies numerous tools for gathering data and constitutes a substantial amount to the decision-making process. Enhancing maritime surveillance and tracking vessels is now a priority to prevent and act against harmful damages resulting from maritime incidents. Technical developments lead to better adaptability of systems. It should also surmount the difficulties rising from the disparity of the threats and risk zones. It must be noted that technical innovations present significant advantages in terms of efficiency. The creation, commercialisation and use of any new systems must observe the various legal norms that protect the individual's rights. The law humanizes technique because it limits any misinterpretation of the factual elements and puts in place a necessary safeguard by preventing operational decisions that might violate fundamental rights.
Véritablement prospective, la Technique est bien souvent à l'origine d'évolutions substantielles du Droit. En d'autres termes, elle impacte notre environnement sociétal. Les restrictions opérées par le Droit limitent les dommages moraux ou physiques résultant de l'utilisation d'avancées techniques. La conception d'une application innovante, mais également son utilisation voire sa commercialisation doivent prendre acte des normes ressortant des différentes branches de droit. En tant qu'élément structurant la Société, le Droit impacte ainsi la Technique et ses applications. Le traitement et l'authentification des menaces et des risques sont intimement liés au concept de sauvegarde maritime. En effet, le continuum civilo-militaire, traitant à la fois des aspects de sécurité et de sûreté, implique la contribution de l'ensemble des acteurs de la société et se fonde sur une vision globale de la Défense et de la Sécurité. L'apport de la Technique est considérable en ce domaine. Elle fournit de remarquables outils compilant d'innombrables informations et données accordant ainsi aux instances décisionnelles une aide substantielle. Afin de prévenir ou, le cas échéant, d'agir en vue de contrer les effets néfastes d'un événement de mer, il importe d'améliorer la surveillance et la traçabilité des navires, de connaître les risques afin de prévenir les dangers. Le développement des techniques en ce sens doit donc permettre une meilleure adaptabilité des systèmes en place. Les outils techniques peuvent permettre de pallier les difficultés inhérentes à la disparité des espaces du risque et de la menace en mer. Quand bien même le recours aux innovations techniques revêt un avantage significatif au plan de l'efficacité, la création, la commercialisation et l'usage de celles-ci doivent observer de nombreuses normes juridiques protectrice des intérêts individuels. Règlementant l'utilisation de ses applications, le Droit humanise la Technique et pose les limites à une interprétation extensive de faits. Il se pose ainsi en garde-fou, prévenant des prises de décisions opérationnelles inadaptées ou contraires au Droit.
Fichier principal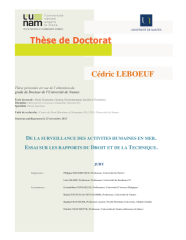 THESE LEBOEUF Surveillance activités humaines en mer.pdf (17.98 Mo)
Télécharger le fichier