The "self promotion", a path for architectural"
L'autopromotion, une piste pour l'innovation architecturale, environnementale et urbaine
Further to the production of housing within a traditional Framework are curently developed all over europe and specialy in France. Moving away from public or private standar models, the projects inspired by the end users tend to produce very original habitats, in terms of architecture and environment as well as social and territorial insertion. This kind of dynamic is not a new phenomenom. Particulary in Latin America, popular and cooperative movements have developed this type of approach for decades. Insufficiently studied, this phenomenom merits more precise analysis, particulary in the field of architecture and from the point of view of the managers of such projects : the inhabitants. This research aims to demonstrate, through an analysis of different types of collective organizations adopted by these non-professional inhabitants leadership, the benefits and results of their production, in terms of: the "spacial" question, which looks at the concept of habitat and its use ; the issue of "skill" of the designer, who questions the mode of production of the project through the architect relationship - project management (non-occupational) ; and finally the area of "spatial and social inclusion", which looks at the urban dimension of these projects and their "property developers". Based on the concepts of "right to do" and "right to the city" defined by Henri Lefebvre and "common good" defined by Elinor Ostrom, this thesis provides a contribution of knowledge to contribute to the response of professionals and public policy, to a real social demand present every day in terms of citizen initiatives in the production of housing.
Au-delà du cadre classique de la production du logement, des projets originaux à l'initiative de citoyens ou impliquant fortement des habitants, se développent sur le territoire européen et notamment français. S'émancipant de l'offre professionnelle privée ou publique, ces maîtrises d'ouvrages d'usagers produisent un habitat original, tant du point de vue architectural et environnemental, que de l'insertion sociale et au territoire qui l'accueille. Ce type de dynamique n'est pas un phénomène nouveau. En Amérique Latine notamment, des mouvements populaires et coopératifs développent ce type de démarche depuis plusieurs décennies. Insuffisamment étudié, ce phénomène mérite d'être analysé plus précisément, en particulier dans le champ de l'architecture et du point de vue des porteurs de ces projets : les habitants. Cette recherche vise à montrer, par une analyse des différentes typologies d'organisations collectives, adoptées par ces maîtrises d'ouvrage non professionnelles d'habitants, les atouts et les résultats de leur production, du point de vue de : la question « spatiale », qui interroge la notion de l'habitat et de son usage ; la question du « métier » du concepteur, qui interroge le mode de production du projet au travers de la relation architecte – maîtrise d'ouvrage (non professionnelle) ; et enfin la question de « l'insertion spatiale et sociale », qui interroge la dimension urbaine de ces projets et citoyenne de leurs promoteurs. Se basant sur les notions de « droit à l'œuvre » et de « droit à la ville » définies par Henri Lefebvre et de « bien commun » définie par Elinor Ostrom, cette thèse propose un apport de connaissances visant à contribuer à la réponse des professionnels et des politiques publiques, à une demande sociale chaque jour plus présente en matière d'initiatives citoyennes dans la production de l'habitat.
Fichier principal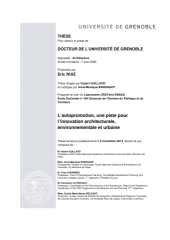 38264_RUIZ_2014_archivage.pdf (16.14 Mo)
Télécharger le fichier
Origin : Version validated by the jury (STAR)