Development of organic and hybrid glass based on interpenetrating polymer networks for the protection of cultural property.
Développement de vitrages organiques et hybrides à base de réseaux interpénétrés de polymères pour la protection des biens culturels
This work position itself on a primary issue of heritage and more precisely on the preventive conservation of artworks. To provide a low cost solution to museums, capable of meeting the requirements set for the cultural heritage protection, we have developed new polymer glazing to protect works without altering their perception by the public. These materials will eventually be able to replace poly(methyl methacrylate) (PMMA) glazing, which are widely used but have high sensitivity to scratching and cleaning solvents as mains drawbacks.These materials were synthesized by combining, with various proportions, two polymers, PMMA and polycarbonate of CR39® (PCR39®), into an interpenetrating polymer network (IPN) architecture. This association generated new transparent materials (T% > 95%) of which resistance toward scratching and solvents is considerably improved compared to PMMA's one. Their ageing have been studied when exposed to artificial or natural light (UV). To improve their scratch resistance, we selectively crosslinked the PMMA phase with functionalized silica nanoparticles, leading to the formation of a new hybrid IPN. Finally, in order to obtain a smart material, we studied the possibility of integrating within these glazing, a UV sensor to warn of their presence. The PCR39® having properties consistent with the development of such a sensor, we tried to increase the sensitivity of the material. For that purpose, first an organic fluorescent compounds, and secondly an inorganic one (gadolinium oxide nanoparticles doped with terbium or europium) were incorporated in the IPN.
Ces travaux de thèse se positionnent au cœur des problématiques du patrimoine et notamment de la conservation préventive des œuvres d'art. Pour apporter aux musées une solution à faible coût capable de répondre aux exigences fixées dans le cadre de la protection du patrimoine culturel, nous avons développé de nouveaux vitrages polymères permettant de protéger les œuvres sans en altérer leur perception par le public. Ces matériaux pourront, à terme, tenter de remplacer les vitrages de type poly(méthacrylate de méthyle) (PMMA), très largement utilisés, mais dont le principal inconvénient est sa grande sensibilité à la rayure et aux solvants de nettoyage.Ces matériaux ont été synthétisés en combinant, en différentes proportions, deux polymères, le PMMA et le polycarbonate de CR39® (PCR39®) dans une architecture de réseaux interpénétrés de polymères (RIP). Cette association a permis d'obtenir des nouveaux matériaux transparents (T%>95%) dont la résistance à la rayure et aux solvants est considérablement améliorée comparativement à celle du PMMA. Leurs vieillissements lors de leur exposition à la lumière (UV) artificielle ou naturelle ont été étudiés. Afin d'améliorer leurs propriétés d'anti-rayure, nous avons réticulé sélectivement la phase PMMA avec des nanoparticules de silice fonctionnalisées, ce qui conduit à la réalisation d'un nouveau RIP hybride. Enfin, dans l'optique d'obtenir un matériau intelligent, nous avons étudié la possibilité d'intégrer au sein même de ces vitrages, un capteur de rayonnements UV afin de pouvoir alerter de leur présence. Le PCR39® ayant les propriétés en adéquation avec le développement d'un tel capteur, nous avons ensuite cherché à augmenter la sensibilité du matériau. Pour cela, des composés fluorescents, organique, d'une part et inorganiques d'autre part (nanoparticules d'oxyde de gadolinium dopées soit au terbium soit à l'europium) ont été intégrés au sein des RIP.
Fichier principal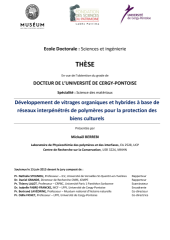 41982_BERREBI_2015_archivage.pdf (6.63 Mo)
Télécharger le fichier
Origin : Version validated by the jury (STAR)