Towards a mediation of dynamic composition of web services in ubiquitous environnement
Vers une médiation de composition dynamique de Services Web dans des environnements ubiquitaires.
Nowadays, high market pressure stimulates service providers to be more competitive in order to attract more subscribers. The user-centric approach, which aims to provide adapted services to user's needs, is attracting a great attention thanks to the emergence of ubiquitous environment. The interoperability, either that between users and services or that among services, is favored by the adoption of SOA (Service Oriented Architecture), as a development model as well as the Web services that combine the advantages of this model with the language and development technologies devoted to Internet-based applications. In particular, the dynamic Web service composition is currently the main practice which allows achieving enhanced services, as an answer to increasing complex requests by users for various types of services, by combining functionalities of multiple services within a single and personalized service session. Indeed, already available services are numerous and of various natures, similar services can be provided by heterogeneous platforms. In a ubiquitous environment, users are mobile, either by changing the access network or by changing the terminal, or even both of them. This leads in turn to potential needs on mobility of services, both in terms of the (physical) server and in terms of the (equivalent) services. It is in this dynamic and ubiquitous context that we have conducted our research. In particular, we focused on the particular topic of mediation of dynamic composition of web services. We proposed a mediation approach which consists in identifying and organizing various concrete services (both SOAP and RESTful) to form a set of abstract services, and, from this knowledge base, to provide users the possibility to realize personalized service session according to their needs through dynamic composition of some of the abstract services and their mapping to best suited concrete services. We considered three types of service composition (SOAP/SOAP, SOAP/RESTful, RESTful/RESTful) in our mediation. Depending on the user's will, this composition (Mashup on the side of the mediator) can be returned to him/her, so that he/she can invoke it autonomously; or the mediator can ensure the realization of the composed services and provide only the final result to the user. In the latter case, the mediator can handle the aforementioned different mobility. This feature is achieved by exploring the mechanism of the virtual community to select the most appropriate concrete service corresponding to the abstract service and maintain the continuity of service while respecting its requested QoS. The virtual community has been developed within the ANR/UBIS project (to which part of this thesis is related).
De nos jours, l'ouverture à la concurrence stimule les fournisseurs de services à être de plus en plus compétitifs et à attirer de plus en plus d'abonnés afin de faire face aux fortes pressions du marché. L'approche user-centric, qui consiste à fournir le plus rapidement possible des services adaptés aux besoins de l'usager, attire de plus en plus d'attention suite à l'émergence de l'environnement ubiquitaire. L'interopérabilité, aussi bien celle entre utilisateur et service que celle entre les services, est favorisée par l'adoption de SOA (architecture orientée service) comme modèle de développement, ainsi que les services Web qui combinent les avantages de ce modèle avec les langages et technologies développés pour Internet.Notamment, la composition dynamique de service Web est considérée comme un atout majeur, qui permet de répondre à des requêtes complexes en combinant les fonctionnalités de plusieurs services au sein d'une session personnalisée. Les services sont divers et variés et des services similaires pourraient être fournis depuis des plateformes hétérogènes. Dans un environnement ubiquitaire, les utilisateurs sont mobiles, cette mobilité se manifeste aussi bien à travers les réseaux empruntés que les terminaux utilisés. Ceci entraine une possible mobilité de services (aussi bien en termes de serveur effectif qu'en termes de services équivalents). C'est dans ce contexte dynamique et ubiquitaire, qui est celui choisi par le projet ANR/UBIS (dont cette thèse est partiellement issue), que nous avons mené nos recherches sur le thème particulier de la médiation de composition dynamique de services web. Plus précisément, nous proposons une approche de médiation qui consiste à recenser puis organiser de divers services concrets (aussi bien SOAP que RESTFul) pour constituer une panoplie des services abstraits d'une part, puis, à partir desquels, à offrir aux usagers les possibilités de réaliser des services personnalisés selon leur besoins (logique métier) par composition dynamiquement de ces services abstraits et de leur association avec le service concret le plus approprié. Nous avons considéré les trois types de composition de services (SOAP/SOAP, SOAP/RESTful, RESTful/RESTful) dans notre médiation. Selon le souhait de l'usager, cette composition (Mashup du coté de médiateur) peut lui être retournée et que l'usager peut invoquer de manière autonome, ou bien le médiateur peut assurer la réalisation du service composé et fournir seulement le résultat final à l'usager. Dans ce dernier cas, les différentes mobilités peuvent être prises en compte par le médiateur, qui s'appuie sur les mécanismes de la communauté virtuelle préconisés par le projet UBIS pour activer les services concrets les plus appropriés correspondant à un service
Fichier principal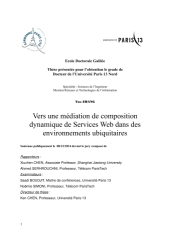 edgalilee_th_2014_zhang.pdf (7.54 Mo)
Télécharger le fichier
Origin : Version validated by the jury (STAR)