Vernacular architecture and contemporary productions process : formation, experimentation and construction in a Brazilian rural settlement
Architectures vernaculaires et processus de production contemporains : formation, expérimentation et construction dans une communauté rurale au Brésil
This thesis takes as its analytical perspective the contemporary manifestations of vernacular architecture production and building cultures within the complex correlation of forces and interests that shape and determine the phenomena of capitalist production of popular housing.The analytic framework is delineated from a series of reflections of theoretical and conceptual order, in relation to the analysis of a popular housing building site within an agrarian reform rural settlement in Brazil. This assumes the form of a field school in loco on the building site and is projected as a stage for experiments and experiences, where the proposal is to combine pedagogy and production in the same space. The processes of knowledge formation and construction occur simultaneously and complementarily to practical achievements and development of technologies.This building site is thus transformed into a tool for the constitution of a dialectical space of social work, where the orientation of its productive experimenting is focused on the challenge of designing a house from the local generation of social technologies, through the use of natural materials and reuse of discarded resources. A theoretical work, presented in the initial of the thesis, provides the framework for this fieldwork, which feeds back our reflection on processes of production and development of new vernacular architectures, integrated into their territories.
Ce travail de thèse propose d'examiner les relations entre les processus historiques de production des cultures constructives traditionnelles, les processus de production des technologies au cœur du système industriel capitaliste et les nouveaux processus de production de technologies - collectives, solidaires, conscientes et soutenables - dans la production de l'habitat rural brésilien, de façon à nous fournir des pistes sur le développement de processus embryonnaires de production de nouvelles « cultures constructives contemporaines ». Notre question principale cherche à analyser dans quelles circonstances les processus de production de « nouvelles technologies » se présentent comme alternatives au déterminisme historique du processus de production industriel/capitaliste, favorisant des mécanismes de développement local, au sein de communautés rurales, principalement dans la production de leur habitat. Dans un premier temps, nous proposons de tisser une réflexion sur les notions de cultures constructives, en cherchant à relever des éléments qui nous fournissent des supports pour mieux comprendre comment certaines sociétés ont pu produire des « technologies » à un moment historique précis, adaptées à leur propre contexte culturel et environnemental, que les gens se sont appropriées et qui ont évolué, étant de ce fait légitimées et reproduites par les générations successives. Dans un deuxième temps, nous traiterons de la mutation de ce processus en un nouveau modèle de production, désormais convenu et hégémonique, fondé sur la rationalisation technique des systèmes de production, l'accentuation de la division sociale du travail, la fragmentation et spécialisation des processus productifs, entre autres facteurs, et de ses conséquences et implications. Enfin, dans un troisième moment, nous essaierons de nourrir la réflexion existante qui cherche à favoriser de nouveaux processus de production de technologies, ne pouvant pas être simplement considérées ou développées en tant qu'alternatives, basées dans la négation ou l'opposition aux caractéristiques présentes dans les technologies dites "conventionnelles", mais qui peuvent contenir des principes, valeurs et caractéristiques autrefois présents dans les cultures constructives traditionnelles. A partir du dialogue réflexif entre ces différentes mais complémentaires bases de recherche, nous analyserons quelques expériences réalisées dans des communautés rurales brésiliennes, en tissant des réflexions critiques sur les processus de production de leur habitat.
Esta tese possui como perspectiva de análise as manifestações contemporâneas de produção das arquiteturas vernáculas e culturas construtivas, dentro da complexa correlação de forças e interesses que formatam e determinam os fenômenos de produção capitalista das habitações populares. Seu contorno analítico está delineado a partir de uma série de reflexões de ordem teórico-conceituais relacionadas com as análises de um canteiro habitacional dentro de um assentamento rural de reforma agrária. Este, assume a forma de um canteiro-escola e se projeta como palco de experimentações e vivências, onde se propõe como prática o exercício de conjugar pedagogia e produção no mesmo espaço. Os processos de formação e construção dos conhecimentos ocorrem de maneira complementar e simultânea às realizações práticas e ao desenvolvimento das tecnologias. Tal canteiro se transforma, assim, em ferramenta para constituição de um espaço dialético de trabalho social, onde o experimentar produtivo está focado no desafio de conceber uma habitação a partir da geração local de tecnologias sociais, por meio do uso de materiais naturais e da reutilização de recursos descartados. O trabalho teórico, apresentado nas primeiras partes da tese, define o quadro de sua práxis, que por sua vez, realimenta a reflexão sobre os processos de produção e desenvolvimento de novas formas de arquiteturas vernáculas, integradas aos seus territórios.
Fichier principal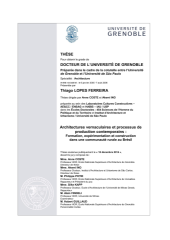 LOPES_FERREIRA_2014_archivage.pdf (24.92 Mo)
Télécharger le fichier
Origin : Version validated by the jury (STAR)